Down near the southwest corner of Galicia, the region's biggest metro (pop. 481,000) is wrapped in green on one side and blue on the other – that is to say, between forested mountains and the vast, sparkling Atlantic Ocean. And though it's thought of more as an industrial powerhouse than a travel destination, dynamic Vigo definitely has some treasures to offer visitors.
To start with, if you're here on a sunny day (more likely May through September), you'll never forget the special light which tints the stones of the old quarter and seems to make the birds wheeling above the estuary sing a little louder.
Of course, what you notice first about Vigo is its enormous natural harbour and incessant waterfront activity; here the fishing and canning industries have been the city's ticket to prosperity. But just steps away is its tranquil old quarter, the Cidade Vella, with the old maritime neighbourhood of O Berbés at its core. Strolling through the Plaza de la Constitución with its decorated facades, porticos, tall windows, and balconies. Here and on the surrounding streets, you can still appreciate the old town's traditional nautical spirit.
Also check out the Colegiata de Santa María (aka the co-cathedral of Vigo-Tui), a 19th-century neoclassical affair erect on the remains of an earlier Gothic church sacked in 1589 by Sir Francis Drake, loathed by Galicians as a ruthless pirate.
To get another prime taste of Vigo's maritime flavour, don't miss a visit to the Mercado da Pedra, a modern but traditional-style food market still popular with locals, and notable especially for its abundance of briny bounty, from dozens of types of fish to various varieties of oysters, clams, prawns, and more exotic local delicacies such as barnacles.
Another important square is the Porta do Sol, a bustling urban hub and the beginning of the newer part of Vigo, marked by an elevated statue of a merman, built in 1991, which has become one of the city's icons. Radiating out from here are the expansive avenues such as Calle de Policarpo Sanz, lined with grandiose buildings including a quite a few Modernista (Art Nouveau) landmarks such as the Casa de Correos y Telégrafos (Post Office and Telegraph Building) on Plaza de Compostela.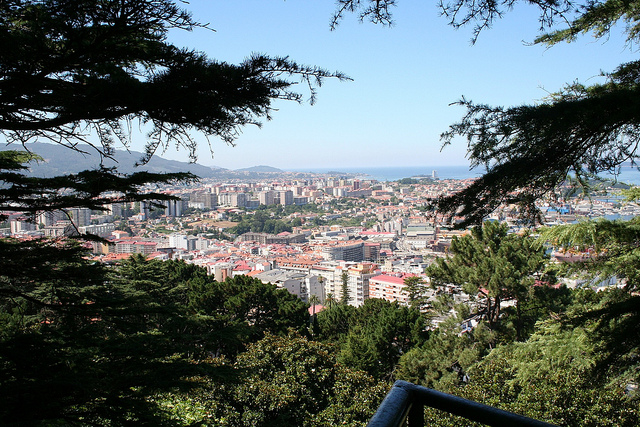 For sweeping views over city and sea as well as a fascinating mix of nature of history, head up Monte do Castro, a park on a hill with typical local forest; the remnants of the Bronze-Age castros (fortified settlements) dating back to the earliest days of settlement, as far as 6th century BC; and a pair of historic castles (the 17th-century Castillo de la Torre. and the ruins of the 10th-century Castillo O Penso).
Another mavelous exemplar of the great outdoors is the Parque de Castrelos, Vigo's largest park, which includes a stately old manse Quiñones de León, housing a marvelous museum displaying European art back to the 17th century and artifacts dating back to  Roman times.
A little farther out, yet more woodlands, in parks like A Madroa and A Guía, with spectacular views and plenty of green spaces to lie on the grass and commune with nature. In addition, the former is also home to Galicia's only zoo, and the latter to neo-Baroque Nosa Señora da Guía shrine, built in 1952.
Mediaeval history enthusiasts will also want to venture out a bit to explore a trio of splendid, well-preserved Romanesque churches:  Santa María de Castrelos, Santiago de Bembrive and San Salvador de Coruxo.
And last but far from least, to truly experience the essence of Vigo you need to do it on the shore and beyond. Along the water, landmarks include Vigo's main beach, the Praia de Samil, a family favourite 1,700 metres (5,600 feet) long; the Puente de Rande, a colossal, 34-year-old bridge which brings to mind San Francisco's Golden Gate.
Offshore, the Cíes islands are part of the Atlantic Islands National Park. You'll need to take a boat from the port, of course, in order to get out here and experience the idyllic landscapes out here, including dunes and cliffs.
Another worthwhile day trip are a couple of historic towns a half hour south of Vigo. On the coast, Baiona has a history dating back to 140 BC, boasts a lovely mediaeval old quarter (including a parador, one of Spain's network of quasi-publically-owned inns), beaches like Nigrán, and the gracious Mondariz spa resort. Further inland Tui has a similar appeal, as well as a pair of fine museums and another historic parador in a wooded mountain setting.
And wherever you go, don't forget to eat your fill of the splendid local seafood. Because the the ocean and its bounty is what most defines Galicia's top city.
More information in English: TurismodeVigo.org. 
Best fares from the U.K., from the USA.

images | badcr, Mstyslav Chernov