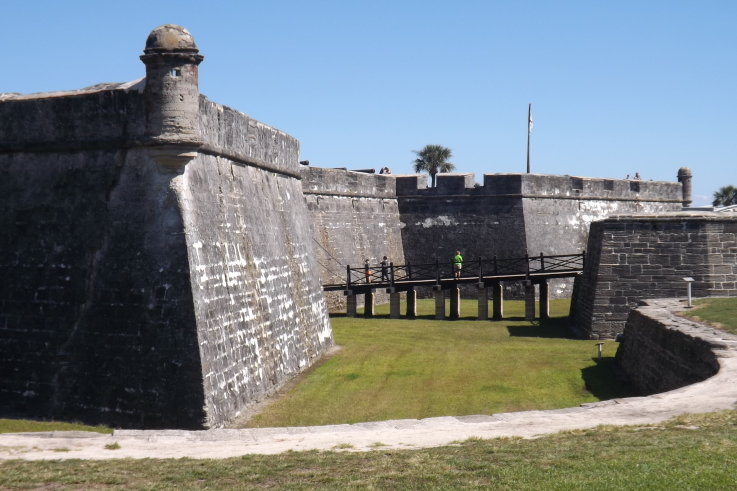 The lands which were to become the United States and Canada were largely settled by the English, but not everyone realises that the continental USA's oldest continuously occupied city, St. Augustine in northeast Florida (an hour's flight from Miami to nearby Jacksonville), was actually founded by explorers from Spain 450 years ago this year. And while the city's is gearing up for a big fiesta this September to mark the actual landing, it makes for one of America's most fascinating historic visits (with great St. Augustine beaches thrown in) any time of year. 
Though the area had been explored in 1513 by Juan Ponce de León, in search of the "fountain of youth", a settlement wasn't founded here until 1565.  Named after St. Augustine of Hippo (on whose feast day land was sighted by the expedition of Pedro Menéndez de Avilés, an admiral from the eponymous Asturias city of Avilés), for centuries this remained essentially a military garrison town, constantly defending against attacks from pirates, local tribes, and European rivals such as the French and especially the English (in fact, the Brits governed here for 20 years in the 18th century), before finally being ceded by treaty to the young United States in 1819.
That has left this small city (population just 13,000) with a wealth of fascinating sites to experience, most of them concentrated in the historic core on Matanzas Bay called Old Town. I had visited long ago, when I was a kid, and though I retained some fond longstanding impressions from way back then, when I very recently had the chance to revisit, I was doubly impressed – all the striking history and architecture was still there, of course, but complemented by a raft of new attractions, dining, lodging, and shopping that truly turn St. Augustine into a Florida must.
Old Town is anchored by rectangular Plaza de la Constitución on the bay. Landmarks here include the handsome Cathedral Basilica, built in 1797 and reconstructed in the late 19th century. Between the cathedral and the waterfront (specifically, the Bridge of Lions (right), presided over by a pair of male lion statues, to the portion of the city on Anastasia Island) is a smallish pavillion with a checkered past. The Old Market was built for the buying and selling of produce and other goods and property, along with African slaves – and was built not under the Spaniards or British, but in the 1840, after the Americans took over.
At least three main streets radiating out from the Plaza are chock full of landmarks (including some three dozen colonial-era buildings), museums, shops, restaurants, and more:
Avilés Street 
A relatively short cobblestone lane (above) that's the oldest public street in the city (and therefore the country). In addition to little shops and restaurants, historic highlights along the lane include the Spanish Military Hospital Museum (a fascinating look at colonial-era medicine and life; the Father O'Reilly House Museum (the home of the colony's first priest, also with exhibitions about St. Augustine's Catholic heritage), and the Ximenez-Fatio House (which for most of its history was a boarding house, and is now a museum of the local 18th- and 19th-century period).

King Street  
Heading west from Plaza de la Constitución along this street, you shortly come to a pair of grand buildings right across from each other. The 1887 former Hotel Alcazar is now the Lightner Museum (above, with a local guide dressed as a Spanish conquistador), which besides housing an large, classy collection of antiquities also shows off parts of its past life, such as the Turkish baths.
Across the street, Flagler College, the onetime Ponce de Leon Hotel of the same era, became a well-respected institution in 1968. It's worth ducking into the entrance hall and cafeteria behind it for an eyeful of the elaborate ceilings, windows, and floors.
And if you have time, next door to the Lightner is a curious bit of business called Villa Zorayda (left), built in 1883 by an eccentric Boston millionaire inspired by the Moorish Alhambra of Granada; it later did a stint as a casino, and today houses a sometimes quirky and frequently fascinating collection of Orientalia and other art and furniture.
St. George Street
One of the busiest streets in Old Town is this one, runing north out of Plaza de la Constitución, because it has the most tourist-oriented shops, restaurants, and other establishments. Still, it's a charmer, and worth popping into for example the 1750 Peña-Peck House, another house-museum of the 19th- and early-20th-century periods.  Here, too, is the cute, atmospheric Oldest Wooden Schoolhouse, a highly rustic affair of cypress and cedar.
Owned by Pat Croce, former president of the Philadelphia 76ers basketball team as well as TV commentator (and a very affable, colourful character, I can tell you from personal experience), there are a pair of ersatz attractions on St. George Street, as well, but very well done. Colonial Quarter aims to recreate local life in the 1740s. Just down the street from this is the multimedia Pirate Soul Museum. Slightly Disneyesque but very well curated, kids will love it and adults will find pretty interesting too (I first saw the museum when it was located in Key West, and in this new iteration Pat has absolutely outdone himself; he's especially proud, he told me, of having one of three authentic "Jolly Roger" flags and the only bona fide "pirate's chest" left in the world).
At the end of the street, hang a right and you'll find yourself at what in many ways is St. Augustine's pièce de résistance: the Castillo San Marcos (top), a doughty stone fortress dating from the 1760s and very similar to its brethren in Havana, San Juan, Cartagena, and other Spanish colonies. Operated as a national park site, it's endlessly photogenic (when I was there, biker gang members were clowning around on the rampart cannons, go figure), and offers quite interesting exhibits as well as re-enactors in period costumer.
Other Must-See St. Augustine Attractions
Ho, we're not done yet, me hearties. Elsewhere in the central area of town you'll find a 15-acre (six-hectare) kind of St. Augustine theme park called the Fountain of Youth Archaeological Park, originally built around a spring claimed by an owner dubbed "Diamond Lil" around the turn of the 20th century to be the actual fountain sought by Ponce de León. Nowadays it includes a number of  interesting historical and archaeological exhibits, as well as recreated Indian village and Spanish mission, and pretty walkways along the shore.
South of the Lightner Museum, the González-Alvarez House dates back to the early 18th century and is the eponymous central component of the Oldest House Museum, which also includes two other colonial-era houses, an exhibition gallery, and a charming garden. Over to the southwest, cocktail fans will get a kick out the the St. Augustine Distillery, a boutique operation which makes distinctive rum, vodka, and gin in a vintage power plant and gives rather good tours (including samples, of course, as well as running a way cool bar upstairs).
Away from downtown, the Fort Mose Historic State Park is worth a visit for a pretty unusual side of local history: it was a stockade manned by escaped slaves from the English colonies, who were offered sanctuary by the Spaniards. The fort is long gone, but the visitors' centre and natural setting are well worth your time. As is, over on Anastasia Island, the St. Augustine Lighthouse and Museum is a Smithsonian-affiliated complex with not just the striking 1870s lighthouse (left – OMG, what views!) but extremely well done exhibits and furnishings in the former lighthouse keepers' quarters, and maritime archaeology facilities, as well. And as long as you're on the island, pop over to Fort Matanzas, much smaller than San Marcos, built in 1740.
Civil Rights History
Last on the history tour is another more recent side to this city of which I was totally unaware – and in fact was pretty much locally ignored for many years. Events in St. Augustine in 1963 and 1964 gave the final push to congressional passage of the Civil Rights Act, and the background, context and story are expertly told by black-heritage tour guide Bernadette Reeves of Tour St. Augustine. The tale is inspiring and sometimes harrowing; if you're interested in learning more, I've written about this more in detail elsewhere.
St. Augustine Beaches
Oh, and it ain't all history, either! To take a break on some very fetching, often quite uncrowded strands, head over the bridge to the coast, where you'll find St. Augustine, Vilano Beach, Crescent, and Ponte Vedra beaches (above).
St. Augustine Hotels

Finally, when it comes to places to stay, the options I feel most in keeping with the character of this venerable old city are the nearly 30 inns, guesthouses and bed-and-breakfasts in the Old Town area. On my last visit I stayed at the Bayfront Marin House (yes, right on the bay), and was totally charmed by the combination of stylish rooms, excellent food, extremely friendly service, and convivial clientele which gathers in the courtyard for happy hour every day. Others fetching examples I saw included the Old City House Inn (also a marvelous restaurant) and the Casablanca Inn. There are larger, more full-service lodgings, as well, the most justly famous including Casa Monica right next to the Lightner Museum (I was tickled to see a nod in the lobby to the visit of horndog former president and perhaps First, um, Gentleman Bill Clinton – Monica, indeed) and the Hilton St. Augustine Historic Bayfront, once the Monson Motor Lodge, site of major civil rights actions in the early 1960s.
Pinch me with a fork, I think I'm done – and I haven't even gotten a fair number of other attractions, such as Marineland, the Ripley's Believe It Or Not Museum, and the Old Jail. Bottom line: I can think of few other such small cities that pack in so much to experience. Call it my confession of St. Augustine.
For more information on all the above, as well as details on the big 450th: FloridasHistoricCoast.com.

images | DPA