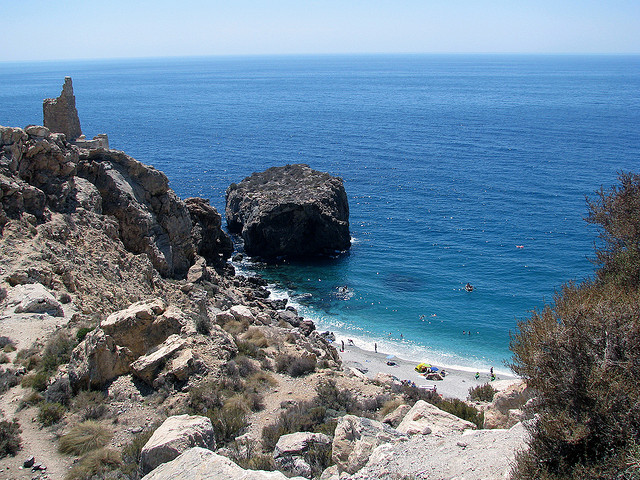 Though the name "Granada" for many conjures up Moorish palaces and gypsy caves, there's actually a whole wide province beyond the fabled city – an area that, furthermore, includes an astonishing variety of experiences and even climates, with the snowy Sierra Nevada mountains within kilometres of tawny sands and turquoise waters.

The so-called Costa Tropical (Tropical Coast) is in fact Europe's only bona-fide subtropical zone, where fruits like mango, aguacado, and chiromoya (custard apple) thrive, and small traditional towns and open spaces abound.
The place to start any exploration of the area is perhaps the highest-profile of those towns, ancient Almuñécar, founded by the Phoenicians and situated on 19 kilometres (11 1/2 miles) of coast including 26 beaches. A number of interesting remains from the Phoenicians (such as a fish salting factory), as well as the Romans and Moors can still be seen. On the nature side, the lovely Peña Escrita Natural Park, 1,100 metres (3,610 feet) up in the nearby hills offers wonderful views out over the Sierra Nevada, the Alpujarras region, and the tropical valley.
Between Almuñécar and the Málaga town of Nerja to its west, you'll also find the Maro-Cerro Gordo Cliffs, which impress with their caves, fantastically weathered limestone outcroppings, and underwater grottos such Cueva de los Genoveses. Divers will be amazed by the huge swaths of posidonia sea grass off these shores.  Near the cliffs are the lovely, unspoiled (and nudist) beaches of Cantarriján, and Playa de la Joya.
More ravishing nature awaits around Salobreña, one of the lovely pueblos blancos (white villages), so called because of their whitewashed houses, here crowned with an old Moorish castle. must beaches here include Playa del Peñón and Playa de la Charca; on the latter I'd also highly recommend sitting down at a chiringuito (beach shack) to try the local rockfish and sardines. Other fabulous local strands include Playa de la Guardia, set amid a sugar plantation, and the castaway coves of El Caletón and El Pargo.
Don't forget the historic old quarter of Salobreña itself, filled with arches, narrow passageways, and balconies awash in flowerpots, and get sweeping views over the whole business from the overlooks of Postigo and La Frescunda. A visit to the local sugarcane and tropical fruit farms is also an interesting way of connecting with local life.
Heading east toward Almería, you'll find more whitewashed houses, as well as historic watchtowers in Gualchos, Albuñol and Polopos to stand vigil against pirates and other interlopers. To get along the coast, Autovía del Mediterráneo is zippy and convenient, but the smaller Highway 340 affords some incredible views of the mountains and sea, and a real sense of freedom. All part of the sunny mystique of the Tropical Coast.
More information: Turgranada.es.
Best fares from the UK, from the USA.

image | simplifica