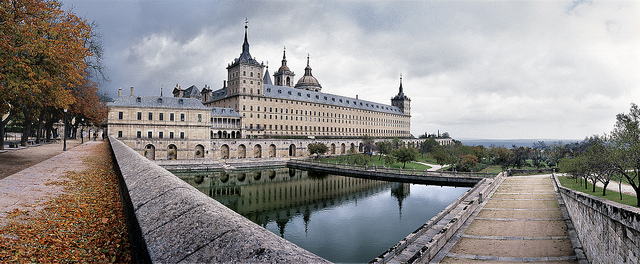 Spain's capital is of course magnificent and brimming with amazing stuff to see and do. But visitors should also make time for a daytrip (or if at all possible, and overnighter) to at least one of the marvelous destinations right outside the city, full of history, culture, architectural gems of their own.   
Alcalá de Henares  Its streets lined with majestic buildings and its rooftops full of stork nests, the hometown of Spain's greatest writer Miguel de Cervantes. Stroll several blocks from the train station to commence your perambulations at Plaza de Cervantes. That's where you'll find for example the 412-year-old Corral de Comedias, one of Europe's oldest preserved theatres, where among other things the works of legendary 17th-century playwrights Calderón de Barca. Nearby you'll find historic landmarks such as the Alcalá city hall, Oidor Chapel, the St. Ursula Convent, and the Colegio de Málaga. Down the arcade-lined Calle Mayor you'll find the Casa-Museo Cervantes, a very Castilian affair with a central patio and rooms set up to display furnishings and some exhibits relating to the 17th century and the life/work of the great man himself. Also well worth a peek is the Gothic cathedral, the expanisve Archaeological Museum, and of course the most famous local institution of all, the University of Alcalá de Henares, one of Europe's oldest, with its elaborate, plateresque 15th-century facade and peaceful gardens (tours offered, though they're a bit on the pricy side).
Aranjuez  If you've heard of 20th-century composer Joaquín Rodrigo's lovely Concierto de Aranjuez, well, here's its elegant inspiration. Its splendid old core, built in marble and other stone, looks like a stage set, its majesty due to King Felipe II, who first turned a regular old town into a royal redoubt, and Felipe V and Carlos III tarted it up further with a grand palace, gardens, and forests, largely designed by Sicily-born architect Francesco Sabatini. The palace in particular is stuffed with a wealth of Baroque furniture, porcelain, paintings, and clocks. The Parterre Gardens, the English Gardens, and the Island Gardens are a highly pleasing parade of fountains, plazas and trees. Out of the early-20th-century train station, built in the Spain's unique Mudéjar style (by Muslim craftsmen who stayed on after their Muslim rulers were kicked out bu), the Tren de la Fresa (Strawberry Train), a vintage 19th-century steam train, runs to and from Madrid on weekends in spring and early fall. 
El Escorial  Another monument to old Spanish royalty, the town of San Lorenzo del Escorial started with the austere but imposing monastery designed by Juan de Herrera and built in the 16th century by order of Felipe II. This complex has more than 4,000 rooms, along with a basilica and myriad courtyards; the Royal Pantheon is the resting place of various Spanish monarchs of the Habsburg and Bourbon dynasties; the library brimming with valuable and rare manuscripts not just in Spanish but also Arabic, Greek, and Latin; and the Salas Capitulares house works by the likes of El Greco, Titian, Velázquez, and Bosch. In addition, thee town has numerous streets lined with palazzos and other majestic buildings.
Chinchón   With the ambiance of an authentic traditional Castillian town, here it feels worlds away from the big modern city, with its cobblestone streets, whitewashed facades, and golden stonework. The main attraction is the Plaza Mayor, its buildings sporting more than 200 balconies, and site of multifarious events (even bullfights), but along its side streets and lanes you'll also find fascinating churches and palatial houses. The town is full of great restaurants, as well, which serve traditional Castillian fare such as lamb, suckling pig, stews, and more.
More information in English: TurismoMadrid.es. 


image | Turismo Madrid