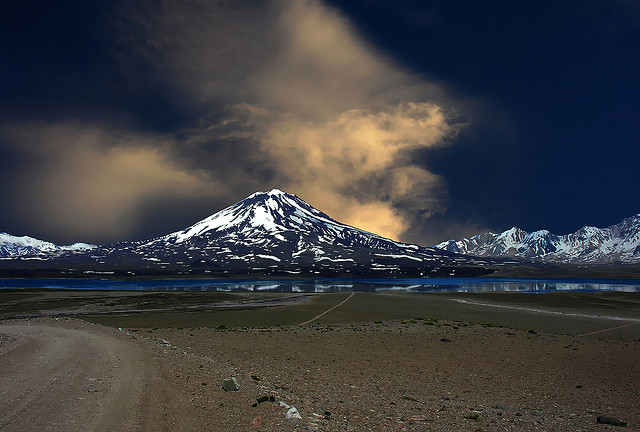 Chile's capital Santiago excites with its invigorating street life, dining, and culture,  but this is also a country with some of South America's most striking nature, beginning just a few kilometres from the big city – mountains, fecund forests, and much more. A few highlights:
Maipo Canyon   Some 150 km (90 miles) southeast of Santiago, tranquility reigns. Cajón del Maipo is an area which features inspiring views of the Andes in the distance and the Maipo Volcano (top) up close 9WHICH CAN BE CLIMBED? Top stuff to do includes outdoorsy charged adventures (whitewater rafting, horseback riding, snowshoeing, ziplining, etc.); soaking in thermal springs; and nearby wineries.
Alhué  Very near Cajón del Maipo, the mix changes to colonial architecture and Mapuche spirit guides (the town's very name means "place of the spirits"). The Plaza de Armas is the place to browse for crafts, jams, and local liquors. Climb the Cerro Alto de Cantillana (2,281 metres/7,484 feet – hiking or horseback), and explore the majestic oak forests of the Roblería del Cobre de Loncha National Reserve.
Pomaire  Just 60 kilometres (36 miles) from the Andes, this town is an ideal spot to experience the essence of traditional Chile, and a particular speciality is a wide variety of high-quality artisanal pottery from the reddish local soil. Another must here is the typical empanada turnover and the pastel de choclo, a tasty casserole of corn, meat, onion, and spices.
Los Molles  On the coast some 2 1/2 hours from Santiago and not far from Valparaíso, this charming fishing village also appeals as a beach town. Especially worthwhile nearby spots ainclude Puquén, where elaborate rock formation includes a cool "blowhole" of sea spray; the Isla Lobos, a small island with a permanent colony of enormous sea lions as well as some colourful birds; and Las Terrazas, donde el mar ha moldeado a su antojo las rocas. Puestas de sol maravillosas.
Paine  Not to be confused with Torres del Paine National Park in Patagonia, this town in Maipo province is another great spot to recharge your batteries in nature as well as experience some primo Chilean wine country. Local highlights include a lovely lake called Laguna de Aculeo, popular for sailing, kayaking, and water skiing. It's also known for its celebration each May 2, of the Cruz de Mayo commemorating the Christian holy cross, in which locals intone hymns passed down through the generations.
More information: Chile.travel.
Best Iberia fares from the U.K., from Spain.
 

image | fainmen