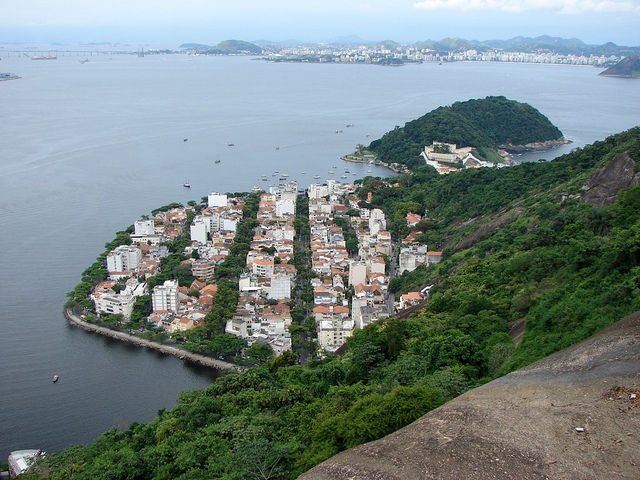 Rio de Janeiro is of course one of the world's great urban destinations. But as a city of neighbourhoods, it also has corners where you feel like you're in a small town. One you may never have heard of is Urca, a tucked-away gem most tourists never get to.

Located north of Copacabana at the foot of iconic Sugarloaf mountain, accessible only via Avenida Pasteur, (which then becomes Avenida de Portugal), much of the buildings in this quiet, well-heeled district date from the early 20th century, but it's also home to an old fort, the Fortaleza de São João, marking the place where Rio was founded in 1565 (it's not open to the public, but rather still in use by Brazil's military).
There's not all that much in the way of major sights here, and the once reknowned, now derelict casino is being renovated as a design institute. But Urca's only church, the neo-Baroque Nossa Senhora do Brasil, built in 1940, does make for a worthwhile visit, including an elaborately frescoed ceiling. The Earth Sciences Institute, in a magnificently restored neoclassical building on Avenida Pasteur, covers Brazil's natural history – and geology fans will love its extensive collection of rocks, minerals, and meteorites. And the Morro de Urca, Sugarloaf's younger sibling, is also well worth a visit for its spectacular views from the visitor centre at top; you can go up by cable car from the end of Avenida Pasteur, or have a pleasant hourlong stroll up a path amid exuberant vegetation.
But more than anything else, the allure here is to slow down and absorb the local rhythm of life, wandering its leafy streets, little plazas, and gardens, and admiring its eclectic architecture – Art Deco, neo-colonial, even a spot of Tudor here and there.
The waterfront is of course a big part of its charm, including a pair of beaches, the placid Praia Vermelha and the petite Praia da Urca; watercraft from fishing boats to fancy yachts; and the mureta, the seafront wall that's a popular neighbourhood gathering spot for all manner of locals, from grizzled fisherman to street artists to kids having a greand time hurling themselves into Guanabara Bay for fun.
Great spots for a caipirinha or chope (frosty draft beer) and some solid Brazilian fare include Garota de Urca (a branch of the famous Garota de Ipanema, at Avenida João Luiz Alves 56) and the cosy, welcoming Bar e Restaurante Urca (Rua Cândido Gaffrée 205).
More information: Rio Convention and Visitors Bureau.
Best Iberia fares from the U.K., from Spain.

image | lmgadelha