When I spent a year studying in Spain and we went on one of our class trips, without question a top highlight for me was getting to Cuenca to find the stunning sight of houses hanging over an abyss. The casas colgadas were (and of course still are) the iconic symbol of this city in Castile-La Mancha, two to three hours from Madrid by car or train, a city dating back 1,300 years, when the Moors ruled this land. And back then, gazing up at them ensconced seemingly precariously on that sheer rocky cliff, I thought they were one of the coolest things I had ever seen in all of my 18 years.
The UNESCO-World-Heritage-designated old quarter of this city (current population just under 55,000) is perched between a pair of deep, dramatic gorges, each of which has a river flowing through it. With their distinctive wooden balconies, the hanging houses  (of which there are three left) do their hanging over the the Huécar River gorge, date from the 15th century, and currently are home to the Museum of Spanish Abstract Art – which is a very nifty juxtaposition indeed (right next door there was for a long time also a well-regarded restaurant, the Mesón Casas Colgadas, but that's been closed for some time now without a prospective reopening date). In any case, the sight of these buildings, in conjunction with the plummeting cliff beneath them, is truly breathtaking, and can be best appreciated from the bridge below, the Puente de San Pablo, as well as the parador (one of a national chain of quasi-publically-owned inns) on the other side of the bridge in the historic former Convento de San Pablo. For overnighting, rooms here start at a very affordable 90 euros, but even if you don't stay here, you should stop in for a meal of local culinary specialities such as ajoarriero (cod stew – yes, despite being nowhere near the sea).
And of course, there's plenty more to old Cuenca to savour, as well. I mentioned the city's origins during Moorish rule, and remnants of the Hunka fortress around which it was founded can still be seen in the form of a stone tower and the Arco de Bezudo, part of the old city walls. Most of its highlights, though, date from after the Christian reconquest in 1177. Top of the list would of course be the Cathedral of Our Lady of Grace and St. Julian, completed in 1270 as Spain's earliest Gothic cathedral, featuring among other things several superb stained-glass windows. The next-door Episcopal Palace was added and enlarged later on, and holds a very worthwhile museum of religious art (including a couple of fine paintings by El Greco), tapestries, and other ecclesiastica.
Among other historic churches worth are the Iglesia de San Pedro, the Iglesia de San Miguel, and the Iglesia del Salvador, while other museums include the Museo de Cuenca (Calle Obispo de Valero 2),  which offers a good bit of historical, ethnographic, and other background on the regions, as well as the  Castilla-La Mancha Science Museum in Plaza de la Merced, which in addition to a planetarium and cool displays of universal science also lay out local geology and such.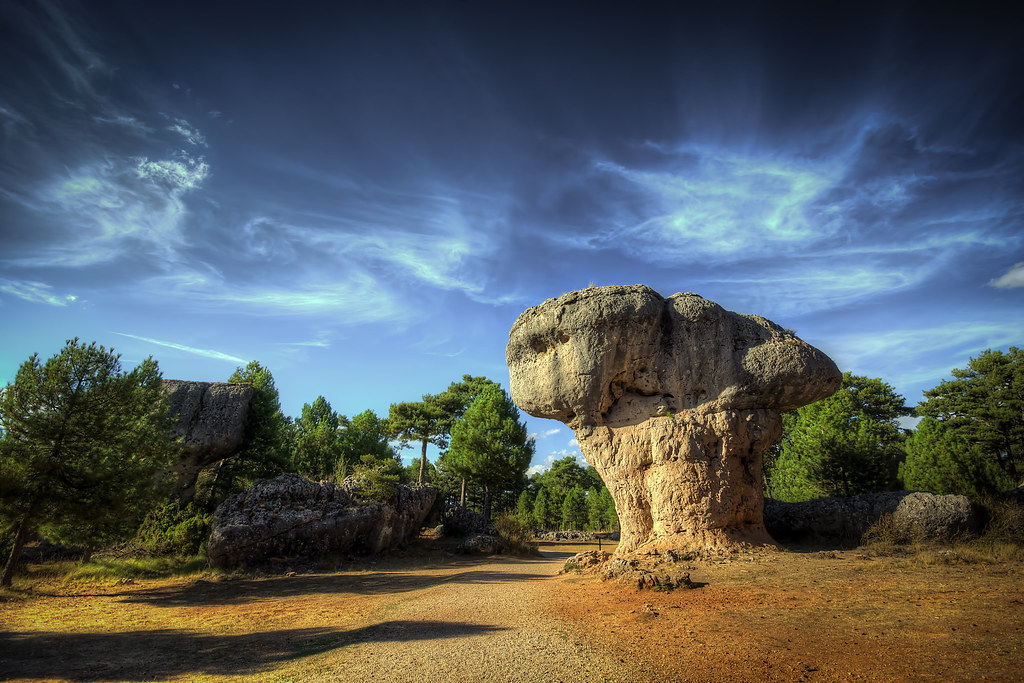 If you come by car, you can also catch some of the sights in the surrounding area. Foremost among these is the Ciudad Encantada (Enchanted City) near the town of Valdecabras, limestone karst formations carved by the elements into bizarre forms. A fitting counterpart, truly, to the nearly enchanted-seeming cliffside icons of Cuenca which enchanted me all those years ago as they have countless visitors since.
More information in English: Turismo.Cuenca.es 
Best Iberia fares to Madrid from the U.K., from the USA.

photos | Enrique Moya/Shutterstock, Der pepe/Wikipedia, Vicente Villamón/flickr