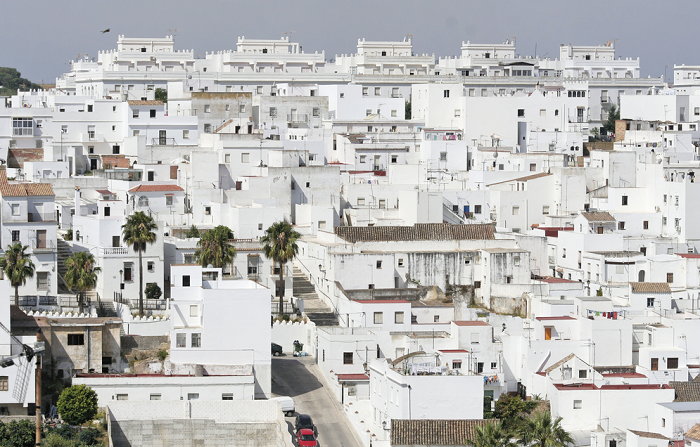 It may not be as high-profile among non-Spaniards as other parts of Andalusia, but especially for lovers of nature, adventure, and the great outdoors (with generous helpings of history, art, and mighty, mighty fine eating and drinking), the province at Spain's southern tip that includes sherry wine centre Jérez (which is where you fly into) is stunning eye-opener both in summer for its beaches and even "off-season" in fall and winter, when visitors can revel in the green, leafy hills of Cadiz' interior, dotted with gorgeous old whitewashed villages. Here are a few top choices.
Vejer de la Frontera  This (top) is probably the best known of the local hill towns due to its proximity to the cost and to beach resort spots like El Palmar and Los Caños de Meca. Visitors will find plenty of old Moorish charm in one of Cadiz' best preserved pueblos – losing  themselves among the narrow, blindingly white lanes of its old quarter, or visiting the San Miguel windmills. There's also a modern side, even including some very good contemporary art at the NMAC Foundation. Afterward, strike out a bit into the surrounding countryside, for a spot of hiking a maybe even horseback riding, especially up on Monte de Meca, with its San Ambrosio watchtower, its old Visigothic hermitage, and hamlet of Santa Lucía.
Benalup-Casas Viejas   Notorious in 20th-century Spanish history as a hotbed of anarchism in the 1930s (and the site of a particularly famous atrocity), today it's the very picture of beauty and tranquillity, with local offerings such as the Tajo de las Figuras, cave with its neolithic paintings; the Tajo de la Sima overlook; the Torre de la Morita, a ruined Moorish castle dating from the 13th century; and for a little aquatic action, the Celemín Reservoir. And for overnighting, I'd recommend the very cool 16-room boutique hotel Utopía, whose décor is a far more peaceful (and stylish) homage to the tumultuous 1930s.
Medina Sidonia   The proud seat of an old duchy, with the ruins of ancient Roman Asido Caesarina (castle, houses, road, sewers) as well as Moorish and mediaeval structures. Wander its narrow lanes and sample its typical alfajores, a confection of honey, nuts, and spices with origins in al-Andalus. Nearby, Los Alcornocales Natural Park  is a marvelous swath of river valleys with some ancient plant species and known for its cork oaks.
Alcalá de los Gazules   A charming and hilly town dating back to Roman times,  Alcalá also boasts several fascinating  nearby prehistoric sites such as Laja de los Hierros and Mesa del Esparragal, as well as the Visigothic Lascutama Tower. A ramble in the Sierra del Aljibe mountains is also highly recommendable, especially a hike out past the Laguna Moral lake up to Picacho Peak, for a bird's eye view of some spectacular scenery.
Jimena de la Frontera   Another very old town (above), and very under the radar with a hilltop castle and surroundings dominated by the Hozgarganta River ; nearby is the Laja Alta Cave with intriguing prehistoric art. This town and its beautiful surroundings are ideal for disconnecting and activities like hiking and mountain biking.
San José del Valle   Another lesser-known spot folks come to do some biking through the Sierra de Cabras and explores the ruins of the Moorish Gigonza Castle and Baths, with sulphur springs that were all the rage among the Andalusian bourgeoisie of the late 19th century. There's also some wonderful hiking along the Puerto Cáliz-El Valle trail.
Castellar de la Frontera  The old section of this town is a well preserved fortified affair from the Moorish Nasrid dynasty with sweeping views over Los Alcornocales reserve all the way down to the Rock of Gibraltar. The old town became something of a hippy colony, and the boho flavour is still apparent, along with one of the Cádiz hill towns' better developed tourism scenes. A good spot for budget eats and sleeps, incidentally.
More information in English: Cadiz Tourismo.com. 
Best Iberia fares to Jerez from the U.K., from the USA.

image | Arnd_Drifte/Shutterstock, El Pantera