Volcanoes – there's something just incredibly compelling about them and the primal forces they represent, isn't there? The western side of Central America's most volcanic country is lined with some 18, both extinct and active – in fact, one of Nicaragua's nicknames is "Land of Lakes and Volcanoes". Several of these make great hikes (and in a couple of cases, you can practically drive right up to them).
I've been privileged have spent years exploring them as well as running a tour operator, Green Pathways, to share them with visitors from all over the world who come to Nicaragua in part to revel firsthand in these magnificent phenomena of nature – whether they want to hike them, see bubbling lava, or even board down them. Following are a key handful of top volcanoes and hikes.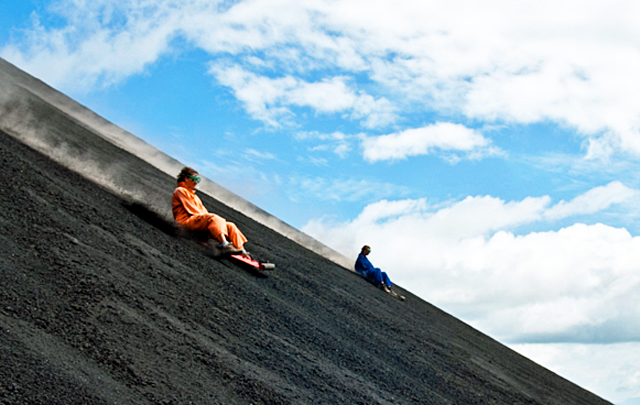 Cerro Negro   Central America's youngest volcano, "Black Hill" near the colonial city of León isn't all that high as these things go (just 728 metres/2,388 feet), but it's unique for several reasons: its relative youth – a mere 160 years old – and regularity of activity (you'll see see steam rising from the caldera, but the last major eruption was in 1999) means that soil hasn't been able to accumulate and trees and plants haven't been able to grow on it yet. So its slopes are still mostly covered by volcanic rocks, ranging from huge boulders down to fine sand. It's the latter that has made it popular for tours for "volcano boarding" (above), either standing or seated.  Climbing difficulty rated 2 out of 5.
Maderas   On the waters of Lake Nicaragua southeast of Nicaragua's capital Managua, Ometepe Island is formed by a pair of volcanoes, and dormant Maderas, the smaller of the two at 1,394 m. (4,573 ft.), offers a challenging (and muddy) all-day hike through dense cloud forest, with spectacular views and a misty-cover lagoon in the crater awaiting at trail's end (there are shorter hikes also available). Definitely helps to be in shape for this one. Climbing difficulty: 4 out of 5.

Masaya    Just a short drive southeast of Managua, this is the centrepiece of the country's oldest and largest national park, the Masaya Volcano National Park. Though not one of the country's higher peaks (635 m/2,083 ft), it was nonetheless feared by both the pre-Columbian peoples and the Spanish conquistadores, and dubbed by the Spanish la boca del infierno ("the mouth of hell") – and approaching its smoky, sulphurous caldera today, you can understand why. Visitors can fairly easily access it by car or or day or night hikes. Climbing difficulty: 1 of of 5.
Mombacho   Close to the colourful colonial city of Granada, this lush, verdant, 1,345-metre (4,413-foot) peak is covered in mystical cloud forest, uniquely placed to offer the chance to spot tropical wildlife such as monkeys, sloths, and a plethora of birds and reptiles. Mombacho's slopes are filled with coffee farms, and nearer to the volcano's base there's an option to zipline through the treetops. The ascent to a choice of craters is an adventure in itself, either via hiking or 4×4 up steep trails. Climbing difficulty: 2 out of 5.
Momotombo   Though not the highest volcano on the list (1,258 m/4,127 ft.), it is in many ways the most impressive, and also the most difficult to conquer, best left to advanced climbers led by experienced guides. But the hard work is rewarded by the most breathtaking views of any Nicaraguan peak, of the stunning Maribios Mountains and beyond. Momo looms over Lake Managua, near León. In fact, it was key to that city's history; its 1609 eruption severely damaged the original León and made it necessary to refound the city farther away. An experienced guide or tour company is necessary when hiking this volcano. Climbing difficulty: 5 out of 5.
Telica  Located close to León, this extremely active, 1,061-metre (3,481-foot) volcano offers hardy hikers a chance to see some glowing lava and billowing steam from a crater nearly a kilometre wide and 120 metres deep, as well as stunning views of the nature reserve that surrounds it.  Most excursions leave at 2pm and return by 10pm (the 4×4 ride to Telica through farms and forests is an adventure of its own), which gives visitors a chance to experience sunset over the Pacific Ocean, glowing lava by night (top), and dinner in one of the local communities on the volcano's slopes. Climbing difficulty: 3 out of 5.
For more tourism information on Nicaragua, click here.  Best Iberia fares from the UK; from Spain.
Gemma Cope is  director of  Green Pathways, a  sustainable tour operator that specialises in environmentally, culturally and socially responsible holidays to Nicaragua's most spectacular and remote locations. 

images |  retro traveler, Planetadeportes, Adalberto Hernandez Vega, Green Pathways