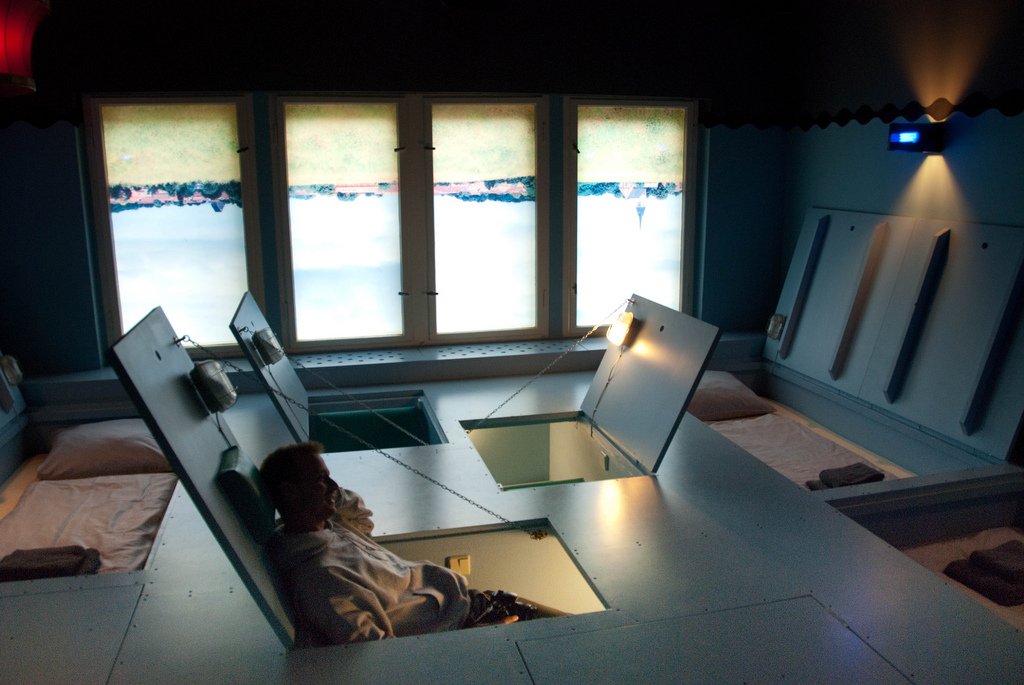 Back in the day, hotels and resorts were always fairly predictable. From simple to grandiose, they pretty much conformed to basic expectations and conventions. Then in the 20th century, hoteliers started getting much more creative – and some even more than others. And nowadays – well, here are a few properties (excluding theme parks) which register especially off the charts when it comes to unusual design in some of the countries Iberia serves – and please keep in mind it's only a partial sampling, so I hope you'll share your own favourites in the comments below.
Belgium  One of my favourite little historic towns here is Durbuy, and lately there's a whimsical 10-room inn La Balade des Gnomes, where you can commune not just with gnomes but also mermaids, Trojan horses and other fairy creatures. Forsooth.
Chile Down in Patagonia's Huilo-Huilo biosphere reserve, the mossy, dozen-room Montaña Mágica Lodge (right) truly feels like a mini magic mountain, including a geyser springing from its peak. Meanwhile, elsewhere in the region, in Torres del Paine, EcoCamp Patagonia goes the upscale geodesic dome route.
France   East of Marseille, the Attrap'Reves (Dreamcatcher) is made up of a half-dozen clear plastic bubbles, strategically set up for privacy. An outfit called BubbleTree has been spreading a concept along similar lines, with lodging partners in Champagne, Brittany, Aquitaine, and Auvergne (one is even on the grounds of a 16th-century castle).
Germany    In Berlin's inner-city Wilmersdorf neighbourhood, an artist came up with a conceptual hotel-cum-art-installation called Propeller Island (named after a Jules Verne novel) that's propelled itself to 30 rooms (some really far out, like the one where everything is upside down, top). And the southwestern city of Kaiserlautern boasts a prison-turned-fancy-digs in the form of the Alcatraz Hotel – "typical red sandstone with black granite, stainless steel, fine wood combined with authentic prison bars".
Italy  One phenomenon unique to this country are the conical-roof trulli of Puglia, with a number of complexes offering accommodations in them such as Trullidea Resort in Alberobello. For something a bit grander, head to Polignano near Bari to the Hotel Ristorante Grotta Palazzese, a cliffside property partly integrated into a cave just over the Adriatic spray.
Mexico  Say olé! to the Quinta Real Zacatecas, in the eponymous historic city in north central Mexico. Why? It's the former bullring, and a spectacular remodeling job if ever I saw one (not to mention a much preferable use of the space to killing bulls).
Netherlands  The Dutch seem for some reason to really dig this offbeat lodging thing, with the Controversy Tram Hotel in North Holland; Silogie, a converted grain silo in the east of the country; the Crane Hotel, a onetime dockside crane (which guests can still operate!) in the Friesland port of Harlingen; and Rotterdam's Euromast TV Tower, which actually includes a couple of luxury suites.
Spain  Iberia's home turf is no slouch in the design department these days either, of course, and from that perspective one of the most unusual hotels in the country at the moment is probably Frank-Gehry's typically swoopy Marqués de Riscal in La Rioja. But that's only the beginning. Up in Catalonia, in the countryside near Girona you can swing from the trees in Cabanes als Arbres or have a zenlike experience (and Michelin-two-star meals) at Les Cols Pavellons, whose five "rooms" are just minimalist crystal cubes. And while Spain is full of converted historic buildings, one of the cooler recent additions has to be the Hotel Plaza de Toros de Almadén, the former bullring of a town near Ciudad Real, Andalusia. Or over in Granada, about an hour's drive from the city in the lovely town of Baza, hide out in air-conditioned caves of Cuevas Andalucía.
Sweden  Being a charter member of the mod-Scandinavian design club, 'tis no surprise there's cool stuff up here. Literally, in the case of the seasonal Ice Hotel in Jukkasjärvi, Lapland, about to begin its 24th edition this December. But there's also the Treehotel, (above), futuristic aroboreal creations (from boxes to a "UFO" to a "bird's nest") also located up north near the Arctic Circle. Also the Sala Silvermine, a Hostelling International member 90 minutes north of Stockholm which includes the world's deepest hotel room.
Switzerland  Up in the hills above Lake Geneva, the Whitepod Hotel is indeed made up of 15 white "pods" – actually high-tech tents – and styles itself a sustainable "eco-luxury hotel and alpine experience". Then from the top of the mountain down into the hall of the mountain king, Hotel La Claustra is a luxury hotel in a former Swiss Army fortress 2,050 feet under Ticino's Gotthard Pass.
Turkey  Here of course it's all about that otherworldly region of central Anatolia known as Cappadocia, famous for its carved out underground houses and entire towns. Various of these have been turned into restaurants and lodgings, with outstanding examples of the latter including the Gamirasu Cave Hotel near Urgup and the Aydinli Cave House Hotel in Göreme.
United Kingdom  If you've always been taken with the song Yellow Submarine, hie thee to Liverpool, where Hollywood Barges will put you up in a barge thus themed (another is done up a la The Joker, a third styled after The Titanic).
United States   Big country, lots off oddities. Starting out with the more traditional, a couple of hours up the Hudson River from New York City, the 1869 Saugerties Lighthouse sits out on a promontory in the river. Over in Boston, the more elaborate and luxurious Liberty Hotel downtown was adapted from the considerably less fancy Charles Street jail and you can eat, drink, and sleep in the former cells. Down Florida way, you have to scuba dive into the Jules Verne Undersea Lodge in Key Largo, while out near Taos, New Mexico, the Earthship Project's "radically sustainable" units come with much appreciated mod-cons.
images | dsopfe, nickherber, Treehotel