A couple of weeks ago I wrote about souvenir shopping in Europe. Now that the ol' credit card has cooled off just a bit, I'm ready to tackle the Americas. Again, I'm aiming away from average tourist junk and more toward high-quality items that are both characteristic of the destination and not easily available outside it.
Brazil  Yes, caipirinhas, caipiroskas, and the like are still the rage. But very few and limited types of their main ingredient, the Brazilian sugarcane firewater cachaça, are exported. So you can impress your friends and family with some unfamiliar – and unusually fine – varieties direct from the source. From the gullet to the feet, Havaianas are by now sold all over the world, but again, you can find styles and colours down here you won't find in your local boutique.
Colombia  It goes without saying that one of Colombia's best known products is coffee, and if you have the opportunity to compare different types and blends, by all means bring back a bag or three of your favourite(s). But another lesser-known treasure is emeralds, which since this country is the world's single largest producer of this gem can be bought at advantageous prices in various cities such as Bogota and Cartagena, in forms from loose stones to extremely high-fashion jewelry.
Costa Rica  Coffee is a big deal here, as well, though obviously the country's not as huge a producer as Colombia – this is more of a boutique deal, with larger and smaller operations in the Central Valley, some of which are open to visitors. In addition, the town of Sarchí is known for its fine furniture (they ship, of course), and other crafts for which the country is known are colourfully decorative miniature oxcarts and finely detailed paintings on bird feathers (yeah, you have to see it to believe it).
Dominican Republic  By now this country produces some of the world's most exquisite cigars (some say the best equal and even surpass Cuba's in quality). But the other product that is identified with the DR is amber, mined in the mountainouse interior and sold in most cities and tourist areas throughout the country. And don't forget the rum! If you want a more down-home tipple, something called mamajuana might be the ticket, a potion of rum, red wine, and honey soaked with tree bark (purported to be have curative properties). Among the local handicrafts, you'll find plenty of paintings hereabouts, too – including, if you're interested, many from neighbouring Haiti.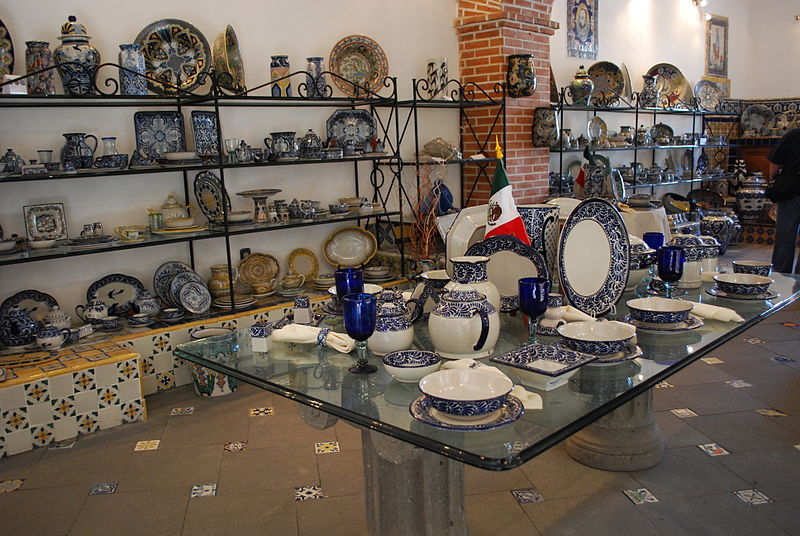 Mexico  Among the Americas' most venerable pottery is colourful Talavera from the city of Puebla, derived from Spanish antecedents, while sterling silver jewelry is a speciality of the hill town of Taxco, in Guerrero about 2 hours from Mexico City, as is turquoise that of the northern Mexican state of Sonora. There are a lot of lovely handicrafts produced in this country, as well; peraps the most distinctively Mexican are those themed after los muertos, the Day of the Dead skulls and whatnot. As far as stuff you can put in your mouth is concerned, the home country of tequila is also just the place to sample hundreds of brands and varieties (most of which aren't exported), and bring home your favourite(s). But if you like Mexican cuisine, get thee to a market a buy some fresh mole and other powders and spices you won't be able to get at home. Ditto for the local chocolate, which has a unique bite to it and makes a lovely cup of hot chocolate.
Panama  The most unique product in this Central American country is far and away the colourful fabrics of the Kuna people known as molas (top) a sophisticated reverse appliqué in several layers – incredible stuff, really, and sold in the form of garments and hangings throughout the country but mostly in Panama City and their home territory of Kuna Yala.
Peru  Alpaca items in the Andes are classic – hats, scarves, gloves, and so forth. Another good choice is local pisco (grape vodka), obviously in far greater variety and range of quality than you can find it in your local shop.
images | Johantheghost, Mauro Cateb, AlejandroLinaresGarcia