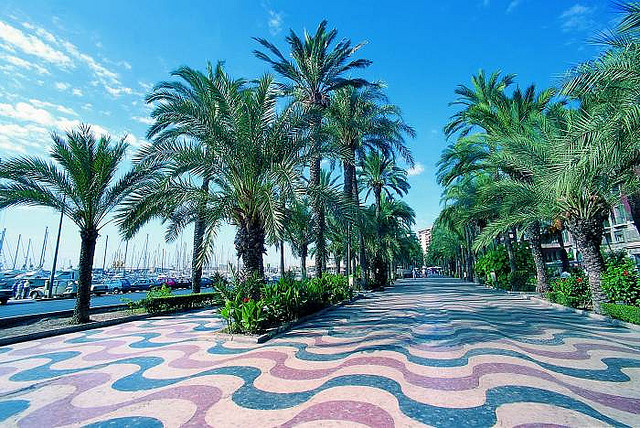 This maritime city south of Valencia, with its unique light and shimmering waves, its salty tang in the air, its feel of eternal summer, was once aptly described by local early 20th-century writer Gabriel Miró as being "pierced through and through by the Mediterranean".
And you sure get that impression the moment you step foot in Alicante (aka Alacant in the language of the Valencian Community of which it is part), starting with the downtown's Playa del Postiguet, a beach you can take the plunge practically any time without fear of chill. Right off the sand is the palm-lined Explanada de España, one of the city's most iconic images, made up of some 6 million multicolour tiles arranged to suggest waves. Beyond that are historic buildings like the imposing 1925 Edifico Carbonell, with its round-domed-towers.
Alicante's most imposing estructure of all can be espied way up atop Mount Benacantil. Santa Bàrbara Castle (below) dates from the 9th century, when this city was Laqant, under Arab rule. You can climb up on foot or via elevator from El Postiguet to be rewarded with not only some pretty cool fortifications, a city museum, and other interesting exhibitions, but stunning views out over the city and its beloved Mediterranean.
Back down at sea level, one of the city's most interesting districts for visitors is the historic Barrio de Santa Cruz, adjacent to the wall which descends the hill from the castle; plunge into the warren of narrow streets, among which you'll find an 18th-century hermitage. Stroll along Calle Labradores and check out its impressive manses, also from the 18th century; other musts include the co-cathedral of San Nicolás, Calle Mayor, Plaza Gabriel Miró, Plaza del Ayuntamiento, and Plaza Nueva.
Fascinating as all of that is, this being Alicante/Alacant, you're inevitably drawn back to the sea. Another popular beach, even larger than El Postiguet, is San Juan, which is also especially popular with kayakers. Or head a little farther afield, hopping a boat from the waterfront's yacht- and sailboat-crammed port (Paseo Marítimo at Plaza Canalejas) to the Isla de Tabarca, about an hour's ride up to Cape Santa Pola and home to less than a hundred souls in a little old limestone village surrounded by date groves and gorgeous hideaway coves.
Come evening, tapas bars are thick on the ground in Santa Cruz and elsewhere in centre city, but visitors should make a point at least once of dining at a seaside restaurant in Marina, in the eastern part of the port, or in Panoramix, in the western part. Both areas also have pubs where you can then keep the evening rolling with gin tonics, cervezas, or your elixir of choice as you also drink in the magic of the Mediterranean spread out before you.
Useful Facts

Alicante has about 335,000 inhabitants.

The city and region's Mediterranean climate features mild daytime temperatures year-round (including summers which are less hot than they are inland and winters which are dry with little rain).

More information in English: AlicanteTurismo.com.

Best Iberia fares from the U.K., from the USA.
images |  comunitatvalenciana, Juan J. Martinez