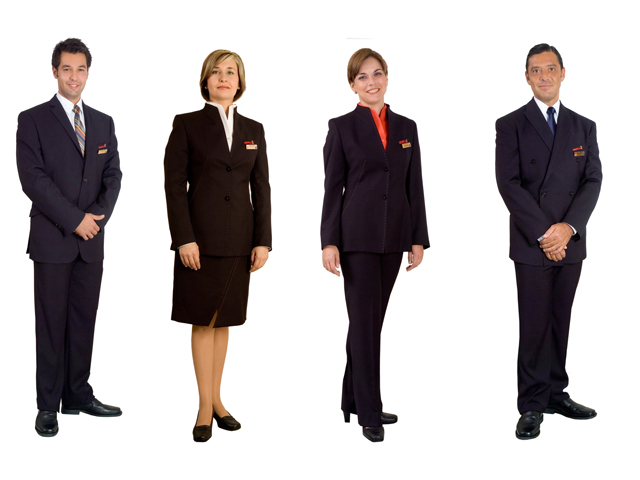 (This post is the eighth in a series; for the seven preceding posts, see below.)
Well, here we are, finally at the current stage of our flight crew uniform design, which has been in the hands of one of the top Spanish fashion designers of today, Adolfo Domínguez, since 2005. As was the case the last time around, in 1989, there was a competition, and Domínguez won out from amongst eight initial candidates, then five finalists. As you can see from the photo above, his style for the company is characterised by an elegance that's sleek and appealing yet functional and highly discreet and low-key.  
In terms of colour, blue remains very much dominant – in this case, midnight blue – juxtaposed with the usual corporate colours red and mustard yellow. The jacket ensemble with haute couture tailoring once again takes centre stage, with the addition of trousers as an option in addition to a skirt for women). As has been the case for years now, all garments have been designed with comfort in mind as well as adaptability to various body types, seasons, climates, and world cultures.
The accessories, of course, complete the picture. And one interesting note: Domínguez tried to return to the past idea of including a hat, but it didn't quite gel.  To his regret – the designer maintains to this day that if it were up to him, all women would still wear hats.
Adolfo Domínguez,  born in Galicia in 1950, is a tireless worker who says he plans to live 105 years and retire at age 100. He considers himself hyperactive and dynamic, although although thoughtful, so that being in contact with nature is fundamental for this optimistic dreamer. The vocation for clothing runs in the family, as his father had a tailor shop in the city of Ourense. After a phase of wanting to enter the priesthood, young Adolfo went off to study film, languages, and design in London and Paris. In 1973 he returned to Spain and took over his father's business, then became the first Spanish designed to open his own boutique in Madrid. He's also become known for a line of scents.
Previous installments:
Part 1: The 1940s
Part 2: 1954-1966
Part 3: 1968-1972
Part 4: 1972-1977
Part 5: 1977-1983
Part 6: 1983-1989
Part 7: 1989-2005

images | Iberia, Micasanova