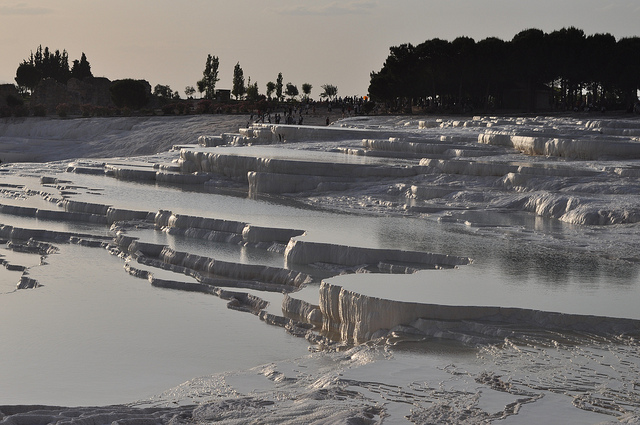 It's easy to become taken with the very singular way of life in Istanbul, uniquely straddling two continents, but get yourself out of the capital and you'll find yourself just as smitten with some of the surprising and wonderful places you'll find.
First on the list is just a ferry ride away (40 to 60 minutes) in the tranquil Sea of Marmara: the Prens Adaları (Princes' Islands), where royals used to be exiled during the Byzantine and Ottoman empires (hence the clever name), then the wealthy used to take their ease during the 19th century. Car-free, these days Büyükada and eight other smaller islands are a popular weekend getaway for the hoi polloi, as well. You can get around on foot, by bike, or in horse-drawn cabs to explore Ottoman/Victorian mansions, whitewashed bungalows, forests, cliffs, golden beaches,  marinas, fish restaurants, and mosques as well as Byzantine churches and monasteries.
Somewhat farther afield (some 200 kilometres/120 miles, to be more precise) south of Istanbul is a site where the landscape suddenly changes radically and wondrously. Pamukkale, a UNESCO World Heritage Site (top), doesn't look like any place you'd expect to find on this planet. It's a wonderland of calcite forests, petrified waterfalls, and terraced travertine basins with thermal pools, some 160 metres (525 feet) high and 2,700 m. (8,860 ft.) long. Its name meaning the "cotton castle" in Turkish, it does have an ethereal aspect that will leave you amazed. This was the site of ancient Roman Hierapolis, whose impressive remains – including the Temple of Apollo and the necropolis – you can still wander through (there's an archaeology museum here, as well). Experiencing the sunset here is especially Pamakkaptivating.
Up in the other direction is Edirne, a city on a pleasingly human scale in Turkey's northwest corner near the border with Greece and Bulgaria, 235 km (146 miles) northwest of Istanbul. It was a Greek settlement refounded in 125 AD by Roman emperor Hadrian and modestly named Adrianople after himself. It's a place to take it slow, strolling to take in ancient historic neighbourhoods and landmarks like the grandiose Selimiye Mosque, next to the ruins of an ancient hammam (bath complex). You'll come across other picturesque old mosques, as well, along with caravanseries, Turkey's largest synagogue, and the Macedonian Tower, the last surviving bit of the ancient city walls. There's also an atmospheric 15th-century bazaar and a pair of Ottoman bridges. The city's annual highlight these days comes during the month of June, when the most famous tournament of Turkey's national sport, oil wrestling, takes place here between scores of fit, half-naked young blokes in a field north of the city.
Useful Facts

Summers in Turkey are long and relatively mild and humid, while winters tend to be chilly and rainy.

The currency is the Turkish lira.

More tourism information: GoTurkey.com.

Best Iberia flight deals from the USA, from Spain.

image | MaWá