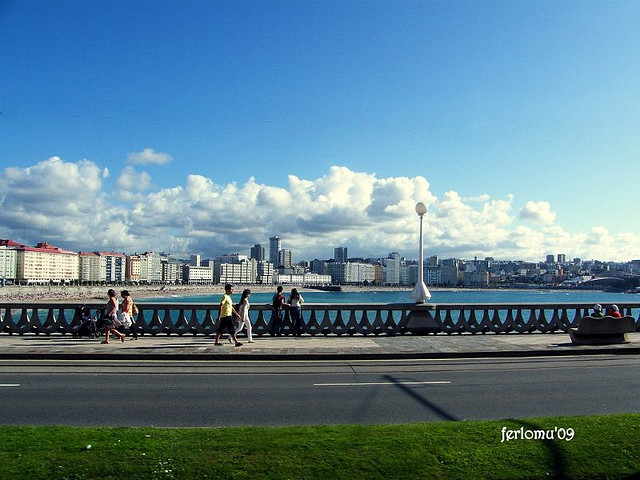 Out on the front lines of Spain's Atlantic Coast, the northwest region of Galicia's most thriving city is also one of the entire country's most maritime-oriented, wide open to its expansive bay and allowing visitors to fill their lungs with bracing salt air as they stroll along A Coruña's Avenida de a Marina.
The other most notable thing about this waterfront boulevard is the facades of its buildings – galleries of floor upon floor of windows that's been described as "one of the the largest glazed sites in the world" – a striking sight indeed, and one of the symbols of the city.
Continue around the bay along this avenue, past the gracious 19th-century Méndez Núñez Gardens, and you'll finally arrive at  Praza de Maria Pita, ground zero of A Coruña's historic quarter, a majestic open plaza which celebrates a local heroine who in the 16th century confronted invading English troops with a shout of "whoever has honour, follow me!" A perfect spot, too, for an apéritif or coffee in a sidewalk café whilst people watching and admiring the Modernist fin-de-siècle city hall.
Indeed, there is no shortage of distinguished landmarks, architecture, and cultural hostspots in this city. Charming, leafy Praza de Azcárraga in the old town; medieval walls; and doughty stone manses. Churches, of course, most notably the Romanesque Church of Santiago the Apostle (Galicia's oldest, dating from the 12th century);  the 14th-century Collegiate Church of Santa María del Campo, and the Baroque 17th-century Convent of Santo Domingo. Then of course there's the Castillo of San Antón, the diminutive 16th-century fort to one side of the harbour, now housing an archaeological/history museum.
Speaking of museums, this city's Museum of Fine Arts is a must for any culture vulture – not only for its masterworks by Spanish artists such as Goya and Murillo and Europeans like Peter Paul Rubens, but also to learn about the many accomplished artists of Galicia, such as Maruja Mallo and Manuel Colmeiro. And another very worthy museum of sorts, albeit one of living creatures, is the Acuarium Finisterrae.
Travel isn't all about monuments and museums, obviously, so to rub shoulders with some of the locals, one top choice would be the area around Calle Orzán (which some have likened to Galicia's answer to SoHo), with loads of pubs as well as boutiques selling threads with a definite alternative vibe.
Then when your tummy starts growling, head to one of the hole-in-the-wall eateries on Calle de la Estrella for some Galician soul food – that would be empanadas (turnovers stuffed with tuna), pulpo a la gallega (octopus, boiled, then garnished with olive oil, salt, and paprika), lacón con grelos (pork shoulder with turnip tops), and various forms of shellfish soups, stews, and whatnot. All washed down with a nice crisp Albariño or voluptuous Mencía, of course.
It's worth getting just a bit out of town, as well – especially since one of the stars of the entire northeast of Spain is found right here: the legendary Tower of Hercules, a 55-metre-tall lighthouse built by the Romans, dating back to at least the 2nd century AD, and still in use today (you can take a tram out, then climb 242 steps up to the observation level for some spectacular views).
Beyond all that, A Coruña is full of green areas (Galicia, after all, is green Spain par excellence). Top among them are the San Carlos Gardens, sculptor Manolo Paz's seaside Forest of Menhirs, Parque de Bens, and Monte de San Pedro. And especially if the weather's fine, check out some of the local beaches (though, granted, you may not think of Galicia as a beach getaway), such as Riazor and Orzán.
Much of the nightlife in A Coruña is found in the little pubs amid the little streets of the centre city, but there's also the Playa Club, a disco with cool views over the expanse of the Atlantic.
Useful Facts

A Coruña has just under 250,000 inhabitants.

The city's oceanic climate is moderated throughout the year, with temperatures averaging 10 degrees Celsius (50° Fahrenheit) in winter and generally reaching a maximum of 25° C (77°F) in summer.

More information in English: TurismoCoruna.com

Best Iberia flight deals from the U.K., from the USA.
images | ferlomu, Daniel van der Ree, Alessio Damato