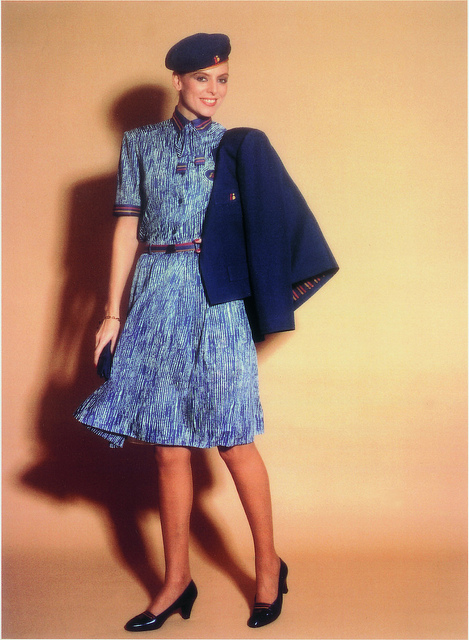 As Spain and its society started changing more profoundly in the 1980s, it was time to update Iberia's flight crew wardrobe once again. And Elio Berhanyer, who'd been designing for the company since 1972, was aiming to marry the classic and elegant to the contemporary and casual. The colour blue was once again front and centre, but this time not the buttoned-down navy blue of times past, but reinvented as a vibrant "Canary Island blue" pattern with the classic Spanish hues of yellow and red interwoven.
The key item in this ensemble was the blazer, paired with a skirt pleated in front and straight in the back – a very 80s look. The accessories stayed the same – handbag, scarf, cap – just adapted to the new design. The jackets and overcoats were given a different feel thanks to linings of striped-silk prints in tones of red, blue, and mustard.
And this time more of an effort was made to coordinate ground staff and flight crew uniforms, with just the shade of blue varying slightly; for airport employees it had more of a turquoise shade.
As the 1980s progressed, so did Berhanyer's career and prominence, both in terms of individual clients and for various companies, organisations, and high-profile events, including Transmediterránea Ferries; the croupiers at the Casino Gran Madrid; attendants at the 1982 World Cup in Spain and the Made in Spain trade fair; and the uniforms of the elite air force unit attached to Spain's royal family and top government officials – a direct commission from King Juan Carlos I.

Previous installments:
Part 1: The 1940s
Part 2: 1954-1966
Part 3: 1968-1972
Part 4: 1972-1977
Part 5: 1977-1983