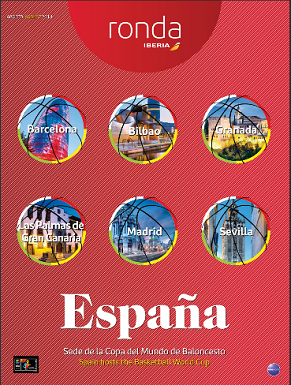 Wow, it's already time for another World Cup! Not football this time, but basketball – the very first FIBA World Cup.  And furthermore, Spain's got it, and Iberia's honoured to be a premier sponsor. From August 20 through September 14, games will be split between six cities – Barcelona, Bilbao, Granada, Las Palmas de Gran Canaria, Madrid, and Seville. So we decided to put together a primer to the venues and the host cities and throw in a profile of Team Spain captain José Manuel Calderón, an Extremadura native who's just started as a point guard for the New York Knicks.
Elsewhere in Europe, we turn our eyes to a travel classic that's not just classic but classical: Athens, Greece, the cradle of Western civilisation. From its ancient ruins to its lively streets and onward to the Greek hinterlands and islands full of astonishing history, scenery, and beaches, this is a destination that should be on every traveller's bucket list.
From there we move north over the border into Bulgaria, whose capital Sofia has been alive with new energy in recent years, yet still retains its exotic Byzantine charisma in a setting thankfully not overrun with tourists. This is a place that's truly different and special once you've explored the likes of Prague and Budapest.
Then it's across the pond for a colourful look at 8 delightfully diverse sides of Colombia, from the tropical Caribbean coast including colonial UNESCO World Heritage Cartagena and the mysterious pre-Columbian "lost city" (right); its wild Amazon; classic coffee country; exciting capital Bogota; and more.
Our other big travel feature deals with a a trend that continues to gather strength year after year. In a world where more of us are looking for meaning, and for travel that's more than just sightseeing and lying on a beach, voluntourism opportunities have become remarkably global and diverse. We talk to volunteers, examine the various issues involved, and look at the rewards and the challenges of this unique form of interacting with other cultures.
Then it's back to Spain for our profile of a most unique chef. Andalusia's Michelin-starred Ángel León is dubbed the "chef of the sea" because of his focus on the bounty of the deep – the marine heritage of his home province of Cadiz, location of his restaurant Aponiente, where the menu includes not just the likes of clams, cuttlefish, makerel, and tuna, but also algae and plankton (this last even in ice cream).
We round out the issue with a stimulating grab-bag, including tips on how to beat the summer heat; some cool art exhibitions in Madrid as well as one set of cultural festivals in Edinburgh and another against an extraordinary ancient Roman backdrop in the Spanish city of Mérida, Extremadura; and last but not least, a bazaarful of neoprene and camouflage (yeah, it's an eyeful, all right).
So please do come and have a look!  🙂


images | Plamen Stoev, Gavin Rough