Visitors to New York City don't come for the beaches, certainly. But if you should happen to be in town during the warm weather (say, through September), and want to see where many of the locals get their splash and tan on – especially on weekend – there are some pretty decent spots to get wet, from strands out in the boroughs of Brooklyn and Queens (reachable from Manhattan by Underground – er, subway) to glorious stretches farther east out along the south shore of Long Island, which also offer a look at a quite unique side of New York State (for which you'll need to hire a car or hop the Long Island Railroad from Manhattan's Pennsylvania Station).
NEW YORK CITY BEACHES
Brighton Beach, Brooklyn  This is a funky urban beach experience like you'll never have anywhere else, because it's much of it is по-руский – this neighbourhood is "Little Odessa", the epicentre of emigrés from Russia but also Ukraine, Uzbekistan, and other points east. The water's clean, but expect drinking, smoking, Slavic techno, and loads of interesting characters. Afterward, have some Russian soul food and a shot of vodka (or three) in one of the colourful restaurants along Brighton Beach Avenue.
Coney Island Beach, Brooklyn  Right next to Brighton, Coney Island is funky in another way – it's a lively bit of business fronting America's original classic amusement park, dating back to the 1880s and still alive with carny atmosphere and classic rides like the Cyclone roller coaster and the Wonder Wheel. The beach itself is not everyone's cup of tea, as it gets very crowded, but it's all part of a classic, nostalgic bit of urban Americana that should be part of any visit to the Big Apple.
Rockaway Beach, Queens   Moving eastward, the Rockaways have more of a small-town than big-city feel, and the neighbourhood and beach have largely recovered from the devastation of Hurricane Sandy in 2012. The beach is long, wide, clean, not overcrowded, and family-friendly, with enough wave action to attract surfers.
LONG ISLAND BEACHES
Jones Beach, Wantagh  Built in the 1920s, and at 6½ miles (10 kilometres) long one of the largest beaches in the state, Jones is one of the most popular destination beaches for New Yorkers (including myself, back in the day), and includes an outdoor arena which stages some world-class concerts (Linkin Park and Jimmy Buffett are performing here this summer, for example), two swimming pools, a golf course, mini golf,  and a nature centre. A true classic.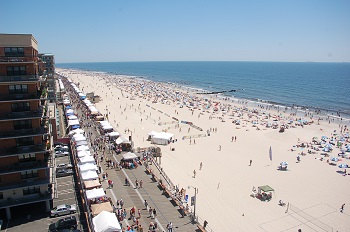 Long Beach   Just 50 minutes by train from Penn Station and an hour or so by car, this is where Long Island's narrow offshore barrier islands begin. The small city here boasts more than 3½ miles (5.5 km) of enticing, uncrowded sands (left) and a nice new wooden boardwalk (rebuilt after Sandy), along with good local eateries, shops, and services.  One caveat, though: in summer the charge to day trippers is $12 a person.
Fire Island Seashore   The central island of the South Shore's barrier islands, some 31 miles (50 km) long and just a few hundred feet wide in most spots, sports has some glorious sandy stretches indeed, as well as 17 villages and hamlets, all reachable via ferry. Ocean Beach is the biggest, with a old-timey, family-oriented charm to it. There are no cars – folks haul their stuff around in little red kids' wagons on raised wood-plank walkways like the one at top. Then up the sand apiece are Cherry Grove and The Pines, long popular with gay and lesbian New Yorkers. Besides the beach, there are various historic and natural landmarks out here, such as the Fire Island Lighthouse (1858) and the magical Sunken Forest preserve. Extra bonus: adorable free-roaming white-tail deer!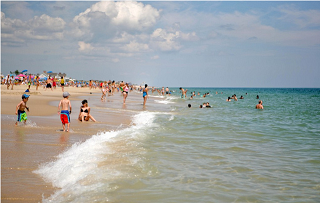 Hamptons Beaches  Perhaps you've heard that the Hamptons are a snooty enclave for the rich and famous. Well, there's plenty of truth to that, but amid the chic modern manses, the villages here also administer a number of beaches open to non-residents. One of the nicest is Cooper's Beach in Southampton (right; though a parking permit will set you back $40); others include Ponquogue Beach, Pikes Beach, Sagaponack Beach (one of my own favourites), and Sagg Main Beach (all lovely, all $20 per person). Over in East Hampton, meanwhile, you have Main Beach and Two Mile Hollow Beach ($25 per vehicle).

As I mentioned, pretty much all of these Long Island strands can be enjoyed on day trips from the city, via hired car, Long Island Railroad, or bus service like the Hampton Jitney, with travel times generally and hour to two hours each way. If you want to overnight, there are various options – few of them inexpensive – but this is a lovely, historic part of New York State to explore (including some great wine country), and we'll be covering it in this blog in future. And I'll leave you with one last thought: September is actually a lovely time to experience the Long Island shore: the crowds are mostly gone, the prices lower, and the water temperatures higher (having had all summer to heat up).
More information:  NYCGo.com, DiscoverLongIsland.com.
Best Iberia flight deals to New York City from the U.K., from Spain.
images | David Shankbone, David Reilly, City of Long Beach, C. Wang