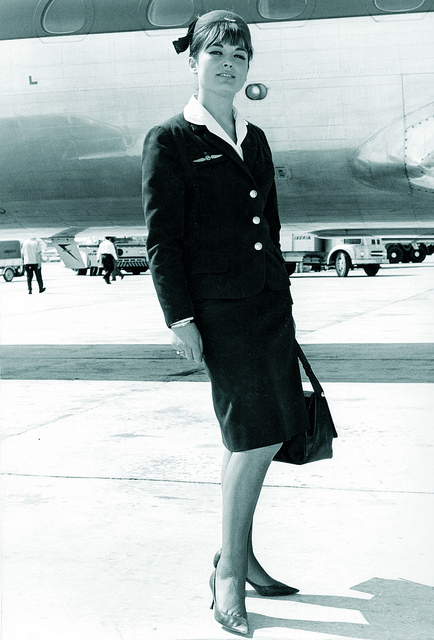 2nd in a series
In 1954 Iberia decided to refresh the look of its flight crew uniforms, and they turned to Pedro Rodríguez, a Catalan designer originally from Valencia. Nothing too radical – Rodríguez took the original uniforms as his starting point, and continuity was the watchword (as, indeed, was the trend among world airlines of the day, tending toward a military-flavoured silhouette).
A navy blue jacket was introduced, similar in look to a military-style cloak, with inverted pleats and large gold buttons. As time went on, this cloak was gradually modified to give it a more feminine feel: the pleats went away, for example, and the buttons were changed from gold to navy. The uniform evolved into more of a classical jacket style.
By 1962, though, new fashion breezes had begun blowing in the Western world, and it reached Spain, and Iberia. Rodríguez decided to move away from the military look and toward a more authentically feminine style, with much more stylised lines and a curious, semi-helmetlike cap. The cloak also became lighter  and more waterproof, with a practical lining which could be added or removed according to the season. In 1966, this became a pale-blue polyester gabardine – and that same year, Rodríguez' tenure at Iberia came to a close.
Pedro Rodríguez (1895-1990) was a contemporary – and rival – of the great Spanish Basque designer Cristóbal Balenciaga (1895-1972). Though his name is not nearly as well known as Balenciaga's, his technical and stylistic prowess were easily on a par. In addition, he is one of the most widely worn designers in Spanish history, with shops in Madrid, Barcelona, and San Sebastián, and dressing many important figures in the country's aristocracy and high society, such as for example the Duchess of Alba. His influence is such that both Barcelona's Textiles and Costume Museum and New York's Metropolitan Museum of Art have rooms dedicated to his work. He had a provocative and seductive streak, and was a master of drapery, drawing a good deal of inspiration from classical Greek and Roman motifs.
For last week's installment, click here. And stay tuned for our next installment! 🙂