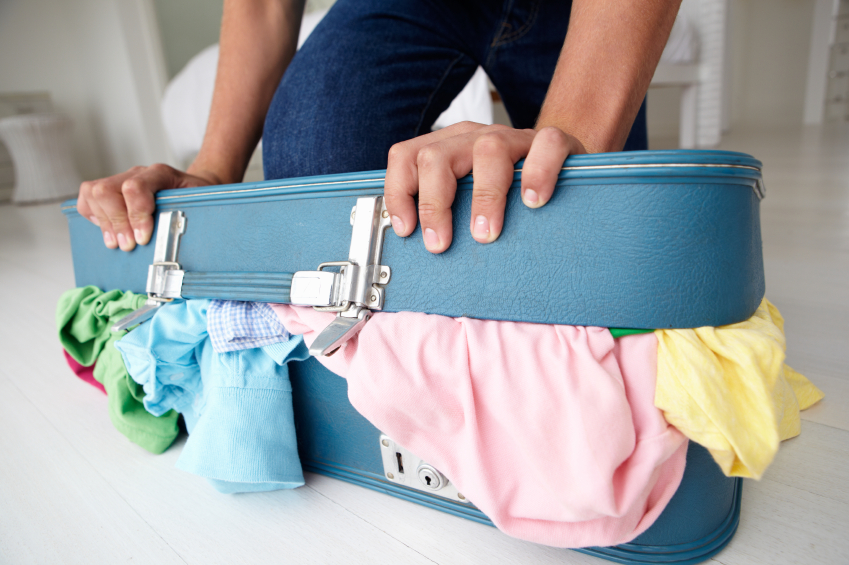 When it comes to preparing for a trip, packing a suitcase is nobody's idea of fun, and can sometimes be downright stressful. The thing is, it doesn't have to be, if you follow a few simple guidelines, such as these…
1. Make a list of clothing and items you'll be needing considering where you're going, what you'll be doing, and what the weather is likely to be. Yes, it may seem like a bit of a pain, but believe me, much less of a pain than realising you left something critical that you'll either need to spend extra money on during the trip, or worse, can't be replaced at all.
2. Mix and match.  Bring clothes that you can use in as many different pairings as possible, allowing you the maximum amount of variety in looks with the fewest items of clothing.
3. Heaviest items on bottom.   These are the things not subject to wrinkling, so first to go in should be shoes (wrapped in bags, so they don't soil your clothes) and toiletries. Remember to pack them at the wheel-end of your suitcase, so they fall to the bottom when you pick it up and don't crush anything or move around too much. Toiletries and shoes are not cubed, so you can fill any holes with heavy accessories, such as belts, a hairbrush or contact lens solution (in a sealed bag). Shoes or boots provide a stiff area to store breakables or underwear.
4. Bring just one pair of spare shoes. Shoes take up the most space and weigh a lot, and you'll already be wearing a pair when you leave. Unless there's some kind of special occasion, you don't need a different pair for each day. Above all, the shoes you bring should be comfortable. Remember to pack them with the soles facing outwards, so that the holes are covered and your suitcase is packed level.
5. Jeans and trousers on top of your shoes and toiletries.
6. Next come pullovers and cardigans. You can roll them into cylinders so they take up less space and don't wrinkle. T-shirts and shirts (in this order) should be packed last, after pyjamas and nightgowns, which don't need to be completely wrinkle-free. Roll these up too, so they take up less space and wrinkle less when you unpack them. Most cabin crew members roll up their clothes, allowing them to carry a very small suitcase on board.
7. Do up buttons on shirts, particularly on the collar, so that they don't come undone. Continue to fill empty spaces with accessories, such as underwear, umbrellas, electronics chargers, gloves and scarves, as they will stop the contents from moving around too much. For women, a light scarf is a great accessory to take with you, as it is both functional and fashionable.
8. Pack an empty bag to store dirty garments during your trip. And of course if you intend to go shopping at your destination, remember to leave space for any purchases.
And by all means, please share any other useful packing tips you may have in the comments below. These 8 will get you far, but there's always room for more! 🙂
image | istock Photo