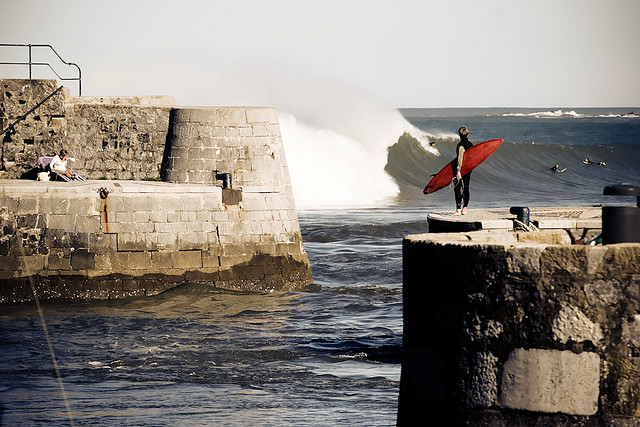 With all its coastline, perfect beaches, large waves and strong winds, Spain has over the years has developed has a great surfing tradition since the 1960s. Most of these beaches also offer surf schools for all levels, including beginners. So without further ado, let's go on a Spanish surfin' safari: 

Mundaka  In the Basque province of Vizcaya, the waves here are famous and leave most people gobsmacked. They rise, surfers climb them, they rise even more and then come crashing down, leaving the sea fizzing with foam. They're such a big deal that Laidatxu Beach (located in a natural area that is a UNESCO Biosphere Reserve) draws surfers from all over the world, as well as international championships.
Zarautz  Another Basque surfing mecca, in neighbouring Gipuzkoa, has surfing written all over it, with specialised shops, an array of schools (for adults, children and those with special needs), bars and pubs covered in surfing paraphernalia line the streets, and of course all sorts of animated young surfers crowding all the above during season. You'll see some moves out on the water here that will blow you away.
Somo  Also on the Bay of Biscay but in the region of Cantabria, it boasts surging sea swells from the North Atlantic and a vast coastline with numerous surfing spots. The two most popular are Santa Marina Island (where waves can reach up to 8 metres/26 feet) and El Barco (made up of the remains of a shipwreck). Just in front of the latter, you'll find the oldest surf school in Spain.
El Quemao, Lanzarote, and Corralejo, Fuerteventura  The Canary Islands are awash in some pretty impressive waves, but top spots on the list of aficionados are Lanzarote with its dramatic landscapes and Fuerteventura, with some of the best breezes on the planet. El Quemao is more suitable for experts than for newbies. Corralejo is a vast, wild beach with white sand and crystal clear water – a stunning place to visit, even just for catching some rays.
Tarifa  The world's surf capital, in Cadiz just 14 kilometres from the Moroccan coast, this stone and white-walled town is a magnet for lovers of monster waves. The easterly wind and the combination of the Mediterranean Sea and the Atlantic Ocean create a funnel effect, which is why Tarifa is so renowned. Just a few kilometres away, you will also find the beaches of Los Caños de Meca and El Palmar, with its famous hustle and bustle both day and night.