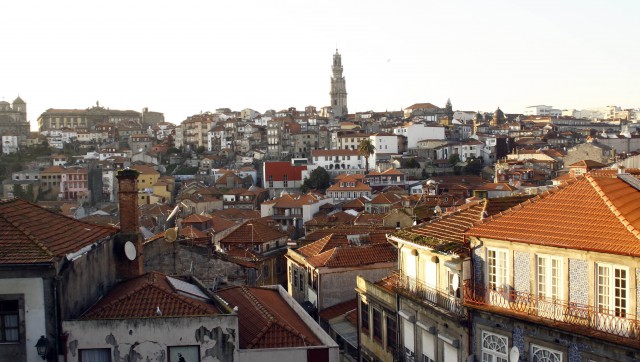 Hilly and cosmopolitan, north Portugal's home of port wine is definitely a place to wander, to lose yourself in its alleyways, stop at its lookout points, and marvel at the sunset and the sky filled with seagulls. With its slightly melancholic air, the country's second largest city is a Portuguese jewel to be discovered from all facets.
From Above
Porto is full of superb lookout points, as the city rises in increments from the Duero River estuary to the surrounding hills.
Cross the Ponte Luis I for a magnificent view of the Duero and the river bank. This bridge connects the city with Vila Nova de Gaia, famous for its port wine lodges. It's the most famous of Porto's half dozen bridges due to its distinctive style and iron structure, courtesy of Gustave Eiffel via one of his apprentices, Theodophile Seyring, who designed it in 1886.
Another of Porto's great lookout points is the Torre dos Clérigos, a tower with an unmistakable silhouette that overlooks the city and over two hundred steps up to its panoramic rooftop view.
But if you want to see Porto from a seagull's point of view, it is best to take the teleférico, a modern cable car that is revolves around the city's most famous tradition, namely its wines. The cable car crosses the caves where port wine is aged and takes you to from their entrance at Luis I Bridge to the Duero estuary. (More about these in a future post.)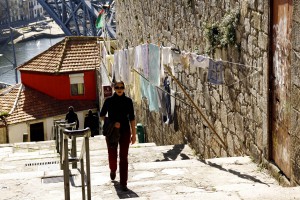 From Below
There is no better way to discover a city than the direct contact you get from strolling its streets. This is is very much a city for walking – especially its Old Town, a UNESCO World Heritage Site whose history dates back a thousand years.
One of the most important parts of this ancient quarter is Cais da Ribeira. As its name, "the Riverbank", suggests, it's right alongside the Duero, with narrow, colourful and crowded river houses. This is one of the prettiest parts of the city in the evening, as the moon lights up the sky and the caves on the other side of the river are lit up at dusk.
Just behind these façades, alleyways snake towards the upper area of the city. A stroll through these is a must. Escadas do Barredo is where you'll find the true essence of Porto. Its superimposed houses with their washing hanging for everyone to see, colourful flowerpots and a lazy cat or two perfectly reflect the lifestyle in this city.
Other local highlights include the austere 12th-century cathedral; colourful Bolhão public market; and museums including the historic Soares dos Reis Museum of national and European art treasures, and world-class Serralves Museum of modern art. A lively dining and nightlife scene completes the picture, nourished by a robust student population.
For more information, check www.GoOporto.com.
Iberia flights from the U.K., from the USA.