In a previous post this blog covered the various allures of up-and-coming El Salvador, a Central American country so small it's been dubbed the "Tom Thumb of the Americas". But good things, as they say, come in small packages, and this particular one boasts volcanoes, beaches, forests and paradisiacal lagoons wrapped by in emerald greenery. Although it offers an infinite amount of landscapes, I'd like to point your to four in particular that will provide a splendid change to unplug from the stresses of the outside world. Once you're down here, you're bound to discover even more. 
Coatepeque Lake  The view of this lake (top) from the top of the adjacent Santa Ana Volcano is absolutely stunning. It's not just a simple body of water, but two small, rocky peninsulas (nicknamed the 'binoculars') and an island, called Cerro or Teopán, where the Pipil people built their temple to the goddess Izqueye. You'll feel the magic here as you marvel at the beautiful sunsets. This is also a great place for many sports, including diving, waterskiing, kayaking or hiking. It's about 45 minutes from capital San Salvador.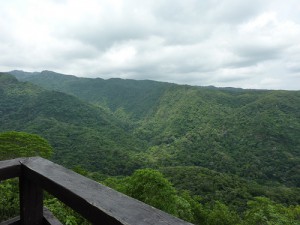 El Imposible and Montecristo National Parks   There's no way you won't see awesome butterflies at El Imposible, which is home to more than 500 species. This tropical mountain forest is also the last refuge of many rare flora and fauna. Marvel at its rivers, such as the Cara Sucia and Guayapa, and the hypnotic waterfalls that pop up when you least expect them. Montecristo has campsites and is home to a variety of animals including pumas. Pine trees, Holm oaks and cypress trees line the ways through this humid forest, where you will also find sugarcane and coffee plantations.
Laguna de las Ninfas  Any stress that arrives here with you will melt away when you take in some of the country's most gorgeous scenery, named for its abundance of water lilies ("Nymphs' Lagoon"), floating in a volcanic crater. The forest here is the perfect place for a stroll, whilst admiring the vast array of orchids that surround you.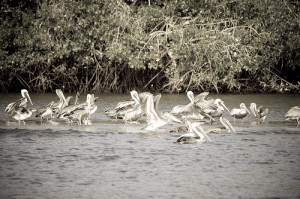 Jaltapeque Estuary   A salt forest where you ride through mangrove-lined canals mangroves and you can even take a small boat to an offshore beach, Playa La Puntilla. Tasajera Island is close by, home to another beach, Playa Los Negros, where you can relax and sample local seafood dishes at its rustic restaurants. Close your eyes and listen to the surf – you'll never want to leave.
Useful Facts
El Salvador has a population of 6.3 million.
Vaccines aren't required, but tetanus and hepatitis A and B shots are recommended.
The climate is tropical, with two main seasons, wet ("winter", May-October) and dry ("summer", November-April). Temperature varies mainly with altitude; the Pacific lowlands are hot and humid and the central plateau and mountain areas are more moderate and cooler; there is little seasonal change in temperature. 
The currency is the U.S. dollar.
More information: www.ElSalvador.travel.
Flight deals from the U.K., from Spain.
images |  Peko, cheleguanaco, Mario Pleitez