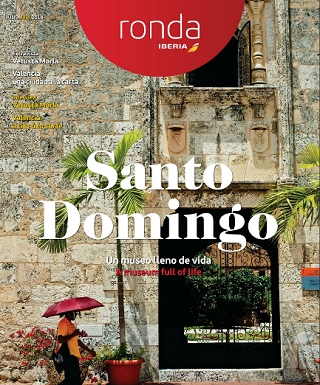 As we're so pleased to be returning to the Dominican Republic via its capital Santo Domingo, we thought it would be a good time to train the Ronda spotlight on a city that many visitors often overlook in favour of the spectacular Dominican beach resorts. But that would be a mistake, because of the incredible history, music, shopping, and sights available here. Come see what we mean!
Also over on the American side of the pond, we shoot up north and out west, where the weather's fine in the Canadian province of British Colombia, and off the coast of its genteel capital Victoria, Vancouver Island is a natural wonderland which takes some spectacular pictures you'll definitely want to get an eyeful of.
Back on our own home turf,  to commemorate 75 years of flights to and from the amazing Mediterranean city of  Valencia, we survey its exhilarating mix of the medieval, the Deco, and the cutting edge, with a cultural and culinary scene that's absolutely world-class, then a second feature focusing on Spain leaves dry land, where you'll find an octopus' garden, mysterious ancient wrecks, and all manner of fascinating Treasures of the Spanish Sea Bed not only off place like the Canary Islands as you would expect, but also Murcia, Girona, and even the chilly waters of the Bay of Biscay off the north coast.
Finally, we take you 1,800 kilometres north to the Netherlands for 48 hours in Amsterdam, covering this extraordinary canal city's greatest hits, from its parks, plazas, and museums to of course the famous red light district. You'll have an Amsterdam good time reading it!
The profiles this month start with one of Spain's top alt-rock bands Vetusta Morla, which just came out with its third album, La Deriva (title track below).  Then our chef of the month is Carme Ruscalleda, who came from a farm family in the Barcelona-area region of El Maresme to garner 5 Michelin stars for the exquisite modern Mediterranean cuisine she creates in two restaurants, one in the town of Sant Pol de Mar, the other on the other side of the world in Tokyo (she also heads one of the restaurants at Barcelona's Mandarin Oriental hotel).
Other stuff includes a look at the Baroque architecture that has given historic downtown Madrid its distinctive look; preventive hair transplants; outdoor gear for beaching and hiking; and much, much more!
Yes, July is definitely jumping in Ronda. Come check it out!