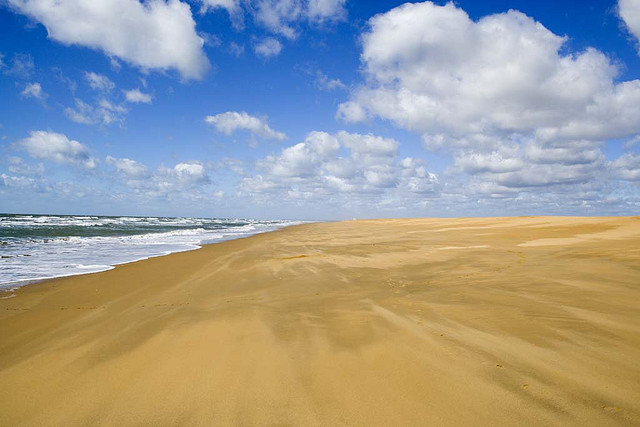 One of Spain's least well-known provinces, down at the Iberian peninsula's southwest tip, Huelva's  just over 10,000 square kilometres (3,900 square miles) include 122 kilometres (76 miles) of beaches that are not just wide and lovely but among Andalusia's least crowded and most unspoiled, with just 13 percent of its Costa de la Luz urbanised. Some of the most notable (take note) include Rompeculos (funny name, meaning "bum-breaker," referring to a local water channel breaking the dunes), Torre del Loro, and Arenosillo.
There are also wild beaches in the province's nature superstar, Doñana National Park, a UNESCO World Heritage Site where more than 50,000 hectares (193 square miles) of marshes, sand dunes, and streams harbour a unique biodiversity, with a huge variety of flora and fauna including eagles, wild boar, all manner of deer, hundreds of birds, and that most special and elusive of fauna, the Iberia lynx.
Doñana is Huelva's marquis name, but it's far from the only impressive nature reserve hereabouts. In the north of the province is  del Sierra de Aracena and Picos de Aroche Natural Park, which among other things includes the so-called Banda Gallega, an area with a cluster of medieval castles which once defended this borderland with Portugal.
There are of course towns and cities here, and plenty of them. The eponymous provincial capital doesn't get any beauty awards, but is not without its attractive corners, and certainly many of the province's towns are another story (including several of the proverbial hilltop "white towns" for which Andalusia is famed).
East of the Tinto and Odiel river basin which run through the province there are several, such as Palos de la Frontera, Moguer, and Niebla. A point of interest about the first two is that they're on the "Christopher Columbus route", with nearly life-size reproductions of the Niña the Pinta, and the Santamaría, the vessels which "sailed the ocean blue" to the Americas in 1492. Moguer is known as the birthplace of Nobel Prize winner (1956) Juan Ramón Jiménez and the setting for his most famous work, Platero and I.
In Aracena you can visit a Gothic-Mudejar fortress and the Gruta de las Maravillas (Grotto of Marvels), galleries and tunnels sculpted by water and time. En Almonaster la Real there's a fine 9th-century mosque, and in Aroche a Moorish castle. Niebla boasts an imposing wall with five Moorish or Mudejar gates, the Guzman castles, and a Roman bridge over the Tinto River. In Isla Cristina, known for its Carnaval in February and full of beach tourists in summer, we'll have ourselves a fish fry (it's Spain's top source of fresh fish). And in Ayamonte, bordering on Portugal, we can sample local delicacies  like tuna with onions in local restaurants like Casa Vicente, then stroll along the Guadiana for a look over at the Algarve.
Speaking of fish and food, perched as it is on the Atlantic, come mealtime it's waves to table. Lots of shrimp, with chunky sea salt, along with salted tuna, cod roe, and all kinds of fish. Moving inland, the hill country cookery tends toward mushrooms and game meats like boar, deer, partridge, and rabbit. Then, of course, Huelva is the source of one of Spain's most famous and prized foodstuffs, Jabugo ham, a cured ham similar to Italian prosciutto; in and around the town of Jabugo you can visit companies like Sánchez Romero Carvajal and buy some of their tasty products.
More information:  www.VisitHuelva.com; flights to nearest airport Seville from the U.K., from the USA. 
image | pericoterrades, www.lynxexsitu.es