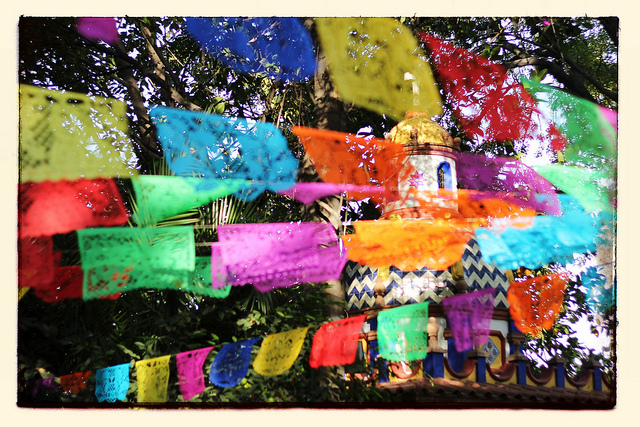 Yes, Mexico's capital is of course famously ginormous and sprawling. But it's also, at the end of the day, a patchwork of towns with long histories and local traditions. And there's no better example than Coyoacán, "place of coyotes", 10 kilometres (6 miles) south of the capital's downtown Zócalo. Here in one of the capital's oldest neighbourhoods – it was once an Aztec village – the flavour is one of cobblestone lanes and little plazas where you can actually hear birds chirping. Even on weekends, when it fills up more with chilangos (Mexico City residents) from other areas coming in to enjoy the local atmosphere, Coyoacán remains much more small town than big city.
And at the same time, there is also a lot here to engage with on the cultural and historical front. Its epicentre is an adjacent pair of plazas, the Plaza Hidalgo and the Jardín del Centenario, which besides trees and foliage are home to the 16th-century Baroque parish church of San Juan Bautista, as well as a array of street vendors, bars, cafés, restaurants, and folks out enjoying the fresh air and atmosphere.
Nearby you can spend hours browsing the Coyoacán Mexican Artisans Bazaar, and then as an alternative to a regular restaurant have a fantastic feed (as well as another fascinating browse) at the Mercado de Coyoacán.
The red tram passing through Coyoacán is like a route into the past, and it's worth hopping on for a ride through these tree-lined streets. One stop well worth making, to get an excellent sense of diversity of Mexico's cultural traditions, is the Museo de las Culturas Populares, where the artistic heritage of various of the country's ethnic groups is on display.
And of course you shouldn't leave the neighbourhood without paying a visit to museums associated with three of its most famous onetime residents. One of the city's most popular museums, the Museo de Frida Kahlo, aka La Casa Azul, is where this 20th-century cult icon artist was born and later lived with husband Diego Rivera, filled with paintings, period furnishings, and pre-Columbian artifacts.  Rivera's Museo Anahuacalli is an impressive neo-Aztec building that served as the artist's studio and home to his huge collection of pre-Columbian art. And then of course there's the Museo Casa de Leon Trotsky, last home of the exiled Russian Bolshevik leader who ended up here essentially thanks to Frida Kahlo (she was also a Communist) – a fascinatingly unexpected bit of Soviet history right here in Mexico City.
Calle Francisco Sosa is a charmer – considered one of Mexico City's loveliest streets – with its 18th-century manses, and quaint Plaza de Santa Catarina. On the other side of Jardín Centenario, another lovely little corner well worth a visit is Plaza de la Conchita, with a stone church that conquistador Hernán Cortés had built (in fact, this area was the very site of Cortes' first residence in Mexico).
For a bit more breathing room, check out Parque Huayamilpas, 20 hectares (49 acres) including guided visits through its botanical gardens and greenhouses. There's more art, music, and events at the Foro de la Cultura Coyoacanense, the Casa de la Cultura Jesús Reyes Heroles, and the Museo Universitario de Arte Contemporáneo, all located on the huge local university campus.
After dark, Coyoacán is just as lively, if not more so. There are all sorts of great grazing and mescal-drinking opportunities in pubs like Los Danzantes (Jardín Centenario 12), La Bipo (Malitzin 155), and Séptimo (Venustiano Carranza 106), and Centenario 107 (Avenida del Centenario, 107). We're not done yet, though – end up the night with some kick-culo Latin rock at El Hijo del Cuervo right on the main square (Jardín Centenario 17). Because Coyoacán may be quaint and historic, but it can also party like it's 2014.
Useful Facts
Mexico City has earned a reputation as a dangerous city, but the situation has improved in recent years, and Coyoacán in particular is known as being one of its safer areas. In any case, as with all urban areas, keeping track of your belongings and surroundings is always advisable.
The city's climate is fairly mild year round, with temperatures in spring and summer ranging from 12° to 26° Celsius (46°-79° Fahrenheit) and in fall and winter from 6° to 23° C (43°- 73° F).
The currency is the Mexican peso.
(Other Love2Fly Mexico City posts: Roma neighbourhood, dining.)
image | Sergio Berdiales