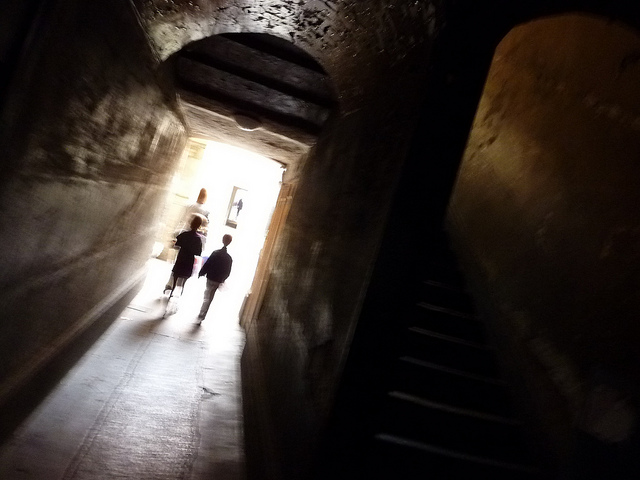 The best thing you can do in Lyon is get lost. And if you get disoriented, don't worry too much. Just wander through the Old Town and you'll come across evocative corners not mentioned in the guides. France's third largest city is full of lanes and byways like its famous traboules, passageways which connect one street with another through internal courtyards. One of the most famous is that of the Tour Rose (Pink Tower).
During the Middle Ages and Renaissance, this city's golden age, they were used for the secure transport of silk (Lyon, you see, was a silk world power back in the day). Red roofs, elegant facades, flower-decked balconies, rounded arches…there's a very good reason why UNESCO added this city's old quarter to its World Heritage Sites back in 1998. And to help sweeten your strolling even more, there are plenty of crêpe vendors on various corners.
To get a good initial sense of Lyon and how it's laid out, you might want to start with a visit to Fourvière, one of the hills on which the city was built. You can take a funicular from the cathedral (built in the 12th to 14th centuries, marvelous for its stained glass and mix of Romanesque and Gothic, not to mention). Up here there's a park, a Roman amphitheatre, an enormous basilica, and some amazing views (you can sometimes even spy the Alps off in the distance).
The other hill, Croix Rousse, is now a warren of cobblestone lanes and traboules. One of the pleasures of strolling here is experiencing its various plazas: Place Bellecour, Europe's biggest pedestrian square and site of the Paris-style city hall; Place des Terreaux, with its lovely fountain and elegant buildings; the triangular, 16th-century Place des Jacobins, with its own notable fountain; and tranquil Place de la Basoche, home to the Miniature Museum.
Film buffs, take note: the cinema-pioneering Lumière brothers were born in Lyon and shot the world's first movie in 1895, which is why the Lumière Institute is based here, a mix of museum/education institute, theatre, and the brothers' villa.
This of course is just scratching the surface of culture in this city. You'll definitely want to make time for the Museum of Fine Arts, whose 70 rooms exhibit masterpieces from ancient Egypt up through the modern era (marquee names include Gauguin, Picasso, Rubens, and Monet).
Finally, Lyon is a destination where you especially want to consider leaving your diet at home, because it is widely considered to be the culinary capital of France, with one of its highest concentration of restaurants and home to legendary chefs and Michelin-starred dining spots including Paul Bocuse and Nicolas Le Bec.
But the city was already famed for its gastronomy centuries before they arrived on the scene, and you can enjoy its delights in typical restaurants known as bouchons – dishes such as coq au vin, andouillette and various other savoury sausages, salade lyonnaise (with bacon, croutons and a poached egg), and marrons glacés (candied chestnuts).
When the sun goes down, too, Lyon offers a marvelous mix, between quiet strolls along the Rhône and Saône rivers, through the old town lanes, and the lively scenes such as along its restaurant row Rue Mercière, pedestrian shopping street Rue de la République, and the bars of Rue Sainte-Catherine.
As you'll see, silkmaking may be gone, but Lyon remains smooth as silk.
Facts of Interest