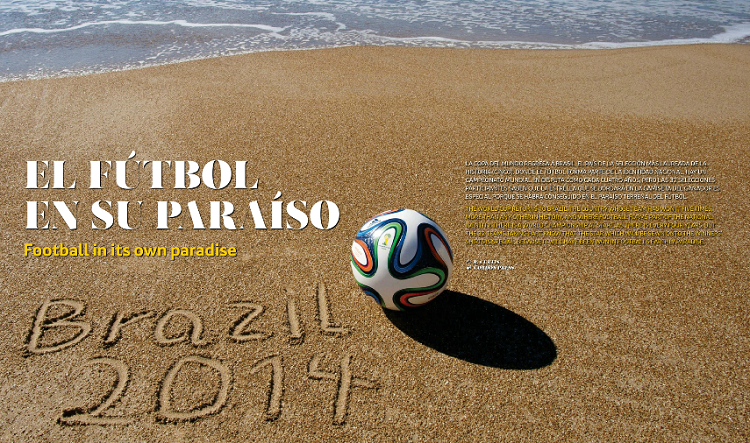 June is here, and millions of football fans around the world know what that means – World Cup! So in this bilingual issue we spend some serious time talking football. First off we take a look at the lay of the land in host country Brazil – the playing fields, the lineups, innovations like GoalControl, and plenty more. Take a free kick!
We follow up with a profile and interview of Xabi Alonso, a key member of the Spanish side in Brazil, La Roja (he's also a defensive midfielder for Real Madrid, which as you know just racked up a smashing 10th wins in the Europe Champions League). You won't want to miss this, either!
And finally, we take a peek at a new hospitality trend taking root in countries like the U.K., Argentina, and yes, Spain: football clubs opening hotels. Check yourself in!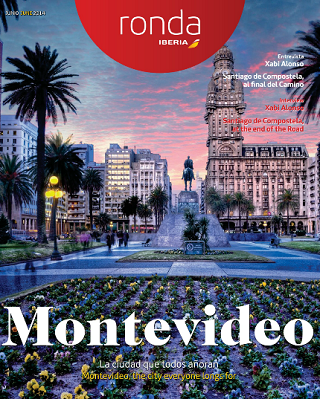 Returning to our #IberiaDestinations, we shine a spotlight on Brazil's neighbour to the south, Uruguay, as we relaunch service to its charming capital Montevideo. Here's why it's great to be back.
Back in the mother country, June is also a lovely month to visit one of Spain's most storied cities, Santiago de Compostela in Galicia, a famous destination of pilgrims since the Middle Ages that is also quite a lively scene thanks to its student population. Join the pilgrimage.
We've got interesting notes on Madrid, too, including a salute to Madrid Pride, which has become one of Europe's top LGBT celebrations, celebrated July 2-6, and recommendations on where to best enjoy nature in the capital district, through its forests, reserves, parks, and natural spaces, from Odile Rodríguez de la Fuente, a prominent biologist, foundation director, and film producer (wow, busy lady).
Montevideo isn't the only great destination we're returning to. We're also beyond thrilled to be back to Instanbul, Turkey, and if you read this piece on some of its exotic highlights you'll certainly understand why.
Besides Xabi, our second profile focusses on another of Spain's illustrious chefs, Toño Pérez, who has raised the profile of his native Extremadura, region next door to Portugal, with his exquisite two-Michelin-star restaurant in the historic city of Cáceres.
We've also got a number of odds and ends both serious and just for fun, such as:
· The importance of sleep, and the best ways to achieve it (and not!).
· What's the real difference between gelato and plain old ice cream? (Just because it's called gelato doesn't mean it actually always is.)
·  Fashionista alert! Fun with polka dots and stripes!
Please come join us, and happy June reading!
 image | skinnydiver