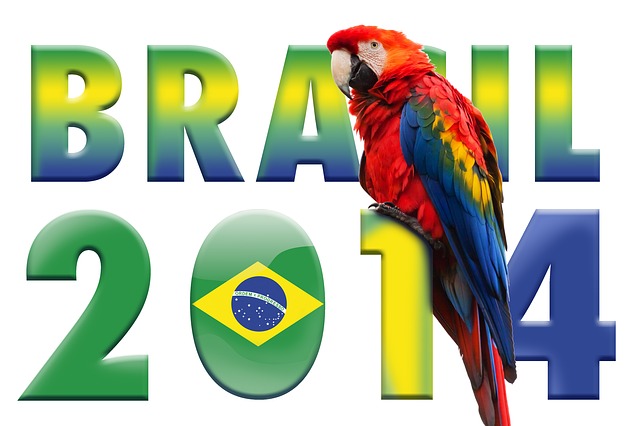 Here in Brazil it's said that the most heated arguments take place about football around a table in a pub – and as a Brazilian, I have to say that rings pretty true. To take in a game properly, ice-cold beer and tasty pub snacks (not to mention a good TV screen) are musts.
The rest can be left to the our passion for what we call o jogo bonito, the beautiful game; expect lots of tears, wall-to-wall grins, and "ahhhhhs!" and "uhhhhhs!" in bars, living rooms, stadiums, and beyond, all over the land, as the World Cup seizes our attention and imagination from June 12 to July 13. [Editor's note: this was written before the nationwide funk brought on by the 7-1 defeat of the Brazilian side by Germany on July 8th.]
And since millions will be coming to join us, I'd like to offer a Copa do Mundo primer, starting with four of the top cities hosting the games, Rio de Janeiro, São Paulo, Brasilia, and Belo Horizonte:
The capital of Minas Gerais state – "Beagá", as it's popularly known – is one of the country's most populous cities. It may have no beach, but it can boast some way cool architecture, especially lots of work by Brazil's most famous architect, Oscar Niemeyer, as well as a buzzing cultural, nightlife, and dining scene, serving up a distinctive local cuisine that's one of Brazil's most diverse and interesting.
The locals' hearts are divided between two great teams, each  with a great tradition:  Atlético Mineiro, known as "O Galo" (the Rooster) and Cruizeiro, aka "A Raposa" (the Fox) which gave the world one of the most internationally famous players Brazil has ever produced, Ronaldo – "the phenomenon".
The classic "Cruzeiro vs Atletico" can be seen in Governador Magalhães Pinto Stadium, locally dubbed Mineirão. Brazil's second-largest stadium is widely considered one of its best, and best, and renovations for the World Cup have made it even better, plus boosted capacity to nearly 57,500 spectators.
But even that isn't enough to fit all the footy fans who want to watch to action, so the watering holes in what's known as the pubs capital of Brazil will be at capacity. These are three of the top choices:
Fanáticos Esporte Bar  Belo Horizonte's first all-sports pub, with décor that's all about football and basketball, outdoor seating, and first-rate pub snacks. The ice-cold Kaiser draught beer as well as a wide selection of domestic and international bottled brews clinch this a top local pick. Avenida Guarapari  99, Santa Amélia.
Bar do Salomão  The entire premises of this longtime bastion of the local Atlético Mineiro team are plastered with photos of both footballers and fans, and are of course equipped with a handful of good-sized TVs to broadcast matches. The menu, meanwhile, features local specialities such as canjiquinha pork ribs with corn grits and cabbage. Rua Do Ouro 895, Sierra.
Butiquim da Esquina  A newer, slightly more upmarket option where cocktails and imported beer share popularity along with the classic chopp, and football is always on the menu along with the special house barbecue ribs and beef cheddar pie.  Rua Vitório Marçola 158, Anchieta.
Albanos  A local beer joint considered one of the best in the city since 1996, its trademark namesake beer is cold and creamy, its indoor/outdoor premises cheery, and its service friendly. And these days it's even got a menu on iPad, complete with photos! Rua Rio de Janeiro 2076, Lourdes.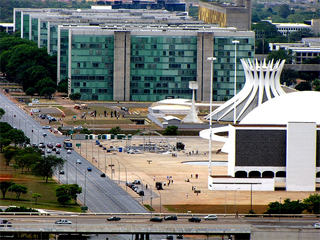 Deep in the country's central highlands, Brazil's capital (pop. 2.8 million) was designed in the late 1950s largely by Niemeyer, with wide avenues, and futuristic buildings including landmarks like perhaps the world's most unusual cathedral (it's the spiky thing you see in the shot at the right). The three local football clubs are Brasiliense (nicknamed Jacaré, "The Alligator"), SE Gama (Verdão, "Big Green"), and Brasília Futebol Clube (aka Colorado, "The Reds").
Seven matches will be held at the Estádio Nacional Mané Garrincha (Garrincha was a top footballer of the 50s and 60s, considered by many the top dribbler in history), a 40-year-old facility which after its upgrade for the World Cup clocks in as the world's second costliest football stadium after Wembley in the U.K. Those not among the nearly 73,000 spectactors here will be enjoying the action at venues such as:
Bar Sociedade Futeboleira do Brasil  This is Brasilia's football-themed pub, with a full menu and selection of domestic and imported beers, and of course broadcasts on five screens plus one big screen will of all regional, national, and international matches. 303 Sul, Bloco A , Loja 31, Asa Sul.

Choperia Maracanã  Its name – in homage to Rio's famed stadium – shows how keen this expansive beer joint (fits 400!) is on "the beautiful game", but it's also a samba venue, known for its excellent regular lineups of live music. It's got regular caipirinha, feijoada and Stella Artois specials, plus seven good-size screens. Goal! CLN 207, Bloco A , Loja 4, Asa Norte.

Só Drink's  In business since 1981, it's a relatively simple spot with a handful of tables, but as a stronghold of local fans of Rio's Botafogo team it attracts an enthusiastic crowd indeed. On offer: good petiscos, plus Brazilian beers like Skol, Antartica, and Brahma. CLN 403, Bloco A, Loja 17, Asa Norte.
Rio may need no introduction – after all, for many around the world, Brazil's main destination and second most populous city is practically synonymous with the country thanks to its spectacular setting and natural charms, its cultural activities, sights, sounds, and festivities including, of course the world's most famous Carnaval. (For this blog's earlier post on Rio, click here.)
What some may be less aware of is just how much this city of 6 million breathes futebol, whether on the beaches, in the parks, or on the streets, and has given the world some of its greatest players, like Ronaldo, Romário, and the legendary Zico. That's why Rio can boast four big clubs: Botafogo, Flamengo, Fluminense, and Vasco, of which the largest is Flamengo, with has 30 million followers. Its temple is Maracanã Stadium, the world's largest and one of the most famous. It was here that Brazil lost the final against Uruguay the last time the World Cup was played in country in 1950, and it's now been rebuilt with a capacity of 73,530 spectators. That's a lot, but remaining tickets are already going fast for opening closing ceremonies as well as key finals, so if you come to town you'll want to watch the action with cariocas at spots like:
Bar Bracarense   There's no more classic Rio spot to drink in the World Cup than "Braca", a simple, unpretentious yet legendary pavement pub in Leblon, two blocks in from the beach, that's been in business since 1948. The chopps are frosty and the petiscos tasty, especially house specialities like bolinhos de aipim com camarão e catupiry (fried yucca shrimp balls with creamy catupiry cheese). Rua José Linhares 85B, Leblon. 
Boteco Belmonte  Another Rio stalwart, the original hole in the wall established in the central district of Botafogo (not on the beach but near the water just up from Copacabana) in 1952, it now has seven branches throughout the city, and is known for its friendly service and atmosphere, as well as house empadas (bread with shrimp and other various yummy fillings). Praia do Flamengo 300, Botafogo.
Braseiro da Gávea  Located on a corner in an artsy/boho/university area in the south of Rio known as Baixo Gávea (near the Botanical Garden), it's a top spot for Brazilian barbecue as well as a popular hangout for young people. That'll kick into overdrive in June when screens are place outside for showing all the matches. Praça Santos Dumont 116, Gávea. 
Devassa Cervejaria  With nine branches spread throughout the city, Devassa pours some of the tastiest chopps in town – of its own brewing – and serves up menu of petiscos and grub such as its famous pastel de carne seca (a fried meat pie not unlike the Argentine empanada). And of course all have nice big screens to catch all the action.  Flamengo branch: Rua Senador Vergueiro 02, Praça José de Alencar.
SÃO PAULO
Like Belo Horizonte, there's no beach here, but more than a few feel huge, cosmopolitan São Paulo is hands-down Brazil's most exciting city, bursting with cultural and entertainment options and increasingly popular as a holiday destination for Brazilians and foreigners alike. (Fun fact: did you know it has the largest population of ethnic Japanese outside Japan? Learn more here.)
The city will host the World Cup opening on June 12 in a stadium purpose-built for the event, the Arena de São Paulo, which can hold just over 48,200 – which will then be a gift to the fans of one of the teams with the country's greatest following, the Corinthians Paulista. (The other two popular local teams São Paulo and Palmeiras, also have their own stadiums, Morumbi and Pacaembu, respectively.)
As the biggest city (more than 11 million people) in a football-mad country, you can of course expect a lot of excitement. Here are some of the best spots to experience it with the locals:
Artilheiros Bar  A neighbourhood pub in west São Paulo's Pinheiros district, "Gunners" caters specifically to football fans, with six screens mounted on walls crammed with memorabilia; a long list of beers; and drinks honouring the greats of Brazilian football. Avenida Mourato Coelho 1194, Vila Madalena.
Bar Brahma Centro  A downtown SP icon since 1948, this slick indoor/ outdoor watering hole/restaurant/music venue has big plans for the World Cup, setting up a structure with three environments, a food-and-drinks-package, and a show with surprise stars. And the house brew? Brazil's Brahma, of course! (And by the way, since this is an airline blog: avgeeks might be interestd to check out its branch out at the old Campo de Marte airport, Bar Brahma Aeroclube, including two flight simulators!) Avenida São João 677, Centro.
Bar O Torcedor  Located alongside the football museum at Pacaembu Stadium, this slick, high-ceilinged modern space (whose name means "the fan") pours Brahma beer and has indoor/outdoor seating and a couple dozen screens, along with a great menu including local favourites like frango a passarinho (fried chicken nuggets in sherry and garlic sauce). Praça Charles Miller, Pacaembu.
Boteco Ferraz  A popular spot in the northeast of the city, it's got big screens scattered throughout the two-storey space, so you won't miss a play. A little on the pricey side, but great atmosphere, Sol, Xingu, and Heineken on draught, and a good menu with both light bites and more substantial fare. Rua Tapapuã 1470, Itaim.
Iberia flights to Rio de Janeiro from the UK, from Spain; to São Paulo from the UK, from Spain.  
images | Pixabay, Marcus Desimoni/Portal da Copa, Luan S.R., coutinhobr, Brazilian Government, Alex Schwab, Arthur Boppré, Ana Paula Hirama, Edson Lopes Jr/A2 FOTOGRAFIA