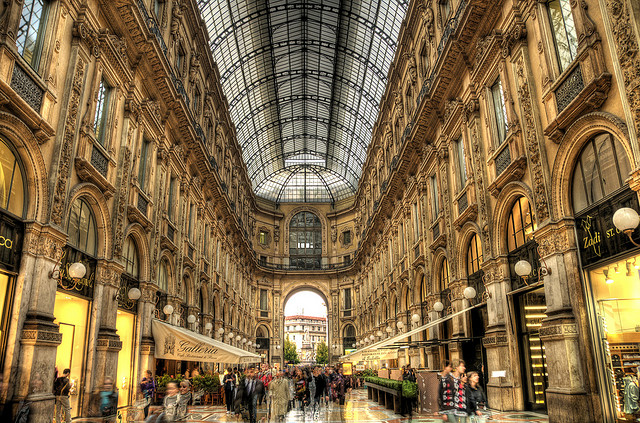 Rome may be Italy's government and monumental capital, but Milan of course is the commercial capital, where much of Italy's business and finance is conducted. One of its most famous businesses, of course, is la moda, which makes it not just a national but an international capital of fashion, its seasonal shows a glamorous must for buyers and serious fashionistas. 
You can see this in its residents, usualy dressed to the nines in its downtown Vittorio Emmanuele Gallery (top) as well as the Quadrilatero d'Oro (Golden Rectangle) circumscribed by the streets Via Sant'Andrea, Via della Spiga, Via Montenapoleone and Via Manzoni, jammed with the stars of haute couture, especially Italian but also international – Dolce & Gabanna, Dior, Chanel, Kenzo, Ferragamo, Versace, Valentino…
And even if you're not a fashionista, there's plenty here to ring your bell, from hundreds of restaurants including some of the country's finest restaurants to iconic monuments and artworks that should definitely be on your bucket list. Top of the list, of course, is the spectacular Duomo, the world's largest Gothic cathedral, built over the course of centuries beginning in 1386. Visitors shouldn't miss a trip up to the roof, with its sculpture, spires, and a view of surrounding streets and the square below in constant motion.
The city's Pinacoteca di Brera museum is one of the country's most important venues when it comes to understanding the history of Italian painting (though other European masters are represented, as well), with masterpieces such as Mantegna's Lamentation of Christ.  But of course by far Milan's most reknowned masterpiece remains Leonardo da Vinci's Last Supper, on the wall of the onetime dining hall of the Santa Maria della Grazie (you've got to reserve/buy tickets ahead of time).
It's worth making a stop at the 14th-century Castello Sforzesco, citadel of the longtime ruling Sforza dynasty, now site of  a number of interesting museums (one of which contains Michelangelo's last sculpture) and the adjacent Sempione Park including its Arco della Pace triumphal arch before checking out the park's Triennale, one of Italy's top centres of contemporary art, architecture, and design. And we're not done yet; you'll want to make time for the atmospheric Piazza Mercanti, once the heart of medieval Milan, and the legendary La Scala Theatre.
Impressive as all that is, the life of the city is still in its streets, and Brera is one of the city's most charming neighbourhoods, with cobblestone streets and a romantic/bohemian air. There are tasty little trattorias and shops emitting the heady scent o mozzarella; linger for a meal including local classics such as osso buco (veal shanks in wine wine sauce), classic risotto alla milanese, and cotoletta alla milanese (a bone-in veal  cutlet breaded and fried in clarified butter).
For even more boho flavour, check out the Navigli, a gentrifying working-class district located amid canals once used for commerce and construction (bringing in the marble to build the Duomo, for example). These days the area's hopping with shops, pubs, cafés, and young and old (but especially young) out having a grand old time.
Another district now transforming itself from industrial to artesinal is Dergano, in the north of the city. You can still see the remnants of the industry that first transformed the area starting at the beginning of the 20th century, but now they're joined by the likes of shops selling vintage furniture, ceramics, and eating and drinking spots of increasing appeal to hipsters and foodies. 

After this marathon of urban pleasures (and perhaps the Visa card half melted), you might be ready for an idyllic escape – and one of the classics of Europe is right at hand: Lake Como, just 45 minutes north, the shores of its unusual Y shape dotted with villas and villages amid gorgeous natural scenery. In the small city of Como, you'll want to see its own Duomo, the Sociale Theatre, and the medieval tower – as well as sit out at a café to dine on fresh fish, pizza, and pasta in the sunshine. Looking for something even sleepier?Other lovely smaller towns in the area include Cernobbio, Laglio, Tremezzo, Pescallo, and Torno.
All proof that this dolce vita can be even sweeter than they way it's pictured in the movies.
(Below, check out Iberia's quick video tour of Milan!)
Useful Facts
Milan has 1.3 million inhabitants; the best way to get around is on foot and by Underground.
Winters are chilly, with snow possible and summers warm but not excessively so.
The currency is the euro.
More information: Tourism.Milan.it; flights from the USA, from Spain. 
image | Talke Photography