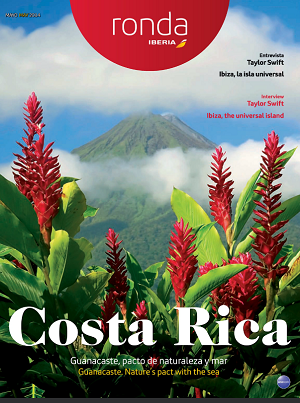 As we cruise deeper into springtime, our editorial team has come up with its usual great mix of material from both sides of the Atlantic. Our cover story is about Guanacaste, the northwest province of Costa Rica which includes a delightful range of beaches from pristine castaway strands to bustling resort areas, as well as remarkable eco, cultural, and adventure travel opportunities inland from the coast. And by the way, if you'd care to read a bit more on the country's Pacific beaches, check out our recent post on the subject.
Naturally we want to showcase a bit of our home country as well, and this time it's the turn of a slightly lesser-known corner of the green north, where the city of Santander and its vicinity get a little love, as Ronda looks at its maritime orientation and heritage (bottom), its new art centre and its upcoming Olympic Classes World Sailing Championship. It then turns to a remarkable nature preserve just outside the city called Cabárceno, whose endangered species include more than 1,000 animals from all over the world in a limestone rock setting, such as gorillas, white rhinoceros, zebra, giraffes, and bactrian camel. Our spotlight also falls upon a more famous Spanish destination, the island of Ibiza, but may illuminate several sides of it you may not be completely familiar with, since the idea is to show how it appeals to a wide range of visitors of all ages and tastes.
And speaking of destinations, both Ronda and our Love2Fly blog cover plenty of them of course – and most of us hardly stop to think about how ubiquitous travel blogs have become these days. But did you ever wonder when and how they originated? Here's a post that tells the tale of that and surveys the travel blogosphere 20 years (yes, 20 years) later.
We look at plenty of fascinating people, as well, such as sizzling young Valencian designer Adrián Salvador, a dedicated nurse from Asturias Luis Encinas, working with Doctors Without Borders on Ebola in Africa, and Catalan Jordi Cruz, who several years ago became the youngest Spanish chef to ever earn a Michelin star (you won't believe how young!). And finally, we amp up the star power with country music's hottest celeb, Taylor Swift (left) who shares her thoughts on music, fame, and (ahem) the media.  Present company excepted, of course! 😉
Happy reading and happy trails!
images | Ronald Woan, www.josemiguelmartinez.es