God save the King! It's a festive and historic weekend indeed coming up in one of Europe's iconic cities, when for the first time in its more than 120-year history the annual Koninginnedag (Queen's Day) celebration has become Koningsdag (King's Day), to mark the birthday of the Netherlands' new monarch for the past year, Willem-Alexander. Celebrated tomorrow, it will undoubtedly be marked, as Queen's Day has been before it, with the normally buttoned-down Dutch wearing (and even dyeing their hair) the national colour orange and getting a little wild and crazy in the streets, canals (below right), and bars of Amsterdam with oranjegekte ("orange madness"). Go, Dutch!
But even beyond this charmingly exuberant annual blowout, Iberia is also thrilled to be returning to Amsterdam, with Iberia Express flying twice a day as of this July 1st, increasing to three times daily in September. Because in a continent of remarkable cities and cultures, this one stands alone. Starting with those famous canals, of course. You'll spot housewives returning with the day's shopping to their houseboats. Smartly dressed office workers on bicycles dodging tourists on their way to work. And of course there are the young, provocatively dressed ladies strutting their wares behind glass doors in the red-light district while both visitors and locals light up joints in the "coffee shops" (even as the current city government has been moving to cut back on both).
For first-timers especially, it really does feel like no place you've ever been, and a unique mix of the fun and the serious. And speaking of bicycles, the best way to really get to know the city is on two wheels, and there are plenty of bike hire options in the centre of town (just shop around a bit, as rates do vary), although a cruise through some of the more than 75 kilometres (47 miles) of canals is also a must. Water is ubiquitous here, and there are more than 2,500 houseboats – a type of housing which became especially popular after World War II. In short, Amsterdam is quite clearly a mix of solid and liquid.
As you wander those canals, by foot or by boat, you see block after block of brick houses with windows and doors painted in various colours – and a few of them amazingly narrow. These tend to be some of the oldest – but they are very deep. Above, you'll spot pulleys that are used to move furniture in and out, as it won't fit up and down narrow stairs. You'll want to go check out the Dam, the Old Town's central plaza, always abuzz with activity, whether everyday comings and goings or some kind of concert or special event. Here you'll find the the National Monument, a stone pillar commemorating the victims of World War II, as well as the 17th-century Royal Palace and the Nieuwe Kerk, a 15th-century Gothic church. From there, head to another square, the Spui, filled with young people (the university's right nearby), cafés and book markets – great for browsing for rarities (you'll find things in English as well as Dutch and other languages). Afterward you can lounge on the lawn a bit at the Begijnhof (above left), a grassy courtyard dating back to at least the 13th century and named for a women's religious order that once stood there; Amsterdam's oldest extant house, the Houten Huys (1528) can be found here. Finally, check out the Bloemenmarkt, the world's only floating flower market.
Make sure, too, you set aside plenty of time for the city's wonderful museums. First and foremost, of course, is the Rijksmuseum, with its masterpieces from the 13th century onward, including all the Dutch masters, with top stars being Rembrandt's Nightwatch and Vermeer's The Milkmaid.  The Van Gogh Museum houses the world's largest collection of the eponymous painter's works, including Sunflowers and his famous Self Portrait. Beer-lovers should hop over to the Heineken Experience, with its fun interactivity and tastings. On a more sombre note, the Anne Frank House continues to both sadden and inspire visitors as it teaches about one of Amsterdam's darkest periods. And ending on a lighter note, the three-floor Sex Museum is a mixed bag, but certainly fitting for today's Amsterdam. Then after sundown, a lively nightlife awaits, especially on squares like the Leidseplein and Rembrandtplein, filled with pubs, restaurants (especially recommended: Indonesian with their rijstaffel banquets of small, exotic dishes), discos, cinemas, street performers, and lots and lots of people having an Amsterdam good time.
Useful Facts
Amsterdam has nearly 800,000 inhabitants.
Its climate is fairly moderate – cold, but not excessively so, in winter, and hot in summer. 
The currency is the euro.
More information: www.IAmAmsterdam.com; flights from Madrid and from the US.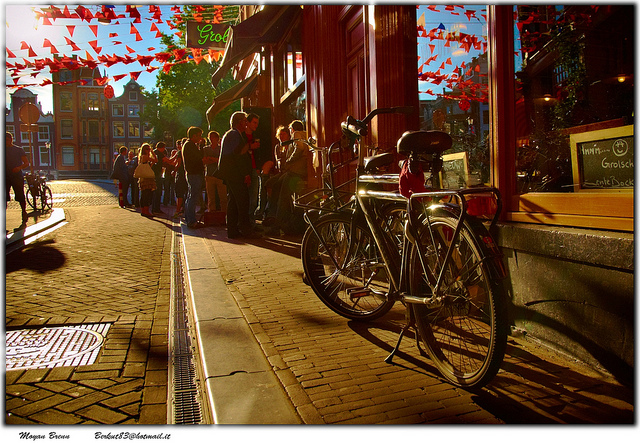 images | B. Monginoux, Landscape-Photo.net, Jeroen, Deror_avi,   ♀Μøỳαл_Bгεлл♂_BACK_FROM_PRAGUE