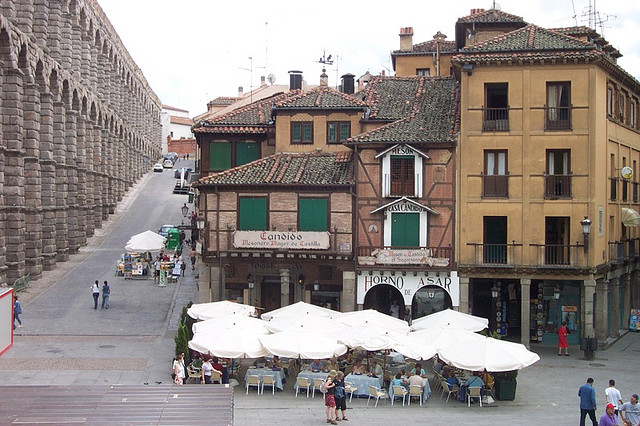 Even those who dont know much about Spain know how scenic it can be – and there are plenty of opportunities to dine in spots across the country while getting an eyeful of its beauties both famous and less so. Here are just a tiny handful of examples to whet your appetite:
Barcelona
Dos Cielos  On the 24th floor of Meliá's Hotel ME, in the Port Olímpic part of the city, "Two Skies" serves up sweeping 360-degree views the city along with some brilliant culinary moves from identical twins Sergio and Javier Torres.
Torre D'Alta Mar  Enjoy more spectacular city views from 75 metres (246 feet) over the beach in Port Vell in a converted cablecar tower, whilst simultaneously enjoying a "modern Mediterranean" menu – it's a combo magical enough to lure up the likes of Francis Ford Coppola and the crown prince of Spain.
Cuenca
Parador de Cuenca  Visitors to the Castillian clifftop city famous for its casas colgadas ("hanging houses," suspended over the Huécar Ravine) will want to come dine on traditional local specialities in the converted 16th-century Monastery of San Pablo with a spectacular view from across the ravine of the hanging houses and the rest of Cuenca's old town perched along the edge of the ravine.
Granada
Las Tomasas  On the menu at this typical Granada house called a carmen, in the old Moorish Albaycín quarter, is a sophisticated mix of Andalusian dishes with touches from elsewhere in Spain and beyond – but also a a ravishing eyeful of the city's most breathtaking claim to fame – the Moorish Alhambra palace complex.
Madrid
Espacio 33

  Spain's highest restaurant occupies the 33rd floor of the 

Torre Espacio

, on downtown's busy thoroughfare Paseo de la Castellana, which offers not just sweeping vistas across much of the capital but also a wonderful take on classic Spanish cuisine.

Palacio de Cibeles  From the sixth floor of the elegant, elaborate 19th-century City Hall, diners get to savour cinematic views up Gran Vía toward the heart of Spain's capital as well as updated Castilian delicacies from master Toledo chef Adolfo Muñoz. 

Majorca
Béns d'Avall  Dramatically sited cliffside on the north coast outside the town of Sóller, this restaurant showcases Majorcan cuisine as exquisitely crafted by chef Benet Vicens, with stars being seafood and desserts (especially his ice creams).
San Sebastián
Akelare  Pedro Subijana is without a doubt one of the best Spanish chefs working today, and that is of course reason enough to visit his three-Michelin-star restaurant on this city's Mount Igueldo. But beyond sheer creativity, quality, and freshness, a magnificent bonus is the spectacular view over the bay and city.
Segovia
Mesón de Cándido  There aren't many cities that can boast an ancient Roman aqueduct cutting right through downtown. But Segovia  is one of them, and at this historic inn literally right alongside it (top), visitors can soak in its grandeur whilst chowing down on the famous local suckling pig, La Granja white bean stew, and marzipan layer cake.
Toledo
image | In Praise of Sardines