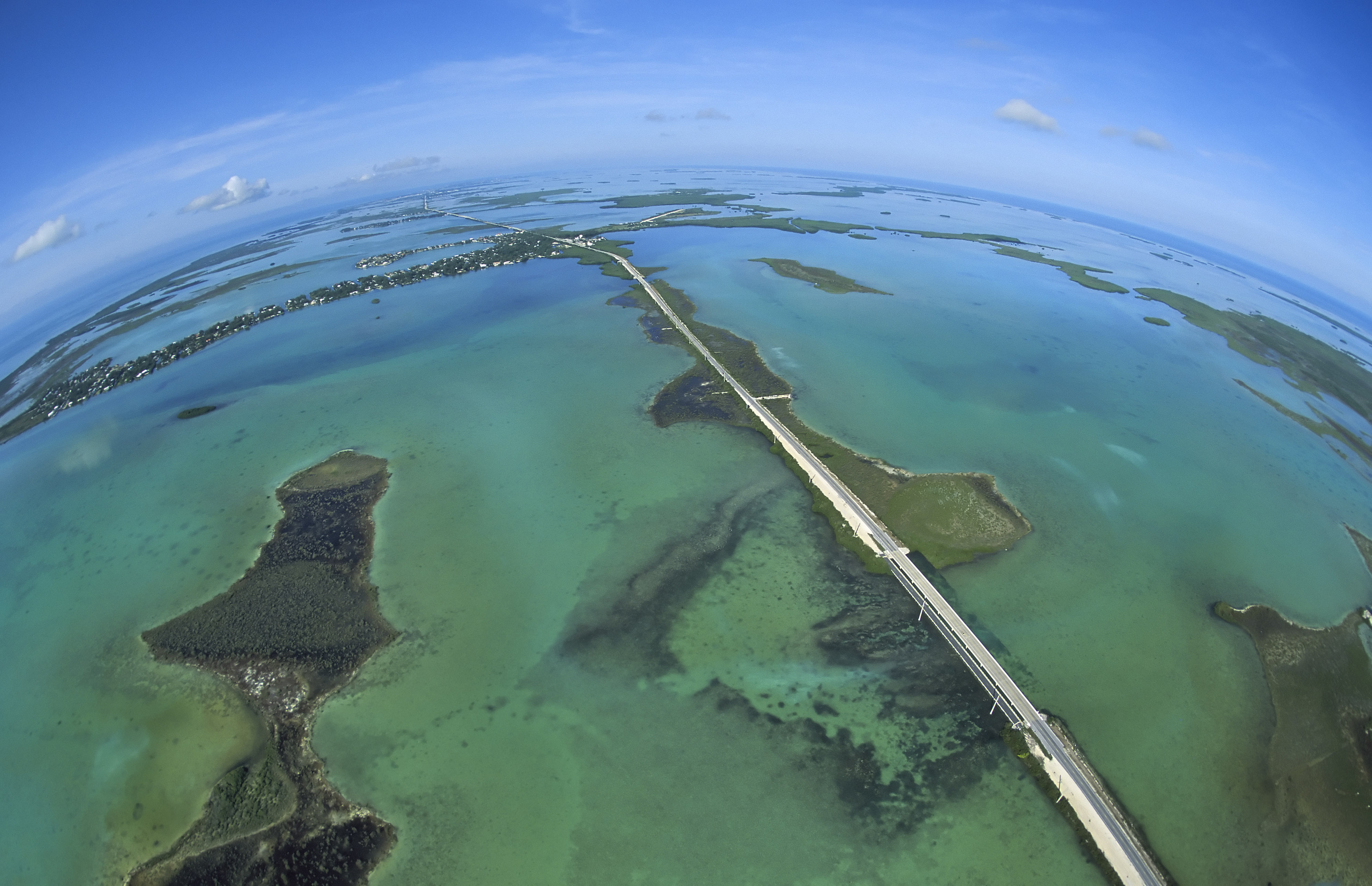 Ever heard of the "Conch Republic?" It's one of the names the United States' southernmost city dubs itself, and dates back to 1982 when leaders in Key West decided to protest a U.S. border patrol checkpoint that was all but choking off traffic on the only road in by proclaiming independence, declaring "war" on the USA, pelting Federal agents with stale Cuban bread, then surrendering and demanding $1 billion in foreign aid. "Conchs," as Key Westers are nicknamed, observe this event lustily for a week each year, and the fun this year begins today.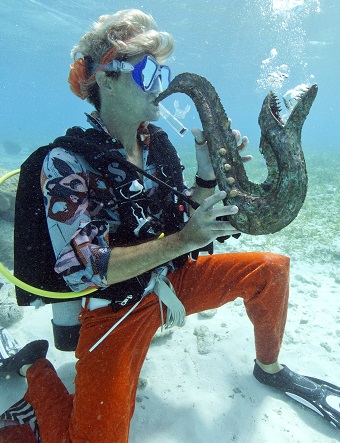 It's an odd but far from atypical example of the way in which the subtropical paradise that is Key West and the Florida Keys – a coral archipelago stretching 150 miles (240 kilometres) southwest from the tip of Florida that takes about 3½ hours to drive the length of from Miami – are a world apart from the rest of this country. The differences, of course, start most obviously with the physical. There are hundreds of keys, but only several dozen or so are of significant size, and these are connected by the Overseas Highway (aka U.S. Route 1) and its causeways. Driving from the mainland to the end of the line, Key West, is a truly unforgettable experience. Yes, along the way there's an inevitable amount of the same kind of schlock you see everywhere in America – the strip malls, the chain shops, the cheesy overdevelopment – but there are also spots when you suddenly soar like a pelican (of which you see so many) over the glittering blue waters, and when you turn off the main road, you can find yourself in verdant back country reminiscent of the deep Caribbean.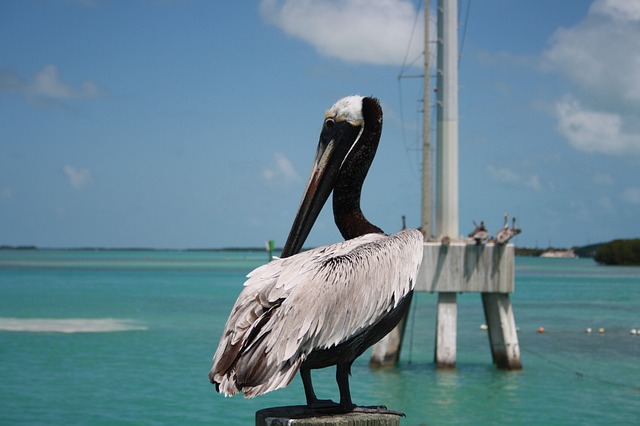 Key Largo is the largest of the islands, and others have evocative names like Fat Deer Key, Ramrod Key, and Sugarloaf Key. Besides the beaches, highlights include swimming with dolphins and sea lions at several local facilities; diving and snorkeling the U.S. mainland's only coral reef (and the world's third largest); staying in an underwater hotel; kayaking the mangroves; flats and deep sea fishing; visiting remarkable sanctuaries for birds, adorable miniature Key deer, and giant marine turtles; and enjoying a selection of hotels/resorts, restaurants, and nightlife that range from posh spots patronised by CEO's, celebrities, and presidents to down-and-dirty "holes in the wall" in the company of quite the eccentric and/or scruffy local characters.
What you find at the end of the line is just as unique. Key West (from the Spanish cayo hueso, "bone key") is an island city that's part modern Florida sprawl but has at its core a fairly compact "Old Town" of lovely 19th- and early 20th-century houses and public buildings that blend with lush foliage to make you feel like you're on some sophisticated Caribbean island, not in the United States. Of course the effect is ever so slightly marred once you hit parts of the high street, called Duval, which especially on the stretch close to the cruise-ship port is afflicted with tacky and occasionally even lewd T-shirt and souvenir shops, loud bars, and the like. But especially along streets like Fleming and Simonton, the architecture delights, with plenty of examples of Queen Anne and gingerbread Victorian as well as Mediterranean, classical, and Gothic revival. Many of the best have been turned into inns and guesthouses, and while most are not cheap, they are incredibly atmospheric.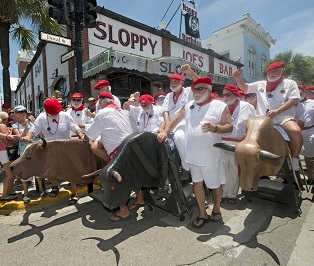 And there's quite a bit to do in Key West besides drinking and souvenir shopping, starting with several wonderful beaches and continuing with day excursions in huge sailboats and catamarans, out to snorkel the reef, fish, sun your buns (a couple are clothing-optional, this is Key West), visit the old Spanish fort in the Dry Tortugas, and more.  There are a number of quite interesting museums and historic houses, key examples including the abode of iconic writer Ernest Hemingway; a museum devoted to the shipwreck salvaging which made the city America's most prosperous at one point in the 19th century; the Harry S. Truman Little White House on the grounds of the still-present U.S. naval base, where Truman and other presidents and officials regularly visited (and current ones still do); and the San Carlos Institute documenting the history of Cubans on the island and their role in another huge past industry, cigarmaking (true story: my own Cuban grandmother was born here and once worked in one of those cigar factories).
Key West dining is exceptional, from tasty cheap eats up to exquisite nouvelle concoctions from chefs with pedigrees on a par with many you'd find in foodie capitals like London, New York, and San Francisco. As for nightlife, the trashy bars to which I alluded above are far from the last word – there are venues with jazz, alternative vibes, country/western, and cabaret shows. The last is especially prominent on the Key West gay scene, which has been a big draw since the 1970s (even straight people here, both locals and visitors, love the drag shows, it seems).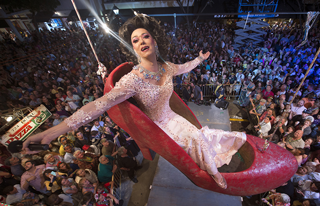 The prominence of drag queens hereabouts (that's local star Sushi at left at Duval Street's New Year's Eve "drag queen drop") brings me back to the "Key West difference." Beyond the merely physical, this place is a state of mind that's unconventional to say the least. The Conch Republic celebration is just one of many in which locals positively revel in their eccentricities and even sheer barminess (like the Hemingway Days, above right) – and chances are during your visit you'll come across some of the oddest characters you ever did lay eyes on (even the Walgreens chemist is flamboyant). It's all part of the fun of wastin' away in Margaritaville.
If you'd like to search for your lost shaker of salt without committing to all that driving, you can fly down from Miami for a day or two. But if you can take the time to let the Keys unfold before you, it's sure to become a striking travel memory that will not soon fade.
More information: www.Fla-Keys.com. Flights to Miami from the UK, from Spain.
images | Andy Newman/Fla-Keys.com, Pixabay, Kolossos