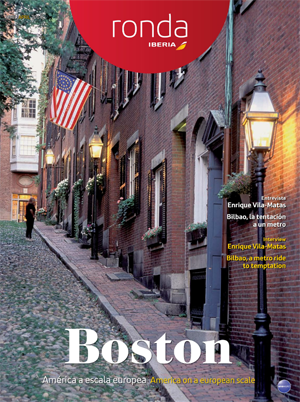 Spring in springing and so is Ronda! As we start up some of our high-season routes, the magazine's cover story this month focuses on one of the USA's most distinguished cities, Boston, Massachusetts – historic and traditional yet simultaneously innovative, dynamic, and forward-looking (after all, Boston is where Facebook was born!).
Back in mother country Spain, another historic city that's always remaking itself gets the feature treatment this month, too. That would be Bilbao – this time focusing on its modern Underground and how it makes exploring the sites and tapas bars of this Basque city not just a snap but a pleasure. Next stop, Bilbao!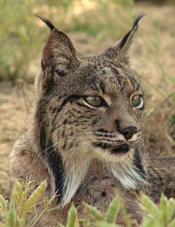 From Euskadi we move southward to Andalusia, where this month we dip our wings in honour of Europe's largest wetland, Doñana, a majestic nature reserve straddling the provinces of Seville, Cádiz, and Huelva, on the occasion of the 50th anniversary of the establishment of the first nature reserve, which over the years has grown to some 543 square kilometres (210 square miles) and been declared a UNESCO World Heritage Site. A wonderland for aficionados of ecotourism, birding, and unspoiled beaches, it's truly a treasure unique on the continent (that's the rare and wonderful Iberian lynx at right, by the way).
Elsewhere in Europe, as Scandinavia starts to warm up again for the year, we found ourselves peckish for a piece of Danish, and found an exciting one indeed in Copenhagen's Nørrebro and Vesterbro neighbourhoods, whic combine the Old World attractiveness of Denmark's capital with a multi-culti, progressive vibe that can be downright heady (move over, little mermaid!)
Besides Boston, we also hop across the pond to South America, where Mendoza, Argentina is an appealing, cosmopolitan city famed especially for what's nearby – some of the continent's top wineries and most impressive peaks, including Aconcagua (left), the highest in both the Western and Southern hemispheres; others host great ski resorts (remember, in Mendoza as in all the southern hemisphere, winter is on the way!).
Finally, profiles this month include Paco Roncero, the chef behind the two-Michelin-starred restaurant of the prestigious Casino de Madrid, a pair of creative Madrid tapas bars called Estado Puro, and Hong Kong restaurant View 62 by Paco Roncero. He is also author of three books on Spanish cuisine – and a key contributor to Iberia's Business Plus menu. Talk about a culinary overachiever! And from pleasures of the palate to sustenance for the mind, we talk to Enrique Vila-Matas, one of Spain's most influential contemporary writers, whose novels include Bartleby & Co., Dublinesque, and Never Any End to Paris. Here he discusses literature, travel, and his latest work, Kassel Invites No Logic, written as part of a performance during the Documenta art fair in Kassel, Germany. In a Chinese restaurant, no less – we're sure you'll be left wonton more…
There's plenty more, of course, from sassy T-shirts to news of our new environmental initiative, Barajas arrivals lounge, and inflight electronic devices policy, just for starters. Give this month's Ronda a read!
images | lynxexsitu.es, KMG.ca