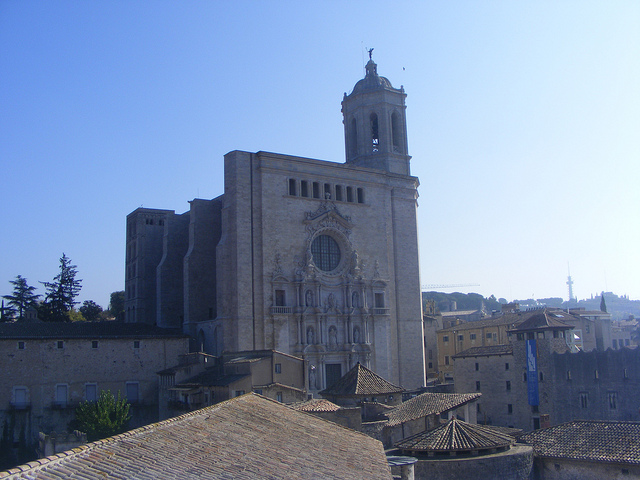 Welcome back to Catalonia! Chances are you know at least a little something about Barcelona even if you've never been there. But what of Girona (or Gerona as it's said in Spanish), the region's second city, a train ride of a bit over an hour up the Costa Brava? This relatively small city boasts a mediaeval historic quarter that is one of the most evocative (not to mention well kept) in Spain, and yet most of the tourists who make their way here are Spaniards rather than foreign. One thing you do notice is how prosperous it all seems – even in challenging times, lots of cafés, gourmet shops, jewelry stores, and fairly pricey-looking restaurants.
Get your start and your bearings with the Onyar River, lined with colourful houses which wouldn't be out of place in an Italian city such as Florence and straddled by various bridges such as the intense red metal Pont de Eiffel (built in the 19th century by a certain chap who went on to build a certain tower in a certain capital of France) and the Pont de  Pedra (stone bridge), which leads us into the old town.
Flowers, cafés, clothing shops, throngs of people – this is La Rambla, lively and buzzing. Amble along, browsing and maybe picking up a typical local product or two, such as the locally made chocolate or botifarra dolça (pork sausage sweetened with honey); also, if you're here from March through June or October through December, there's a crafts fair at the Pont de Pedra. Heading toward the cathedral, first make a stop at the Church of Sant Feliu (St. Felix), a mix of Romanesque, Gothic, and Baroque dating back to the 12th century. It's impressive in its own right, but also because of the funny little ritual associated with it. There's a short column outside the church with a small lioness depicted clinging to it, and it's said that "qui besa el cul de la lleona retorna a Girona" (whoever kisses the lioness' bum will come back to Girona) – kind of like the Trevi Fountain meets the Blarney Stone.
Anyway, after walking through an archway and at the top of a 90-step staircase you come to the imposing Romanesque/Gothic Cathedral of Santa Maria, also dating back to the 12th century, with the widest nave of any Gothic church in the world. Continuing the exploration of the stone cityscape will take you through atmospheric spots like Plaça de la Independencia (Independence Square); the 10th-century Benedictine monastery of Sant Pere de Galligants, now home to the Archaeological Museum of Catalonia; the wee tiny Plaça dels Raïms; the Bishop's Palace, now site of the Girona Art Museum; and the so-called Arab Baths, which are actually 12th-century Romanesque.
Onward and upward, to the city walls with their turrets, making for a striking stroll indeed, with some priceless views once you reach the higher precincts. On your way back down, if you want a time-out, take a break in La Devesa Park, a gorgeous 40-hectare (99-acre) mix of 160-year-old plane trees, gardens, lawns, and facilities including a charming little French-style botanical garden. And don't leave town without losing yourself in the labyrinth that is El Call (pronounced very approximately like "I'll Kie"), the mediaeval Jewish quarter that is one of the best preserved in Iberia, and visiting its Museum of Jewish History. Finally, if you're a film buff, the local Cinema Museum is actually a pretty cool bit of business, documenting not only the history of movies but their antecedents dating back centuries. But at the end of the day, in Girona the stars of the show are the noble stones of which this city is built, and the proud locals who keep its heritage alive.
Useful Facts:
Girona has 97,000 inhabitants.
The city's altitude is 70 metres (230 feet) above sea level, and the climate is generally mild.
In addition to highways, there is frequent motorcoach and rail service to Girona from Barcelona.
More information: Girona.cat.
image | aneolus