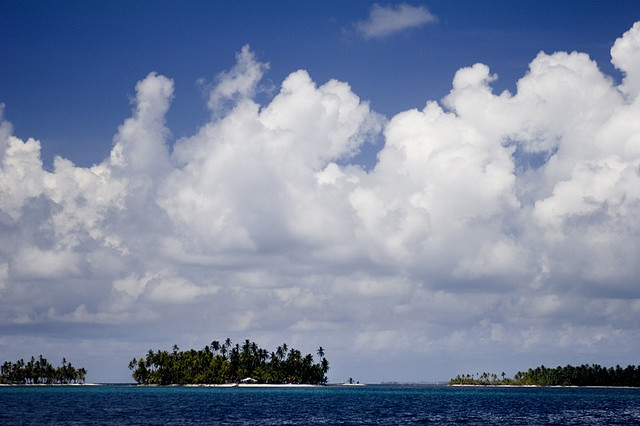 You'll barely hear a sound, except maybe for the wind and the waves. For there's a side to Central America's southernmost country, away from its famous Panama Canal and the bustling streets and towering skyline of its capital Panama City, that still looks and feels much the way Christopher Columbus must have experienced it back in 1502. Here are four such paradises where you can unplug:
Islas de las Perlas  The Pearl Islands archipelago is absolutely stunning for the colour of its waters, which shift from turquoise to green to aquamarine according to the changing light of the sun. Most of these 200 islands are uninhabited – so you are practically free to do as you please out here. Some of these islands have such a castaway feel that they have been used more than once for reality TV like The Real Swiss Family Robinson and several seasons of Survivor. Highlights include the reefs of Contadora Island and the huge brown pelican colony of Pacheca Island. There are just a small number of islands that offer places to stay, among them Contadora, Saboga, and Isla del Rey.
Coiba National Park  A 25-minute flight from Panama City, this cluster of 38 islands, a UNESCO World Heritage Site in the Gulf of Chiriquí off the Pacific coast, was home to the Coiba Indians before the arrival of the conquistadors, and from 1919 to 2004 a penal colony (à la Devil's Island).  Left otherwise undeveloped, it's splendid for ecotourism, birding, kayaking, and snorkeling/diving, letting you see marvelous reefs as well as huge sea turtles, rays, even sharks.
Boca Brava Island  Also in the Gulf of Chiriquí off the mainland town of Boca Chica, it's 14,000 hectares (54 square miles) worth of rain forest, mangroves, and zenlike tranquility, with howler monkeys on land and spectacular sea reef life in the surrounding Marine National Park waters. And there are rustic lodgings out here where you can kick back and take in some truly awesome Pacific views.
Kuna Yala  This Caribbean coastal strip and the 365 offshore islands known as the San Blas Archipelago are a particularly special place, due not just to the trappings of paradise but to the taciturn yet welcoming folk who live here: the indigenous Kuna. They're used to visitors, but also determined to preserve their culture, and in fact they've managed to remain Latin America's most successfully autonomous indigenous people. They're happy to share their traditions with you, and you'll be seduced by their colourful handicrafts, especially the mola fabrics for which they're famous. The little ones, meanwhile, will try to sell you coconuts. Buy one – they're delicious.
Useful Facts:
The best time of year to visit Panama is January through April.
Due to the warm tropical climate, light, loose clothing of cotton and linen is most recommended.
You should check with your home country's health department regarding recommended/required vaccinations and medicines for Panama, such as hepatitis A, typhoid, yellow fever, and malaria.
Currencies in circulation are the balboa and the U.S. dollar.
More information: VisitPanama.com
images | Toni Verd, Markus Leupold-Löwenthal