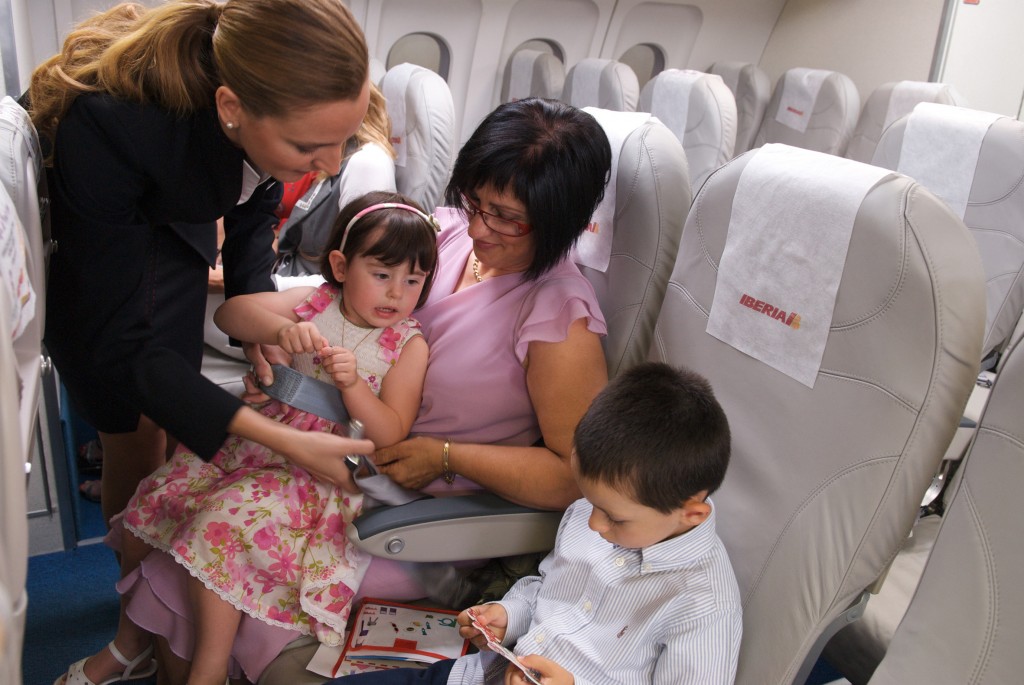 Many of you mums and dads facing flying with little ones might dread the prospect, but in fact, it can be a lot easier than you think. At Iberia our staff on the ground and in the air go out of their way to make way for ducklings, so to speak, and if we may, we'd like to offer some advice before you fly, as well:
We're well aware that traveling with children, especially the very young, usually means the need for extra baggage, so Iberia grants an additional 23 free kilos (51 pounds) of weight allowance, along with  a pram. Children between two and 11 years, meanwhile, are given the same baggage allowance as adults. Keep in mind that allowances do vary according to the type of fare and to your level of Iberia Plus membership. You'll find all the relevant information on this link to our website.
To ensure maximum comfort for babies, parents may wheel prams directly up to the departure gate and may then have it stored within the cabin, space permitting (if space does not permit, the cabin crew will tag it and have it transferred to the luggage hold for delivery upon arrival).
If you feel that wait times will be boring for the little ones, many airports in Europe have play areas, such as Spanish airport authority AENA's 'guarderías', open daily from 8 am to 8 pm. Some larger airports have more than one (Barcelona's, for example, has three); for more details, check AENA's website.
We'd also remind you that in order to take advantage of special inflight services for babies and children, you need to specify this when reserving your ticket.
Remember that during takeoff and landing, children younger than two must be held in the lap of an accompanying adult, secured with a special seatbelt that will be provided by a flight attendant. If there are seats available, Iberia will do its best to block off the seats next to yours in order to make your trip as pleasant as possible. Please keep in mind, though, that at some times of year, due to peak demand, this can become difficult to achieve.
For intercontinental flights, parents can reserve a cradle for babies up to eight months at no charge. Upon reserving your ticket, please do not forget to specify that you are travelling with an infant.
We recommend that you bring with you in your hand luggage your child's favourite toy in order to keep him or her calm and make the flight pass as quickly as possible.
Feeding time may seem like a challenge, but it doesn't have to be. In spite of security restrictions, milk, juices, and purées can be brought on board, and our flight crew will be happy to warm items upon request.
Occasionally upon takeoff or landing, infants' ears in particular may be disturbed by pressure changes. If it occurs, it will only be momentary. We would, however, advise you to avoid if possible travelling with babies and young children who are congested, because they are even more sensitive than adults to changes in pressure. There is, however, a household remedy which will usually help. Dampen tissues or a handkerchief in warm water and wipe it over the child's ears. Giving him or her something to suck or chew on, such as gum or a sweet, can also help.