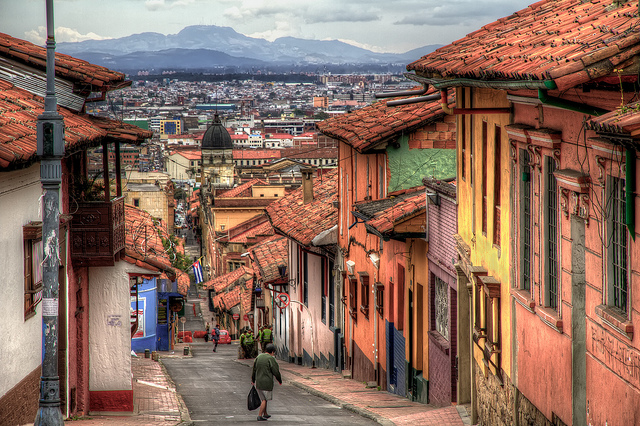 You have to hand it to Colombia – for years after the violence of guerrilla and narco warfare was brought firmly under control, international tourism remained low. But the strenuous efforts of the folks at Brand Colombia to turn that around have been paying off, not just to places like dreamy colonial Cartagena on the Caribbean coast but also to its inland cities, including its fascinating capital, sprawling across 385 square kilometres (149 square miles) of a plateau 2,626 metres (8,612 feet) up in the Andes near the country's centre.
Furthermore, while most overseas visitors to Bogota have traditionally been business travellers, that, too, is changing – and there's quite a bit to see and do, from an impressive dining and nightlife scene to cultural institutions and a lively, appealing colonial quarter.
Called La Candelaria, that compact quarter dates back to the city's founding in 1538. Its nerve centre is the expansive Simón Bolívar Plaza, named after the general who helped Colombia and several neighbouring countries become independent of Spain. It's always full of people, bikes, skaters, strolling and smooching lovebirds, and actual birds – thousands of pigeons chasing crumbs and corn kernels. Some of the capital's most distinguished old buildings flank the square: the cathedral, the Palace of Justice (Supreme Court), the city hall, the Casa de los Comuneros (a modest but historic house dating back to the 17th century, now a government office building), and the Capitolio, home to the national parliament.
Much of the rest of La Candelaria, however, is narrow streets and lanes, some cobblestone, and a few narrow indeed. A much smaller square called Plazoleta del Chorro de Quevedo is said to mark the spot where the city was founded. Nearby are a handful of distinguished museums such as the Casa de Moneda (mint), with a fascinating numismatic and art collection; the Museo Botero, with 123 paintings and sculptures by Colombia's most famous artist, Fernando Botero, along with 85 more by the likes of Miró, Chagall, and Dalí; the Museo de Arte Colonial; and of course the glorious Museo de Oro, with 9,000 gold artifacts from pre-Columbian peoples such as the Muisca and the Quimbaya (right). No shortage of impressive churches here, either, such as Our Lady of Chiquinquirá and the El Carmen Church (particularly distinctive with its red and white stripes), even though these two in particular were built fairly recently, around the mid 20th century.
Then, as you're making your way around the neighbourhood, you'll notice craggy Monserrate hill looming above. You can make your way to its base and take the funicular yet another 525 metres (1,726 feet) up to the top. You'll find a church and a romantic restaurant, Casa Santa Clara (with, it goes without saying, killer views).
There are hotels in La Candelaria, as well, but it's pretty quiet at night. If you're looking for some activity, you'll want to head uptown. But that's another post. 😉
Useful Bogota Facts: 
Inhabitants: 6,076,000.
Bogota is on the cool side, with a median temperature of 15° Celsius (59° Fahrenheit) year round, though the weather can be unpredictable. In winter and first thing in the morning it can drop as low as -9°C (16°F).
Colombians generally have lunch between 1 and 3pm and dinner at 7 or 8pm.
The currency is the Colombian peso.
More information:  www.colombia.travel
 images | Szeke, Mario Roberto Durán Ortiz