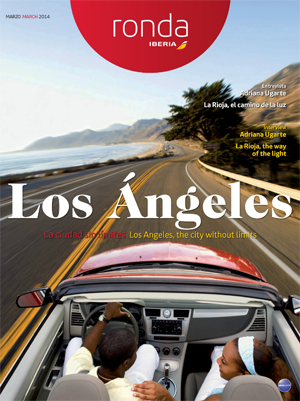 As Iberia prepares its summer service between Madrid and Nuestra Señora de Los Angeles de la Porciúncula (aka El Lay) in April, our March cover story takes you on a little tour of the highlights of America's second largest metro area and its surroundings, from the hillside letters of Hollywood down to the gnarly waves of Malibu, passing through the funky/arty vibes of Venice and Santa Monica. Pick up the good vibrations.
Back on our own home turf, Spain's northerly region of La Rioja is probably best known internationally for its wine, but it's also home to some marvelous destinations enriched especially by their history as waystations along one of Europe's most famous pilgrimage routes, the Camino de Santiago (Way of St. James), including stars like Santo Domingo de la Calzada  (which is, as you'll learn, among other things famous for its chickens, below). Jump onto the Camino.
Next we move to a pair of handsome European maritime cities.  First up — and "next door," as it were — is Portugal's atmospheric capital Lisbon, but this time mixing the classic, such as the 18th-century La Baixa quarter, with a good dose of the cutting edge, like the Berardo art museum and trendy new areas like "Park of the Nations" and LX Factory (read more). Then, heading 3,000 kilometres north, Stockholm boasts a sophisticated culinary scene and a lovely archipelago to explore. But these days it's added yet another distinction, as the world's most ecological city. We take another look at Sweden's capital with an emphasis on how it's pioneering "sustainability chic," showing how it's done not only to save an endangered world, but to save it with style (details here).
Profiles this month include 29-year-old actress Adriana Ugarte, one of Spain's hottest TV and film stars of the moment. Here she talks about her work and why you may be hearing more from her internationally  –  another Penelope Cruz in the making, perhaps? You decide. Moving from the screen to the kitchen, we introduce you to one of Spain's top chefs, Dani García, who earned two Michelin stars at his Marbella restaurant Calima, has now launched Dani García Restaurante at Marbella's Hotel Puente Romano – and we're lucky enough to have him designing our business-class menus! Get a scrumptious taste.
We also look ahead to next month, marking the 450th anniversary of the birth of "the Bard," the one and only William Shakespeare, one of the most influential figures in world literature. It goes without saying the great occasion is being marked with much ado about something in Great Britain at venues such as London's Globe Theatre (right), but also elsewhere around the globe, including Spain (indeed, "all the world's a stage" – saw that coming, didn't you?). Cometh and readeth, forsooth!
There's much more where that came from, so give us a read, and see you in the sky! 🙂
images | Zarateman, diamond geezer