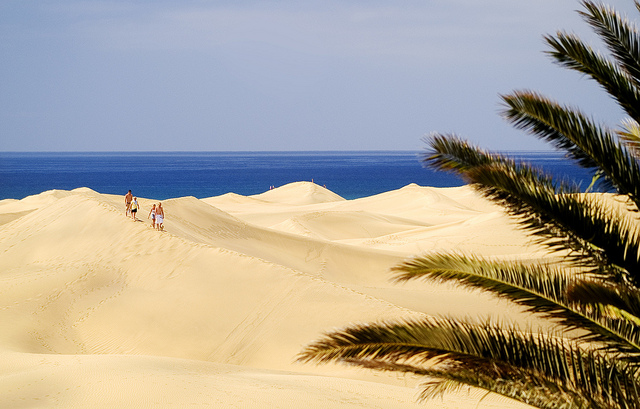 From the air, the third largest (1,560 square kilometres/602 square miles) and second most populous (846,000) of Spain's Canary Islands is somewhat reminiscent of a biscuit that's been nibbled from all sides. And once you find yourself on the ground, there is indeed a lot to sink your teeth into. It all starts with that marvelous, brilliant light that makes it all look delicious, from beaches to churches.
The capital, Las Palmas, is as good a place to start as any, with its historic old town Vegueta, where the settlement was founded in 1478. Its epicentre is Plaza de Santa Ana, where you'll find a handsome cathedral bringing together a variety of styles including Gothic and neo-classical. Stroll the narrow lanes and small plazas like Santo Domingo and Espíritu Santo; browse the colourful old covered market; and check out several very interesting museums such as the Casa de Colón. Along the way don't forget to cast your eyes upward to take in the traditional Canarian wooden enclosed balconies. Not far off you'll find one of the island's popular beaches, Playa de las Canteras, a long strip of sand shared by sunbathers, swimmers, surfers, and anglers. Whatever you do, don't miss the sidewalk cafés and seafood restaurants such as La Puntilla, and if you like performing arts, you have a distinguished choice of old (the 1890s Pérez Galdós Theatre) and new (the modern Alfredo Kraus Auditorium).
But we're just getting started, for where the sand and sea meet in a truly magical way is down on the island's southern tip at Maspalomas Dunes Natural Reserve, which includes three ecosystems: dunes (above), a pond, and a palm grove.  An old lighthouse presides over various stretches of beach – including some where surfers do their thing, others where people take it all off. Towns not to miss include Santa María de Guía (famous for its sheepsmilk cheese perfumed with wild thistle), Gáldar (the ancient court of the Canarian kings, with important prehispanic sites such as the Painted Cave), Agaete (with its gleaming white houses and spectacular sunsets), Arucas (surrounded by pretty banana fields, its 1909 Church of St John the Baptist so grand it's dubbed "Arucas Cathedral," right), and Mogán (with charming, flower-filled lanes and a glamorous marina/port area nicknamed "the Venice of the Canary Islands" because of its canals).
Iberia's best deals from Spain; from the UK; from the USA.
images | Vin Crosbie, Stephen Downes, mataparda