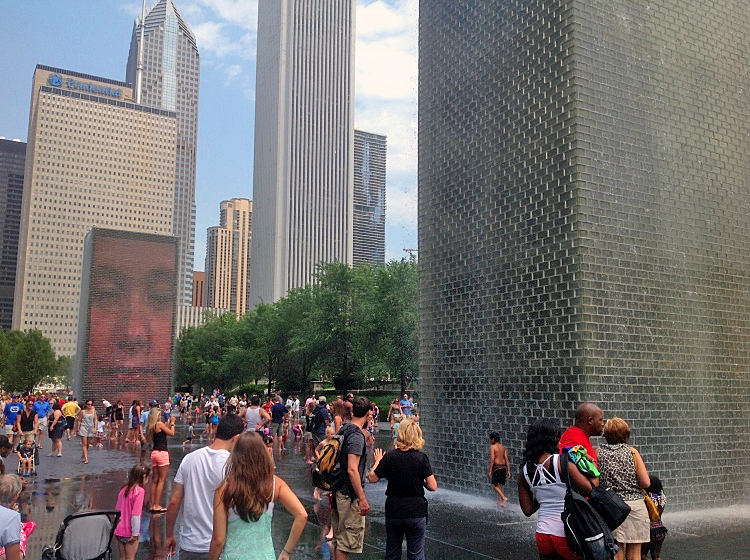 America's famous "Windy City" might not be the first to leap to mind when it comes to vacation travel, compared to, say, New York, Miami, or Los Angeles. But Chicago, the country's third largest metropolis, offers a lot to the visitor – from Spain or anywhere else, as I was reminded by the news last week that Iberia is adding three more flights per week between here and Madrid, for a total of 10 weekly from June through August. It brought to mind the Spanish connections I discovered on my most recent visit to to the "city of the big shoulders," as Chicago was dubbed by legendary 20th-century poet Carl Sandburg due to the industrial might that it built over the past century and a half.
That trip took place in early summer 2012, and and as it happened, coincided with the big final match between Spain's "La Roja" and Italy's national football team in the Eurocup finals – culminating of course in Spain's most excellent victory. I shared that explosive moment when the Spaniards rolled over the Italians 4-0 with hundreds of Spanish fans (fans, remember, being short for fanatic, which in this case totally sums it up) at the de facto headquarters of Chicagoland's Spanish expat community, Café Ibérico (right, 739 North LaSalle Avenue, tel. 312-573-1510) owned by Galician José Lagoa and his son Darío. During my visit to the restaurant, over tasty, impeccably authentic  tapas I managed to chat with several expats in spite of the hubbub, people like Julio A. of Spain's Rioja region, whose message for fellow Spaniards includes advice to come with an open mind, especially when it comes to eating local – "it's not all hamburgers," he said. Nonetheless, Julio's favorite eatery is the trendy Mercat a la Planxa (638 South Michigan Avenue, tel. 312-765-0524) across from Grant Park, where chef José Garce serves up an appealing selection of nouvelle-style Spanish tapas amid a buzzy atmosphere. When I pointed out that this might seem contradictory, Julio grinned and said in effect, yes, American food's great, but hombre, nothing's as good as the stuff from the mother country – like the Spanish garlic shrimp he was putting away with gusto at that very moment.
And it's not only cuisine-wise that Spaniards have shined in Chicago. Culturally, a slew of Spanish artists have very much left their mark locally, starting with the creators of several high-profile public artworks: Pablo Picasso with his Cubist masterpiece in Daley Plaza (left); Joan Miró, whose "The Sun, the Moon, and a Star" is the star of Brunswick Plaza;  and most recently, Jaume Plensa, whose striking Crown Fountain in Grant Park (top) incorporates videos of Chicagoans (you might also recall this was the park where Barack Obama made his inspirational victory speech after being elected president in 2008). And speaking of Grant Park, it's home to one of America's most  distinguished museums, the Art Institute of Chicago, where you'll find not just Picasso and Miró but also other giants such as El Greco, Sorolla, and Goya. And finally, let's not forget the parade of performing artists as varied as legendary movie diva Sara Montiel and Madrid alt rockers Vetusta Morla (below right), many of them hosted by the Spanish-government-sponsored Cervantes Institute, which brilliantly flies the flag of culture from Spain and to some extent Latin America.
Also during my visit I had the pleasure of speaking with Spain's consul Carmen Fuentes Muñoz, and asked her what she'd advise a fellow Spaniard looking for an urban holiday in the United States. "Don't stay in New York!" she replied. "Chicago is a city with spectacular architecture, first-class cultural offerings, and a great quality of life. It's even got great beaches!  You have to come and get to know it." This advice, of course, goes for any European or other foreign visitor to the U.S.
But really, how to get to know a city with a population of 3 million (among them 2,000 Spaniards)? Well, local Cervantes Institute director Ignacio Olmos told me that to start out with, a must-do is a tour by boat on the Chicago River, which offers an unparalleled perspective on downtown's urban architecture. But for the most part, he added, the best way is on foot – and I can personally attest to that. That's one reason why at the end of each day my deliciously achy feet especially appreciated the comforts of the enormous Chicago Hilton (720 Michigan Ave., 312-922-4400), on Grant Park a block down from the Art Institute and a short stroll from most of downtown's great dining, shopping, and attractions. One of the city's premier grande dame hotels, built in 1927 in a sumptuous Beaux-Arts style, it's been the site of quite a bit of history, both local and national (I especially loved its huge fitness center and indoor pool). Several blocks away, and like the Hilton an Iberia Airlines partner hotel, the JW Marriott (151 West Adams Street, 312-660-8200) is another historic edifice, beautifully converted in 2010 to a world-class property with 600-plus rooms and great amenities including a spa, indoor pool, and gym.
My trip came to an end all to soon, and I left completely understanding why Iberia's local station chief Milton Uribe told me that "of all the places I've worked during my more than 20 years with the company, Chicago is the place where I've felt most at home."  I have to agree with Milton, Ignacio and Carmen that even apart from its dining, culture, and exciting urban environment, what really makes the Windy City so appealing is the friendliness of its inhabitants. Julio from the Rioja put it perhaps best: "Chicago is New York with more smiles." No disrespect to the Big Apple, where I lived happily for many years, but I think he's definitely got a point.
For more information, please visit our Chicago guide page.
images | José Balido, Lenka Reznicek, Wikipedia