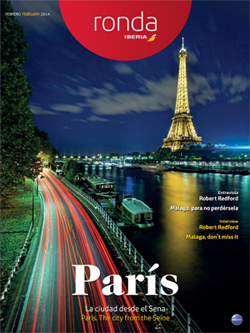 Hot off the presses! It's another brilliant issue of Iberia's glossy inflight magazine, available not only to passengers flying with us this month but also online. Here's just a little taste of the fascinating, lavishly illustrated stories that await:
As they say, we'll always have Paris, and the City of Light is truly an inexhaustible source of travel inspiration, as this month's cover story shows. It inspires us even in the middle of winter (as we saw just last week), and here we take the opportunity to discover it anew from its river, the ever romantique Seine.
Turning to Iberia's home stomping grounds of Spain, the focus turns to the big enchilada (so to speak) of the Costa del Sol, the city of Málaga, now a true international cultural destination in addition to being a balmy delight as much in winter and spring as any other time of year.
Moving northward onto the meseta of Castile, we're marking the fourth centenary of the death of the great painter El Greco in the atmospheric city indelibly identified with him, Toledo (below left, as depicted in the maestro's View of Toledo). Especially if you love art, you won't want to miss this article.
Crossing the Atlantic, we turn our attention to Latin America, where there are many spectacular historic urban quarters, but according to UNESCO, none are as well preserved as that of Quito (below right), now emerging from a long process of restoration. Find out what truly sets Ecuador's capital apart.
Of course that's not to take anything away from the astonishing onetime capital of the Inca empire in next-door Peru. The Andean city of Cuzco is a stunning hybrid of colonial and pre-Columbian that will (perhaps literally, due to the altitude) take your breath away.
Then of course there are our profiles of the month, beginning with an extraordinary actor who has contributed immeasurably to the film industry over the years in various capacities, and has at age 77 gone back in front of the cameras in a tour de force performance in All Is Lost. Here Robert Redford puts it all in perspective for us.
And who's hungry? You, after you read about Basque chef José Rojano, who has made quite a reputation for himself not in Euskadi but in the Canary Islands, where his work on Gran Canaria has garnered unprecedented culinary acclaim for a Canaries-based chef. Come see what he's all about and why you'll likely be hearing much more from him in the future.
We've also got cultural events, cowboy clothes, new hope for smokers, sporty wheels, the Mona Lisa in a Marge Simpson wig, and much, much more. Come have a go!
images | Google Cultural Institute, Dr. Carlos Costales Terán, Georges Biard