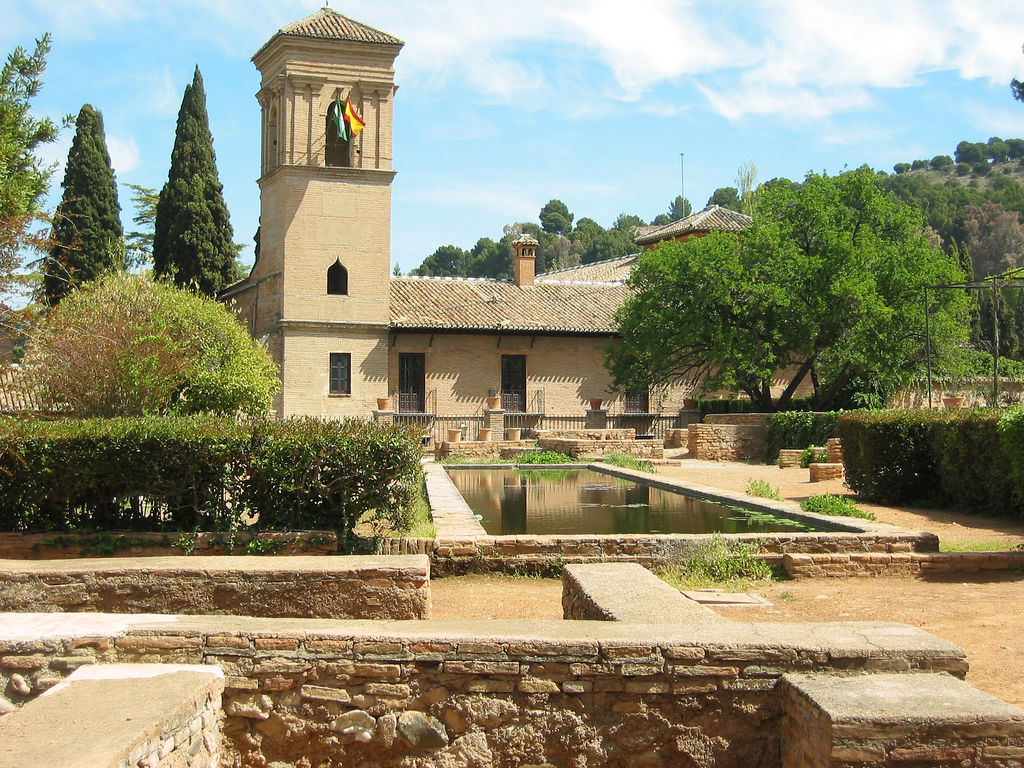 Talk about Tales of the Alhambra: One of my earliest (of many) memories of Spain involves sleeping in this fairytale Moorish palace complex in the ancient city of Granada. OK, not exactly in the Alhambra, but about as close as you could get at night without being arrested. Then as now, the red-brick Parador de Granada (above) was possibly the most romantic of the Paradors in Spain, a unique chain of 94 historic lodgings that includes this 30-room inn created out of the former St. Francis Monastery, one of the Catholic religious structures built on the site of demolished palaces of the evicted Muslim rulers of Al-Andalus.
I've been back a couple of times since, and if it was a gem in 1978, by now the Parador de Granada has been buffed to a comfortable, even higher-quality gloss, with a lovely courtyard and all the antique details intact, but rooms and cuisine upgraded to world class. Meanwhile the views out the windows and what you'll find right outside the front door are far more than world class – they're UNESCO-World-Heritage class. Naturally, this is no longer the steal I recall at less than US$100 a night – nowadays a double here goes for 200 euros even in January, and peaks around 336 euros in the fall; this is exceptional, though, rates at many other paradores in Spain range from 70 to 100 euros nightly, making them exceptional deals as well as history-lovers' catnip.
This queen of the world's most romantic inns is, in my opinion, the jewel in the crown of a hotel chain that's one of Europe's, if not the world's, most unusual for several reasons. Nowadays hospitality groups specializing in heritage properties are not a bit out of the ordinary. But not so in 1928, when the first parador was founded in the town of Navarredonda de Gredos (near Ávila in Castile) by order of Spain's king Alfonso XIII, the first of many meant to promote the country's tourism industry. I recall on that Andalusia trip my family also stayed at other historic paradores like the 14th-century Moorish fortress in Carmona near Seville, as well as others that weren't particularly historic, such as the ones in Córdoba, near Málaga, and the Almería town of Mojácar. Apart from the pleasure of staying in and visiting some amazing landmarks, these experiences made me feel as if I was experiencing history instead of just seeing it two-dimensionally. Currently there are 94 paradors throughout Spain, and interestingly, 65 percent of their guests are Spaniards, proving their appreciation of their own country's heritage. Following are just a handful of the top historic stars:
Alarcón (Cuenca)  A crenellated medieval fortress perched over a village halfway between Madrid and Valencia is now home to several rooms. It's in a bucolic rural area perfect for an outdoor and/or romantic getaway.
Ávila  This evocative Castillian walled city is an extremely atmospheric place to visit, and the parador in the elegant Piedras Albas Palace, built against the old city wall in the early 16th century, is the perfect home base from which to experience it.
Cangas de Onís (Asturias)  The 12th-century Romanesque monastery of San Pedro de Villanueva makes a lovely place to stay while exploring one of my favourite parts of Spain, the hilly green northern Principality of Asturias.
Cardona (Barcelona)  In Catalonia some 85 kilometres (50 miles) northwest of the city of Barcelona, you can stay in a primitive Romanesque castle (above) dating back to the 9th century. There are narrow cobbled streets to roam in the town below, lovely countryside beyond – and, of course, a ghost.
Ciudad Rodrigo (Salamanca)  Another majestically medieval crenelated castle turned parador, dating from the 12th century, in a town 53 miles (89 km) from the city of Salamanca in the direction of the Portuguese border.
Cuenca  The picturesque old quarter of this Castillian city has a lot going for it, but it's most famous for the so-called "hanging houses," partly suspended over a craggy gorge. And that's the spectacular view you get from this parador created from the 16th-century San Pablo monastery just across the gorge.
León One of the most spectacular buildings of the bunch, the 16th-century Hostal de San Marcos in León's city centre was built as the headquarters of the Santiago (St. James) order of knights. With 203 rooms, it's a big, historic deal in a fun, historic city.
Santiago de Compostela  Built in 1499 right next to the great cathedral, the 137-room parador in the Hospital of the Catholic Monarchs (below) is another grandiose jewel in the crown, a royally patronised project in one of Christendom's greatest pilgrimage centres, the endpoint of the Way of St. James.
Sigüenza (Guadalajara)  You might think I have a weakness for castles. Not necessarily, but nothing says medieval Spain like a crenelated rampart, and this 81-room parador is ensconced in one of the larger and doughtier ones in the parador network, in a very historic city 63 miles (101 km) northeast of Madrid.
Just scratching the surface here, I know. If you know paradores and I've left out a favourite of yours, I beg your forgiveness – I simply couldn't include dozens, but leave us your own ideas in the comments! And for your next trip to Spain, browse some of the great properties, old and new, at www.parador.es/en.
images | albedo20, Paradores, Angel Torres