We travel writers, as you can imagine, regularly get questions from people going on holiday. But when someone referred to me by a dear friend asked what she should not miss when she goes to Italy's capital for one weekend, I wanted to ask her – "ma sei pazza??"  (Are you out of your mind?) You could spend every waking hour for weeks barely scratching the surface of this breathtaking city with a history stretching back nearly 3,000 years, so trying to truly capture la Città Eterna in a mere 48 hours is well nigh impossible. But alas, such are all too often the straightened needs of the modern holidaymaker, so I've thought long and hard about the highlights that first-timers should absolutely not miss on a two-day visit to Rome.
Day One: Classical Rome
Seeing with your own eyes the glories of ancient Rome right here where it all began is an experience like no other in the world. Most of the city's classical ruins are located fairly close together in (where else?) the heart of the city (with the exception of the Pantheon, a short metro, cab, or bus ride away).
Capitoline Hill (Campidoglio)  One of the seven hills of Rome, its current design dates from the Renaissance, but it was the geographical and ceremonial heart of the empire. From here you'll get sweeping, cinematic views of the Imperial Forum, with the Colosseum in the distance. The Capitoline Museums house a staggering wealth of archaeological and artistic treasures (including the original of the equestrian statue of emperor Marcus Aurelius you see out on the piazza), but there are still a lot of amazing sights to see, so alas, time is likely too short for these on this visit.
Palatine Hill  Another of the seven hills, considered to be the one where Rome had its origins, and the site of various imperial and aristocratic residences from the imperial period, with highlights including the Domus Flavia, the Domus Augustana, the House of Livia, the Baths of Septimus Severus, and a dark creepy tunnel where Caligula was thought to have been assassinated. Also up here are Renaissance impositions that were built over some of the Roman ruins, such as the Farnese Gardens, as well as a Museo Palatino – but again, time is all too short.  From here, too, you can see the Circus Maximus, a chariot-racing stadium more than 2,000 feet long. There's not all that much of it left beyond grassland, but it's open as a public park, so feel free to pop on down.
Roman Forum  You can proceed from the Palatine to the Colosseum along the Via dei Fori Imperiali, and picture what it was like back in the day. It's not a long distance – some 130 metres (425 feet) – but there's a lot crammed in here, including Trajan's Column; the Cura Julia; the forums of Julius Caesar, Augustus, and Vespasian; the Temple of Venus and Saturn; and various other stirring remnants of classical antiquity. So depending on your level on interest, you can zip through or linger considerably.
Colosseum  Your stroll through the Forum will bring you right up to the world's largest amphitheatre (above), nearly 2,000 years old  (buying a ticket at the Forum includes admission here and will let you skip the long lines), where you can roam the tiers of seats, the hypogeum (underground passageways), and temporary exhibitions. At the moment, unfortunately, some of the exterior is covered by scaffolding thanks to a long overdue restoration. Also take note of the spectacular nearby Arch of Constantine, built in 312 AD.
Baths of Caracalla  Covering 25 hectares (33 acres), this elaborate leisure centre dating from the beginning of the 3rd century AD included not just pools and saunas but also gyms, gardens, libraries, and shops. The surviving statuary and wall art are now in museums, but there is still some beautiful mosaic flooring, towering walls, and impressive arches. And if you're here in summertime, do try to score tickets to the opera and other cultural performances – it's an absolutely stunning experience.
Pantheon  You'll definitely want to leave time to hop transportation a bit north up to the city's best preserved ancient structure in Piazza della Rotonda: the mighty Pantheon (right), dating from the reign of the emperor Hadrian in the first century AD. Why best preserved? Because this former temple to the "pagan" gods has been a working Catholic church since the 7th century. It's majestic inside and out, but in my opinion, especially inside, with its soaring dome and oculus (central opening). It closes at 7:30pm, by the way.
Day Two: Baroque/Renaissance Rome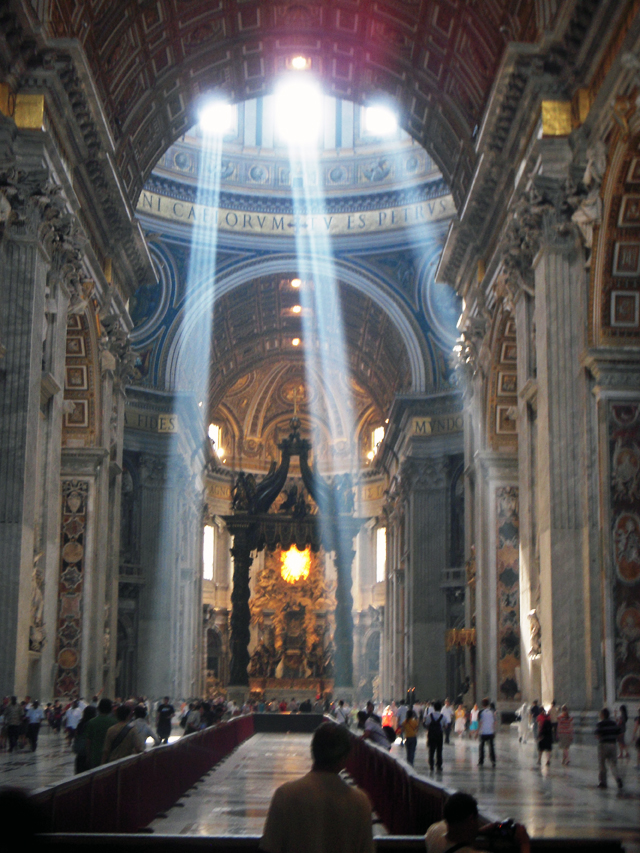 The Vatican   There may be a new guy in charge, but what hasn't changed is that bright and early is a good time to tackle perhaps the single largest sightseeing project in Rome.  St. Peter's Basilica opens at 7am, so get in there for a gaze at the largest and one of the most over-the-top church interiors in Christendom. The top highlights here, of course, include Michelangelo's Pietà, the Virgin Mary holding the dead Christ, and Gian Lorenzo Bernini's elaborate bronze altar canopy (known as a baldacchino). At 8 the dome opens, and to save time (and your feet) you'll want to spend a couple of extra euros to take the elevator up for some sweet views out over the city. Then, around 8:45am, head out into St. Peter's Square and bear left, following the wall to the Vatican Museums, an extensive, complex maze of rooms and art collections that alone could take weeks to absorb. You've got maybe a couple of hours, so you'll want to stick to the absolute musts. That would be the Pinacoteca, the painting gallery whose stars include Raphael's Transfiguration; the Raphael Rooms, adorned by that painter for Pope Julius; and of course the magnificent Sistine Chapel. Before leaving this side of the river, you'll want to stop at hybrid classical-Renaissance Castel Sant'Angelo, which started out as an imperial tomb, was converted to a Roman fortress, then much later a papal castle and prison.
Piazza Navona is a famous social centre lined with restaurants and cafés which make good (though not necessarily cheap) candidates for lunch. The best known is of course Le Tre Scalini, where you can enjoy a nice plate of gnocchi while people-watching around Bernini's famous Four Rivers fountain. For dessert, you can stay and treat yourself to some of Tre Scalini's renowned tartufo chocolate-ice-cream concoction, or stroll several blocks north and east to Giolitti, a historic gelateria (ice cream parlour) that serves some of the best gelato in Italy (I have other favourites on that front, too, but that's another post).
Borghese  Gallery  At the sumptuous villa of a Renaissance cardinal who enriched the art world immeasurably, art lovers won't want to miss the Berninis, Caravaggios, Raphaels, Titians, and other masterpieces here, then stroll the magnificent grounds. Absolutely critical: reservations for specific time slots required far in advance.
Spanish Steps  Yes, Europe's longest and widest staircase, leading up the the Trinità dei Monti church, is a touristy mob scene, but it's undeniably great for photo ops and people watching. Just watch your wallet – I had mine stolen here!
Trevi Fountain  For me, this 18th-century Baroque bit of business is still one of the most impressive fountains ever, 86 feet high and 161 wide, with Oceanus presiding over a pack of rushing Tritons and sea horses. And of course I leave this for last because since you only had 48 hours, you'll simply have to toss in a coin, to ensure, it is said, that you'll return to Rome.
To all the above, I would add as a must at least one dinner in the romantic medieval Trastevere neighbourhood. For more suggestions, plus lovely photos, of a quick but comprehensive tour of Rome in Iberia's inflight magazine Ronda, click here. Iberia deals to Rome: from Madrid and the USA.
image | Adam Logan, stanrandom, Jraytram, myrabella