Never mind twelve drummers drumming; today the key number for many in Spain and Latin America is three. Until not so long ago, December 25 was little more than a religious observance in many Hispanic countries, whereas the day kids really looked forward to was January 6, Epiphany, when as the biblical story goes, a trio of dudes named Balthasar, Caspar, and Melchior showed up with gifts of gold, frankincense, and myrrh for a newborn baby named Jesus.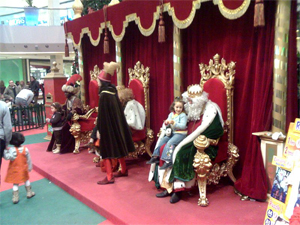 These so-called Magi (in Spanish known as the Reyes Magos and also known in English as the Three Kings or Three Wise Men) from somewhere in "the East" essentially became the St. Nicholas figures of the Latin world. Like Santa Claus, they receive letters from children, and on January 6th they leave presents. In Spain, where the tradition is strongest, today most large cities and a good many smaller ones stage a cabalgata (parade) on the night of the 5th involving – depending on how elaborate the staging is – exotically adorned figures and animals, sometimes floats, marching bands, dancers, and more (in fact, the Madrid cabalgata is such a big deal that it's televised nationally). These days, as well, the Magi have taken a page out of Old Saint Nick's book, receiving kids at shopping centres in the days leading up to the 6th (right). There are special foods associated with the day, too, such as the roscón de reyes (a crown-shaped sweet bread with candied fruit, left).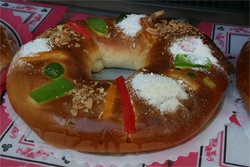 So yes, Santa, Christmas trees, and other ubiquitous international trappings of the holidays have certainly made their mark in Iberoamerica (in fact, there was a charity run in Madrid just three weeks ago for which some 6,000 grownups dressed up as Santa and kids as elves), but the Three Magi take on the gift-giving tradition is not only distinctly Latin, but also a whole lot more faithful to, as the phrase goes, the reason for the season.
For an example of a fairly elaborate big-city cabalgata, have a look at the one in Barcelona January 5, 2013.
images |emijrp, Fernando Estel, Tamorlan