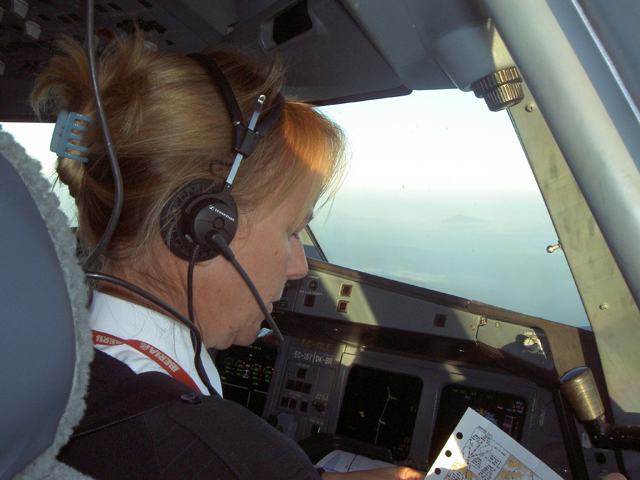 Recently, one of our pilots shared with us an account of a typical "day at the office," and we thought you'd be interested to learn more about what life is like for the folks in the cockpit.
Loreto Costa Krämer, it seems, was born to fly. Since childhood she lived surrounded by airplanes thanks to her dad's passion for aviation, and would avidly read his many magazines and books on airplanes and flying. Taking a glider course at age 18 convinced her to go for a career as an aviation professional, and she won admission to the National Aeronautics School in Salamanca in 1991. That same year she came to work for Iberia as the company's seventh female pilot (now they number more than 60). Originally she flew Boeing 727s, but now she pilots Airbus A340s, the aircraft Iberia uses for its long-haul routes.
A Typical Flight Day
A day's work starts with Loreto hurrying through her morning errands before embarking on a flight to San José, Costa Rica at 12:05pm. She arrives at Barajas International Airport's parking lot P-12 and waits for a crew transfer van to take her to the satellite building of Terminal 4, where she signs into the computerised system.
She then meets with the rest of the technical crew – the captain and the additional pilot – which will be taking flight IB6313 to San José to discuss the dispatching of the flight plan. The flight dispatcher will explain what to expect on the route this time out, including variations in conditions; weather on takeoff and arrival; prevailing winds; storm fronts; flight times; any significant changes at either airport; special passengers or cargo; notes regarding fuel; and so forth. After reviewing the data, the captain will accept this dispatch as is or modify it.
Before Takeoff
Onboard, and after the technical crew and cabin crew are introduced to each other, a joint preflight briefing is conducted, focusing especially on particularities of this flight as well as double-checking flight safety material.
This is followed by the "scan flow," checking all onboard systems, cargo, passengers, and documentation. And that's the moment when Loreto needs to conduct the exterior check, disembarking to examine the key elements of the fuselage: inspecting the landing gear from left to right; all surfaces and engines; flight controls; any potential leaks and previously undetected incidents (even though the maintenance crew's careful work makes this essentially redundant). Once she's back on board, she conveys her findings to the captain and technical crew, prepares the cockpit, and revises the flight checklist. '
Then, with everyone aboard and the doors closed and secured, once the aircraft has pushed back and taxied out onto the runway, it gets into position for takeoff, which consists of various phases:
The climb to 10,000 feet (3.048 metres); this is the moment when passengers may unbuckle their seatbelts if they so desire.
Reaching cruising altitude, which ranges between 20,000 and 36,000 feet (7,000-11,000 metres).
After 10½ hours of flight comes the approach to San José, which requires some 30 to 40 minutes before actual touchdown at Juan Santamaria International Airport. The descent is gradual, and coordinated each step of the way by the local control tower. Controller instructions are crucial in this process, as landing distances and altitudes vary according to the air traffic during those particular minutes.
With the mission accomplished, doors are opened, and once the last passenger has disembarked, the crew follows suit, and is transferred to a local hotel to recover and rest up. Tomorrow, after all, will be another day, and another flight.
Bird's Eye View
Loreto tells us that "during flights I do have time to really appreciate sights like, say, the Azores islands or the Gulf of Mexico," adding that "the route to Santiago, Chile is spectacular because since it's a night flight, you get to see dawn breaking while you're over the Andes, and – well, it's just indescribable, because flying over the Andes is an incredible experience to begin with because you're very close, it's like you can practically see the mountains right alongside you. On the return you fly during the day, and before you know it you've passed from the Andes to the Amazon rainforest; the contrast between the two is just extraordinary."