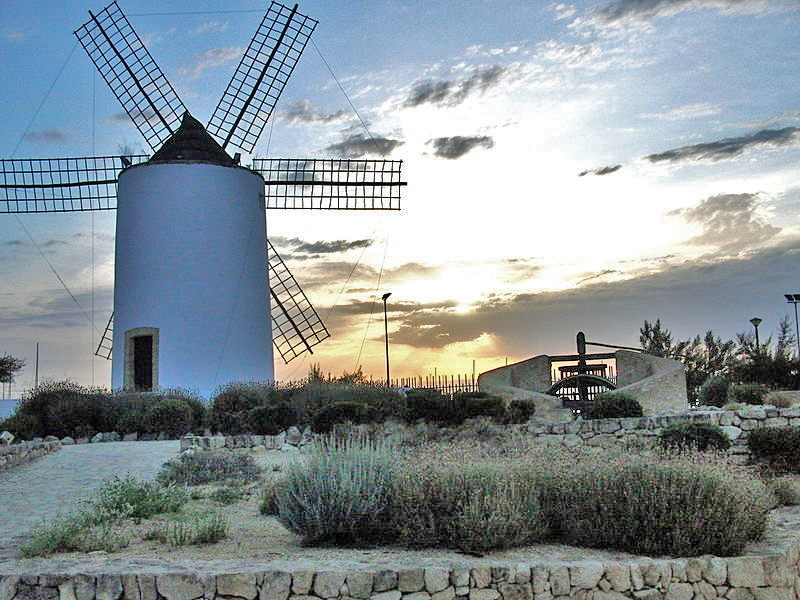 In the summer, of course, the third largest of the Balearic Islands is arguably the party capital of the world, throbbing practically 24/7 from its beaches, yacht marinas, and discos to the cobblestone lanes of its ancient cities and towns. But as winter approaches and Ibiza's population shrinks from millions closer to its usual year-round 133,000 or so, temperatures remain mild but the pace slows (somewhat to the relief of the locals), and visitors can better appreciate and enjoy the traditional rhythms of Balearic culture, nature, and life.
As in many parts of Spain, Ibiza is a land of whitewashed hill villages, and you'll see that as you venture up into the countryside north of the capital, where roads meander among hills covered with vineyards, pine forests, and almond and olive trees. Wine is an ancient tradition in these parts – more ancient, in fact, than on mainland Spain, thanks to the Phoenicians, who cultivated the grape and shipped it in amphorae throughout the Mediterranean. A local winery which pays tribute to that Phoenician tradition in its logo and wine names is Can Rich, outside Sant Antoni de Portmany – and though the technology is 21st-century, under oenologist Antoni Costa the cultivation and distillation process are as organic as they were millennia ago.
There are lovely little towns like Santa Agnès de Corona, swathed amid almond groves; Sant Mateu d'Albarca, centre of the local wine appellation "Vi de la Terra Eivissa"; Sant Miquel de Balansat, with its striking fortified church from the 16th century; tiny Balàfia (below left), the only spot settled by the Moors still in existence on the island. These are places for sitting a spell and watching life go by – and no place better than Sant Carles de Peralta, a few kilometres in from the northeast coast, with several cute little bars and eateries including a place called ca n'Aneta, which doubles as the local post office and where local specialties are the order of the day, such as hierbas ibicencas, an herbal liqueur made right in the village.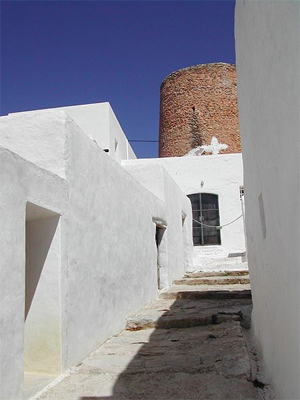 The more developed south coast, too, has its pockets of tranquility. Santa Eulària des Riu has its share of big hotels, of course, but also a handful of untouristed, off-the-beaten-path areas like Puig de Missa hill on the outskirts of town, with a charming church, some traditional houses, and a museum of rural life in times past. Also very traditional, and located next to one of Ibiza's most popular beaches, Cala d'Hort, is another fascinating window into the past that few people know about, because it's down a dirt track. A farm compound here has been turned into an extension of the Puig de Missa museum, called Ses Païsses de Cala d'Hort, and includes a pair of fascinating ancient sites, one a Carthaginian necropolis dating from the 7th century BC, the other a Byzantine settlement of the 1st century AD.  There's also some lovely pine woods on this corner of the island's southwest, great for mountain-biking, hiking, or horseback riding – here, too, you'll find Ibiza's highest hill, Sa Talaia, at 475 metres (1,558 feet).
Even Eivissa the capital city has its quiet, laid-back side. You can especially discover it in Dalt Vila, the walled old quarter, by coming in the morning to visit the Mercat Vell (Old Market) next to the Portal de Ses Taules, where farmers come in from all over the island to sell their wares (if not fruits and vegetables of summer, than cheese, honey, and other artisanal products). Once you've soaked up the local colour, you might want to check out the local artistic talent displayed in the nearby Ibiza Museum of Contemporary Art (MACE) or enjoy the hushed simplicity of the whitewashed Sant Cristòfol Convent, where you can buy sweets made by the cloistered nuns (cloistered nuns in Ibiza, what a concept, eh?).
Finally, another summer party capital, Sant Antoni de Portmany, also not only calms down in the off season but has quaint, quiet little corners like Sa Punta des Molí (top), a restored medieval windmill amid a Mediterranean garden.
All of this does my soul good, because as much as I like to party at the right time and place, it's slowing down enough to smell the hierbas ibicencas that truly deepens my love affair with Ibiza, the Balearic Islands, and Spain.
Check out Iberia's Ibiza flight deals from the U.K. and the USA.