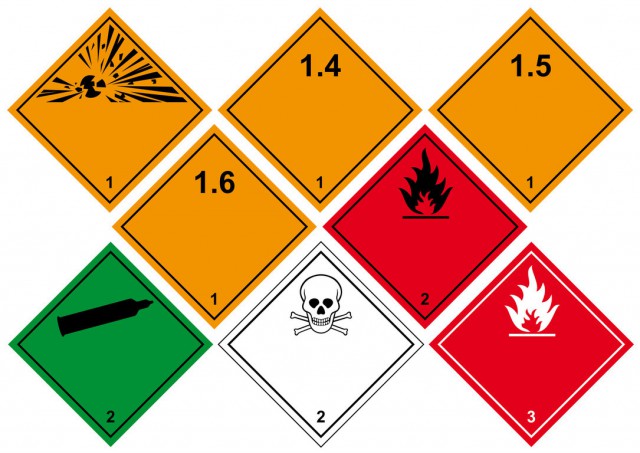 By now, you know not to bring liquids on board, not to mention sharp pointy objects. But have you ever wondered what else you can't bring on a flight? Or even pack in your checked luggage? There is a substantial list of  restricted objects itemised in the Dangerous Goods Regulations put forth by the International Civil Aviation Organisation which, if you are ever in doubt, you may consult (or you may, of course, call Serviberia). But first things first: what exactly are "dangerous goods?"
"Dangerous goods" are things that are capable of putting health, safety, property, or the environment at risk (here's the entire list on our website). More than half the cargo shipped across the world through various means of transport is hazardous, meaning: explosive, corrosive, flammable, toxic, and/or radioactive. Since air cargo is of course the quickest mode of long-distance transport available, it's also among the most heavily used even in the case of such perilous cargo.  Some of this material can be transported safely provided a strict series of rules is followed (no airline, however, will accept any materials that are universally prohibited by the guidelines of the International Air Transport Association).
Then there is merchandise that depending on the risks posed, may or may not need to be brought to the attention of the captain. For example:
NEED TO KNOW: Wheelchairs operated by batteries (spillable or lithium), oxygen or compressed air tanks (not to exceed 5 kg gross weight).
NO NEED TO KNOW: Alcoholic beverages containing more tan 24 percent but less tan 70 percent alcohol by volume, in containers not exceeding 5 litres (and in the amount of 5 litres maximum per passenger).
When it comes to containers and packing for such hazardous materials, they vary widely depending on the material being transported, but it goes without saying that they must share the following characteristics:
Good-quality packaging, sturdily constructed and securely enclosed, in order to avoid loss of material under normal transport conditions due to changes in temperature, humidity, pressure, or vibrations.
Packaging should be different for each type of content, and resistant to any type of chemical reaction that contact with its contents could provoke.
Packaging that contains liquids must be impervious to leaks and changes in pressure.
In order for a container to be re-used it must undergo all necessary and thorough safety inspections.
It is admittedly not very likely that you will need to put these tips into practice, as we don't often travel with dangerous goods; but it never hurts to know, and this is, after all, the kind of insider knowledge that true aviation geeks like to show off at cocktail parties. Plus, now you know how much alcohol you may bring on board, as well as the comforting fact that the captain piloting your plane knows just what is traveling with you on board.