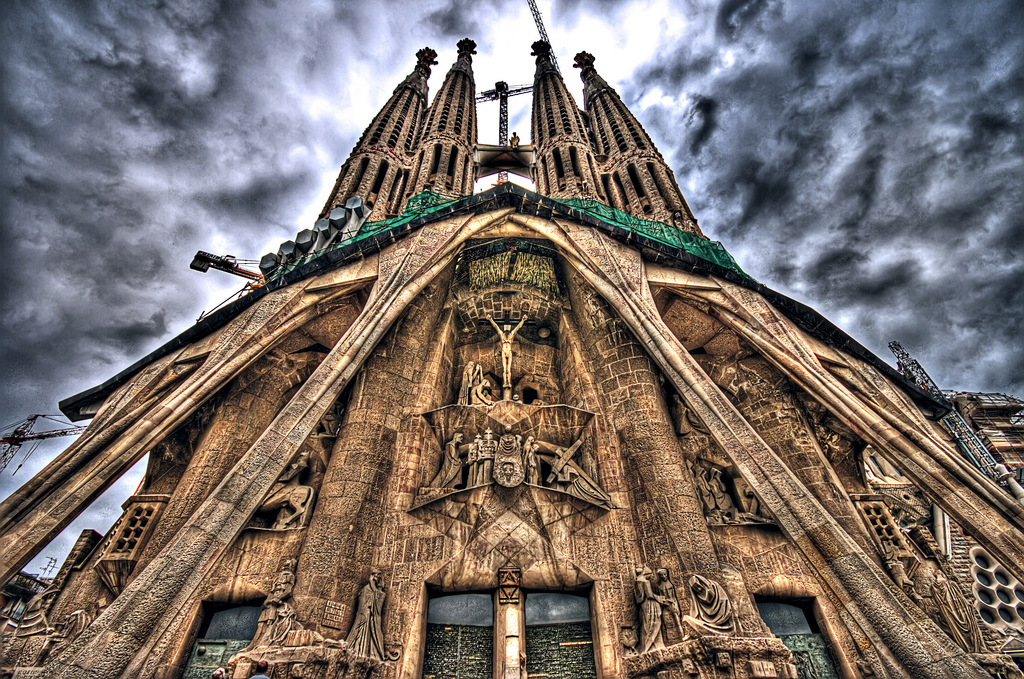 A genius gone mad.
Every time I see Antoni Gaudí's perpetually unfinished Sagrada Família, the crown jewel of the Catalan architect's vast œuvre, these four words well up along with, I confess, an occasional tear. It's simply not possible to witness the soaring prayer in stone that is this most unusual of temples, and not be moved — in part, no doubt, by the mad genius' inability to see his grand opus through to completion.
It appears, however, that we finally have a date: Barcelona architect Jordi Faulí, who is overseeing the project, recently confirmed that this one-of-a-kind world icon is on track for completion in 2026, the 100th anniversary of Gaudí's death and a whopping 144 years after ground was broken.
The prospect is both strange and wonderful to contemplate, because this cathedral-like, melted-wax fantasy has been an equally unfinished part of my life since my late teens. Every time I've visited this splendid city on the Mediterranean — and there have been more than I can count — I find myself inexorably drawn to this working-class neighbourhood. Sometimes I enter and wander its grand spaces to check up on the latest progress; others, I may sit on a nearby bench and simply meditate on stonework that curves and ripples and practically pulses with life.
Like a first-time visitor, on most trips I'll also make a point to visit a few of the other landmarks that, like this church, date from a late-19th-to-early-20th-century artistic movement known in Catalonia as Modernisme. It springs from the same florid roots as France's Art Nouveau and Germany's Jugendstil, but with a distinctly Catalan sensitivity. Gaudí was certainly its best-known star, but there were dozens of other architects, especially prominent of which were Lluís Domènech i Montaner and Josep Puig i Cadafalch.
When you visit Barcelona, you must absolutely make time for at least several key classics on the 115-stop Ruta del Modernisme, such as: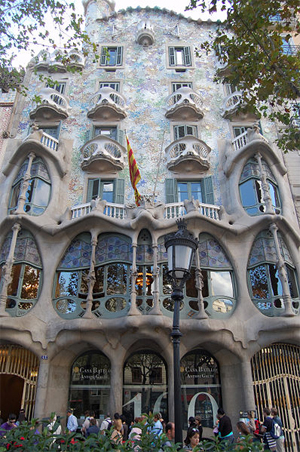 Casa Batllò  On downtown's Passeig de Gràcia, this large single-family townhouse (right) redesigned by Gaudí in 1904 is fluid, flowing, and lyrical, inside and out. It's currently a fascinating museum.
Casa Milá (aka La Pedrera) Another Gaudí work, also on Passeig de Gràcia just up from Casa Batllò, this large apartment building has undulating walls and a very cool stepped rooftop  full of striking chimneys. Also a museum and cultural center.
Hospital de Sant Pau Designed by Domenech  and built between 1901 and 1930, it's not far from the Sagrada Família. No longer a working hospital, it's being turned into a museum and cultural center and is currently open for tours.
Palau de la Música Catalana  Between Barcelona's Old Town and the Parc de la Ciutadella, this 1908 Domenech-designed concert hall (below) is a feast for the eyes as well as the ears (especially inside), and still plays an enormous role in the city's cultural life. Open for tours, as well.
Parc Güell  Up in the Gràcia neighbourhood, this 42-acre park makes a lovely outing, with a pair of houses by Gaudí, as well as a terrace, colonnades, fountains, and wonderful tile and mosaic work.
And to eat? Els Quatre Gats, of course. Opened in 1897 in a Gothic Quarter building by Puig i Cadafalch, it was a hangout for many top figures of Modernisme and today serves some truly excellent Catalan and Spanish dishes.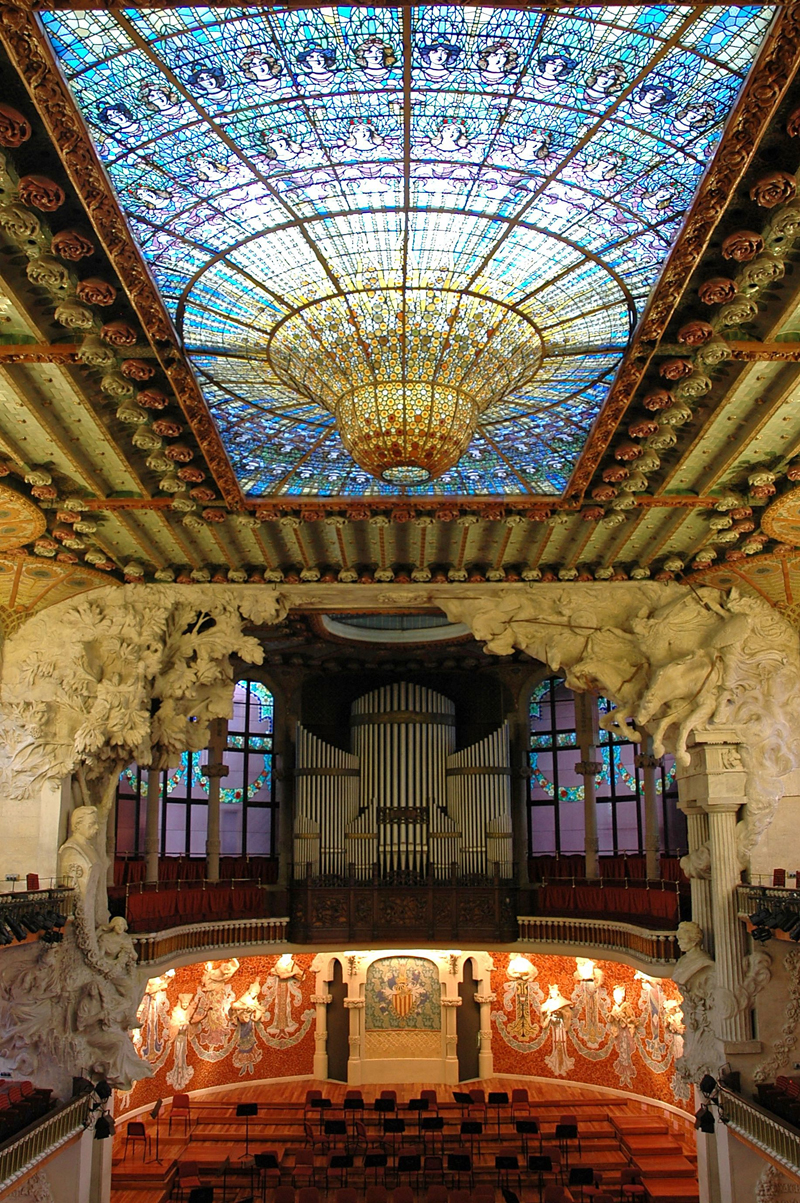 images | vgm8383, tato grasso, Josep Renalias